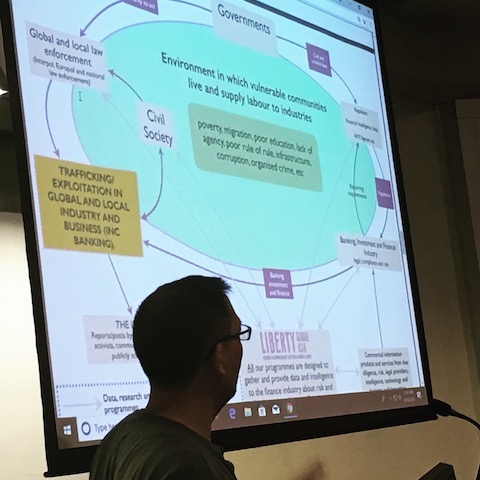 The Middlebury Institute's Center on Terrorism, Extremism and Counterterrorism (CTEC) launched its first speaker series with Duncan Jepson of Liberty Global | Asia who talked about measures to counter illicit trafficking of people and wildlife.

 
Mr. Jepson has an extensive background in anti-money laundering investigation and anti-trafficking activism. He served as regional general counsel and head of compliance in the APAC financial services industry before he founded Liberty Global | Asia in 2011, a leading global anti-trafficking NGO on anti-human trafficking, modern slavery and exploitation. The organization was awarded the Google Ideas Award in 2013 and was nominated by the Financial Times as one of the top ten innovative legal teams in Asia Pacific in 2017. It is known for its unique and cutting-edge approach using existing anti-money laundering infrastructure and laws to combat the exploitation of financial services to fund modern slavery and human trafficking. Their work is being used by 53 NGOs in a range of countries for thousands of cases. Mr. Jepson is also a filmmaker and novelist.
To present the problem, Mr. Jepson highlighted the massive information gap between the different sectors responsible for combating something like illicit trafficking. "We're trying to fill that gap and move information to create liability," he said, describing the products of their organizational approach as transparency, liability and best practice. To explain the scope of the issue, he described the links between monetary supply, human trafficking, transnational crime and terrorism as points of convergence which governments, NGOs and private corporations are now targeting to disrupt these flows. Their goal, he said, is to facilitate the exchange of information from victims and supporting organizations (the bottom) to the people responsible for making policy and making change (the top). This, of course, comes with its variety of challenges which include transforming the information into a form in which it can be moved while maintaining its integrity and accuracy. Using methods like ethnography, Liberty Global | Asia gathers information about individuals that can give them cause of action to advocate for laws that will actually change the system. However, this becomes difficult in areas of conflict, unstable political environments and disadvantaged communities when data and intelligence gathering is hindered by systematic obstacles that serve to make the population more vulnerable for exploitation.
"Numbers have smothered the fundamental issue," Mr. Jepson stated when defining these challenges, "which is the lack of infrastructure." Using anti-money laundering investigation as an example, he stated that following the money also came with its difficulties. When collecting media evidence from consumers and civil society to give to banking and financial institutions to analyze legal risk, they have to deal with problems like fragmented banking systems, incomplete record keeping, innovations such as the shadow banking system, fintech and bitcoin – not to mention, non-financial institutions and criminal groups themselves, which remain unregulated and undiscovered. "As much as our team is looking to find the money, there's another team somewhere out there trying to destroy it and there's a lot more of them than us." he said, causing a lot of heads in the room to nod in agreement; them, being the criminals who perpetrate illicit trafficking. "They aren't going to bother about those things. They're going to use it to their advantage."
Although their work is complex and difficult, Mr. Jepson also spoke about the roles that civil society could play. As a majority of the existing frameworks today address victim care and victim support, they advocate for methods that work on preventing and disrupting human trafficking, like that of financial investigation and information gathering. Liberty Global | Asia offers a wide range of opportunities for students and citizens to get involved. From combating human and labor trafficking to combating wildlife trafficking, the organization has programs utilizing data and technology, advocating for legal reform, building communications and network infrastructure and providing education for everyone about these issues.
Jason Blazakis will head the newly revitalized center dedicated to terrorism research at the Middlebury Institute, renamed the Center on Terrorism, Extremism, and Counterterrorism (CTEC).
 
Nonproliferation and Terrorism Studies student Michala Braun was one of only two graduate students invited to present their research as part of a panel discussion at the annual Strategic Multilayer Assessment (SMA) conference held on April 3-4, 2018 in Washington, D.C.
Graduate researchers and Monterey Institute students Leslie Wukstich, Jonathan Prohov, and Marc Elliott recently presented their research related to terrorist financing to a visiting delegation of 20 senior Chinese government officials.