MIIS Students Travel to Russia for MIRS Research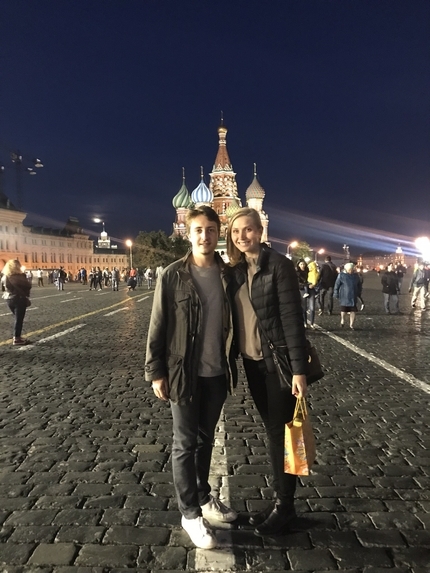 With help from the Monterey Initiative in Russian Studies, two students learn insights about U.S.-Russian relations.
With support from the Monterey Initiative in Russian Studies and Professor Anna Vassilieva, Annelise Plooster (Master's Candidate of Non-Proliferation and Terrorism Studies, 2019) and Lennox Atkinson (Master's Candidate of Public Administration, 2019) received a grant for research and travel to Russia. From September 21 until October 6, 2018, Plooster and Atkinson conducted research and interviews in Moscow and Kazan, Russia.
As intergovernmental relations between the United States and Russia worsen, finding ways to increase paths of diplomacy between the two countries becomes vital. It is from this situation that Plooster and Atkinson conducted their interviews. The aim of their research is to identify areas of ongoing multitrack diplomatic exchanges and knowledge share between Americans and Russians and to explore their impact on U.S.-Russian relations.
The two met with the Associate Provost of Skoltech, a technical graduate institute in cooperation with MIT at Skolkovo, as well as, coordinators of other academic exchanges, including at the Moscow State Institute of International Relations, the director of the PIR Center, and scientific researchers in Moscow. Plooster and Atkinson will be producing a written report of their findings in both English and Russian as part of their studies here at the Middlebury Institute.