Next Application Deadline February 1
Applied Linguistics Capstone and Practicum: TESOL and Teaching Foreign Language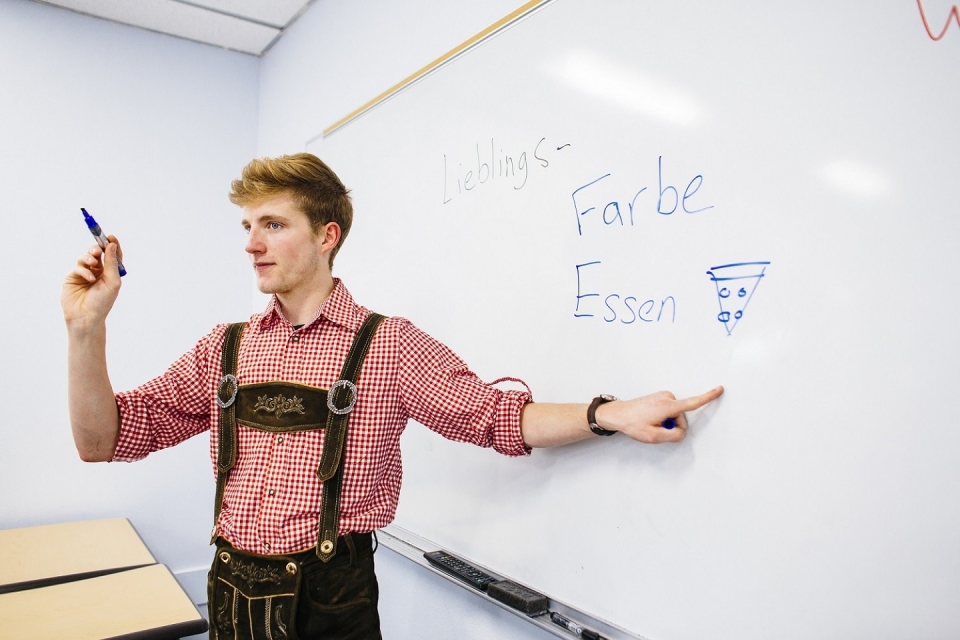 Strengthen your expertise through an applied linguistics capstone and a practicum, which provide a balance of the multiple focus areas of our language teaching programs.
Applied Linguistics Capstone
Helps students refine their skills as applied linguistics professionals. Students will develop a curriculum project, an empirical research report, or an assessment tool using original data that they have collected and analyzed. This capstone also aims to encourage the students' reflection on their previous course work as well as exploration and clarification of their future plans for careers as language teaching professionals.
Recent Capstone Projects
| Name | Program | Capstone Project Title |
| --- | --- | --- |
| Alexander, Bridget | TESOL | How Learning an Additional Language Influences L1 Use and Personal Identity in and out of the Classroom |
| Banks, Isha | TESOL | The Million Dollar Question: Incorporating a Content-Based Unit Plan into Monterey Adult School Courses |
| Cenzatti, Francesca | TFL (Chinese) | Family and the Different Ways We Express Love: A Unit Plan for a Chinese Course in an Elementary School |
| Cheon, Kukjin | TFL (Korean) | Teaching Korean Language, Culture, and Social Issues through K-Pop |
| Cho, EunHye | TFL (Korean) | Using Students' L1 in L2 Grammar Teaching: A Unit Plan for a Korean Course for Children at the Monterey Korean School |
| Emory, Lydia | TFL (Spanish) | Spanish for the Global Citizen: A Social Justice Approach to Designing a Course Syllabus |
| Huang, Justin | TESOL | Using Theater to Promote Collaboration and Creativity in an After-School English Program |
| Kwasnik, Maggie | TFL (French) | Engagement First: Content-Based Instruction in the US High School French Language Classroom |
| Lam, Kei | TESOL | Multimodal Literacy: Integrating Tech into a Continuing Education ESL Classroom |
| Mohamednor, Heba | TESOL | Decentering the White Gaze: Discourse Analysis on Diversity in Popular Literature |
| Turell, Soleil | TESOL | Integrating Vision-Forming and Intercultural Curricula to Increase Student English Development |
| Walsh, Holly | TESOL | Understanding US: Guide to US Dialects |
Practicum Capstone
Combines reflective practice and professional development in preparing students for a career in language education. Students integrate theory, research, and pedagogy into a coherent and well-informed approach to planning and executing lessons. They also incorporate these three components when developing and using instructional materials and assessment instruments. Activities and products prepare students for successful entry into the language teaching profession.
Recent Practicum Projects
| Name | Program | Practicum Site |
| --- | --- | --- |
| Alexander, Bridget | TESOL | Nora Elementary School (Indianapolis, IN): kindergarten learners, ages 5–6 |
| Cenzatti, Francesca | TFL (Chinese) | Middlebury Institute Chinese Studies (Monterey, CA): graduate students at novice-high to intermediate-low learning levels |
| Cheon, Kukjin | TFL (Korean) | Korean First School of Monterey (Monterey, CA): novice-level adult students |
| Cho, EunHye | TFL (Korean) | Monterey Korean School (Monterey, CA): heritage background, novice level, young learners, ages 6-9 |
| Emory, Lydia | TFL (Spanish) | Pacific Grove High School (Pacific Grove, CA): high school Spanish II (beginner to intermediate) and Spanish III (intermediate-high) |
| Huang, Justin | TESOL | CSUMB and Monterey Peninsula College (Monterey, CA): adult and college level ESL learners |
| Kwasnik, Maggie | TFL (French) | Winooski High School/Middle School (Winooski, VT): two middle school classes (both beginner), three high school classes (one intermediate/advanced and two beginner) |
| Lam, Kei | TESOL | Rio Hondo College (Whittier, CA): adult ESL learners |
| Mohamednor, Heba | TESOL | Middlebury Institute English for Academic and Professional Purposes (Monterey, CA): writing course for graduate students at an advanced level |
| Turell, Soleil | TESOL | Monterey Peninsula College (Monterey, CA): adult ESL learners |