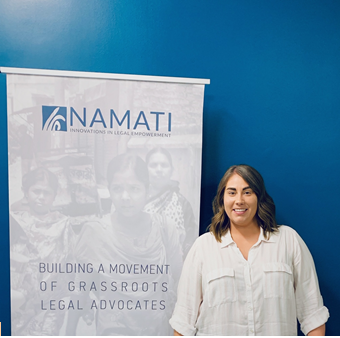 Twelve students recently completed the final deliverable for the International Professional Service Semester (IPSS). Topics of presentations ranged from rising sea level concerns to technology around smart guns. 
Twelve students chose to spend their last semester of studies participating in IPSS and gaining on the ground experience to help prepare for their future careers. While working as interns or junior employees at partner organizations, IPSS participants complete a strategically focused project under the guidance of a faculty member. At the end of the practicum, students give a presentation on their work to their IPSS academic mentor and other faculty and staff. 
The spring 2019 IPSS cohort worked on a variety of challenging and diverse issues. Ariana Sawyer MAIPD '19, served as a research intern with Human Rights Watch where she explored the historical use of deterrence in US immigration policy. She says this internship was a dream come true as she had always wanted to work for Human Rights Watch. Another IPSS participant, Eliana Olais MPA '19 worked with the Roatan Marine Park. This marine park is the primary organization in Honduras which helps stop reef degradation. Since the organization is very small, Eliana had the chance to serve in various capacities to help the organization accomplish its goals. 
IPSS often serves as a stepping stone between being a graduate student in Monterey and launching a career in their desired field. "IPSS lead me to where I am now," says IPSS 2019 fellow Ryan Bolt MANPTS '19 about his internship with the US Government Accountability Organization (GAO) and the US Department of Energy National Nuclear Security Administration last spring.
The program provides students the opportunity to gain practical work experience, while building off of the skills they learned at the Institute. During their presentations, every student referenced how they were able to apply the skills and knowledge they learned while at the Institute to their jobs. Trushaa Castelino MANPTS '19 worked for the United Nations Office of Disarmament Affairs (UNODA). "The classes I took [at the Middlebury Institute] made me a better writer," she shares. "These skills were useful when I drafted IPSS field project for the UNODA." 
The IPSS program will now be offered twice a year during the regular spring and fall semesters. Interested students and organizations who would like to host an IPSS fellow should contact Immersive Professional Learning and Special Programs Director Carolyn Meyer at cmeyer@miis.edu or 831-647-6417.
The International Professional Service Semester program at MIIS is celebrating 10 years of providing immersive learning experiences to students.
Aricquel Payne MPA '18, is completing her IPSS practicum at Six Square, Austin's Black Cultural District, in Austin, Texas.