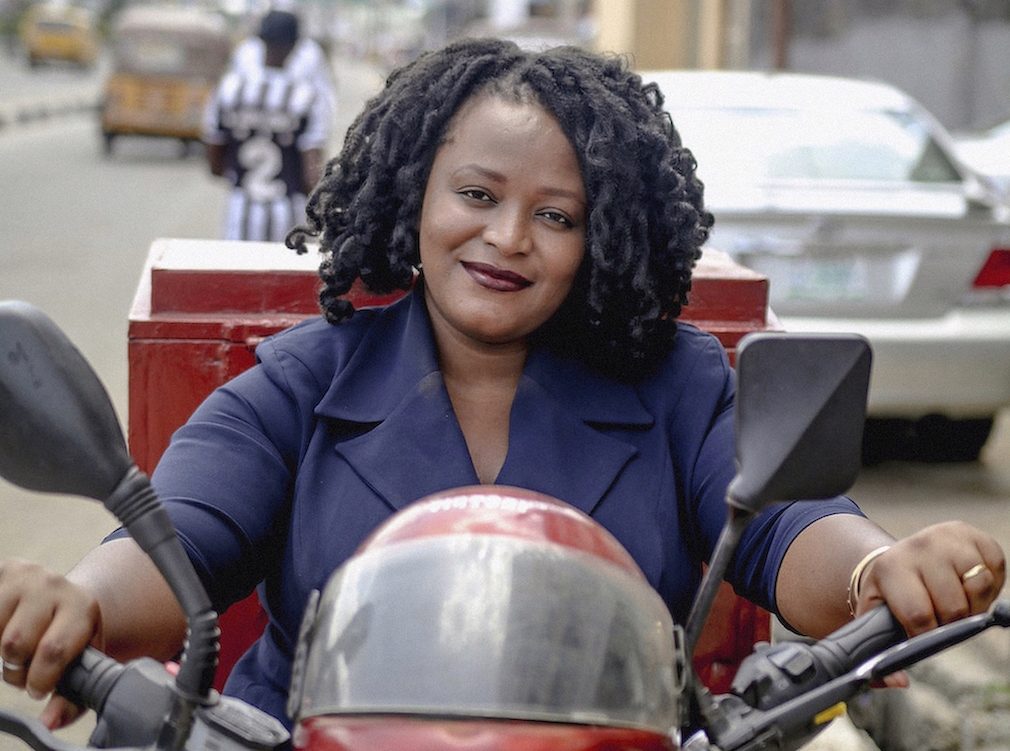 Healthcare entrepreneur Temie Giwa-Tubosun MPA '10 is bringing critical lifesaving infrastructure to her native Nigeria.
Her innovative approach to saving lives in her native Nigeria—by providing safe and fast distribution of medical products via motorbikes—has earned praise from people like Mark Zuckerberg of Facebook and Brandon Stanton of Humans of New York, and her start-up, LifeBank, emerged as a winner of the 2018 MIT Solve Global Challenge. Temie Giwa-Tubosun MPA '10 shares what she has learned along the way, as well as her ambitious plans to expand her "business of saving lives" model.
Fresh eyes offer new perspectives. The only person I know who has won the U.S. visa lottery is my mother, and her good luck led us to move to Minneapolis when I was 14. We had been a middle-class family in Nigeria, and it was not until we moved away that I became aware of some of the serious issues facing our country. As a college student I was very interested in learn- ing about Africa's structural problems.
Dreams evolve. When I enrolled at MIIS I had a plan of working for the United Nations. As students we were encouraged to get field experience, and I got an intern- ship working with Partnership for Transforming Health Systems 2 (PATHS2) doing household surveys in northern Nigeria. I was not keen on health care before, but it became my passion. From that experience I also knew that I wanted to have a career where I was helping people directly.
Life-changing encounters happen. During my internship in northern Nigeria we met a young pregnant woman who was going through a very difficult birth. We took her in our bus to a hospital in the city some distance away, where the doctors were able to save her but not her baby. That encounter changed my life. I now had this commitment to maternal health care.
Do the research. I still had to finish grad school and do my IPSS, but I kept doing research. I discovered that lack of access to blood transfusions is the major cause of death for mothers in Nigeria, and actually all of Africa. Postpartum hemorrhage is the number one killer of women in childbirth. It took me five years of research while I worked other jobs to figure out that safe distribution of blood and blood products would be a key to solving this issue.
The universe might be trying to tell you something. I was very lucky to be in Minneapolis when I had my little boy. It was very surreal as it was a breech birth and I needed an emergency C-section, just like the girl I had met all those years ago. When I got back to Nigeria I decided this was what I was going to work on.
Life will only get more complicated. It was definitely a big risk when I left my full-time job to focus on this new venture. I had a family and responsibilities, and I really liked going to the spa. I felt that if I did not do it then, I would never do it, because other things would just get in the way. I am lucky that my husband and my family agreed with me, and I took the leap.
You don't always have to reinvent the wheel. I knew I needed to raise capital and create a distribution system. By founding LifeBank as a business, I was able to get people to invest in my idea and get it started quickly. The idea was to take something that was already present, motorbikes, and make a new use case—blood distribution. Traffic is so horrendous in the big cities of Nigeria that the only way to transport blood quickly is to get around it.
We are not saving anyone unless the blood is safe. I knew it was an issue of logistics and supply. Not many people donate blood in Nigeria, and there has been a problem with proper information collection, storage, and safe distribution. We are committed to the safety of our products, and our proprietary system, SmartBag, uses blockchain to record and preserve manufacturing, supply, and safety information of cold-chain-dependent medical products such as blood.
A lot can happen in three years. We have gone from a rented desk to a company operating in two of Nigeria's largest cities, with 30 staff members who have helped save over 3,000 lives. Our delivery time is now 45 minutes from the time the request comes in, and we are always working on improvements, including offering the delivery of oxygen.
Any problem is an opportunity to do something that matters. I'm filled with wonder every time I think about the lives that we have saved. A change in mindset is key, opening your eyes to problems and seeing them as an opportunity. I get excited when I'm confronted with problems, as I see that there are elegant solutions out there, waiting to be implemented. 
Considered one of Afghanistan's future leaders, Onaba Payab MAIPD '18 was the first female valedictorian at the American University in Kabul. She shares some of her insights with us.
Perhaps the greatest life lesson recent graduate Elea Becker Lowe MAIEP '18 can share is one she herself has heeded: when presented with an opportunity, go for it.
A fixture in the International Environmental Policy program, professor Jeff Langholz is nothing if not systematic in his approaches to life's challenges. He generously shares his systems with students and colleagues, and is tireless in his efforts to inspire others.