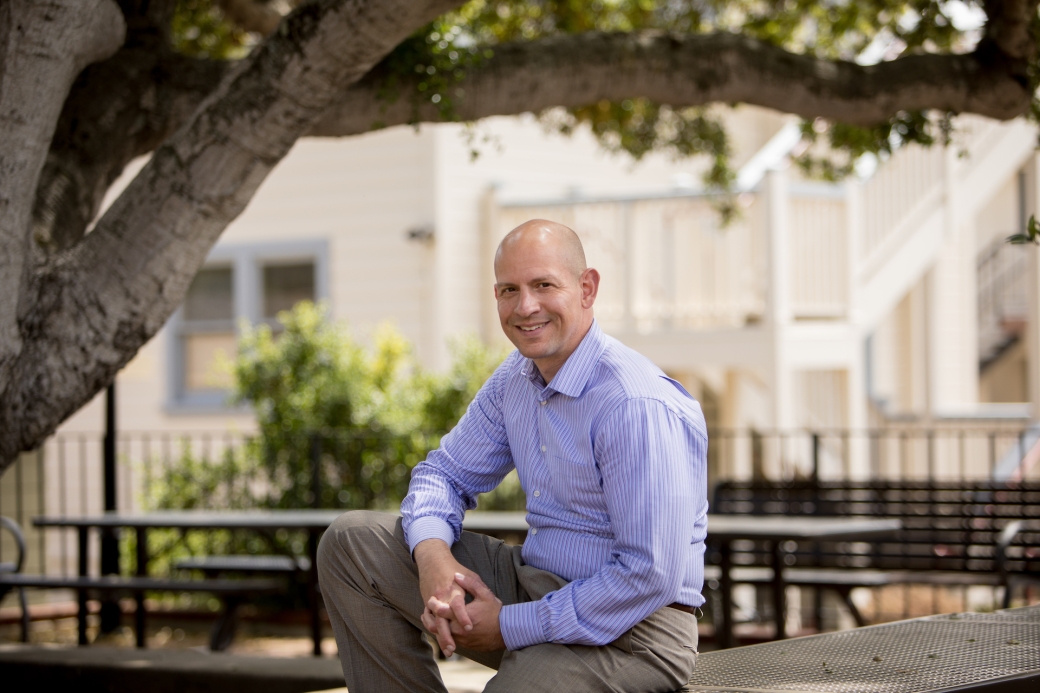 Jason Blazakis wants to better understand what motivates terrorists to do what they do.
After you get past the piles of unopened boxes and the stark white walls in Jason Blazakis's office in the McGowan Building, your eyes will eventually come to rest on an intriguing black-and-white framed photo of two men under the news headline from 1975 "Fugitives for 34 Years on Crete Are Pardoned." Blazakis, who joined the Institute this past fall to head the newly revitalized center dedicated to terrorism research, renamed the Center on Terrorism, Extremism, and Counterterrorism (CTEC), has been too busy establishing the center to have time for either unpacking or deco- rating. The lone photo on his wall features a man family lore says is his great-uncle, Spiros Blazakis, who was considered an outlaw for decades after first fighting against the Nazis and later fighting on the side of Communists during the Greek Civil War. By the time Jason was born, the government's views on Spiros's actions had changed.
When he left government, Jason Blazakis's interests had shifted slightly from thinking about terrorist groups and sanctioning them, to trying to think more deeply about motivations of individuals— why they are doing what they are doing. He came to the Institute after serving for 10 years as the director of the Office of Counterterrorism Finance at the U.S. State Department, a role he came to after several years working on various aspects of counterterrorism and intelligence with- in the government. "The Islamic State represented a shift in the way terrorists communicate. You think of Al Qaeda, and you think of old people like bin Laden or al-Zawahiri sitting in front of a video camera just talking and talking with their gun next to them and a black flag behind them. The Islamic State took it to a new level in terms of trying to motivate people using social media, with younger communicators who could appeal to a younger audience."
On September 11, 2001, Blazakis was living in New York, where he was earning his second graduate degree at Columbia University. "It really hit me, the profound devastation." The indelible experience of living in the city during that time coupled with the helplessness he felt after the attacks led him to return to government service after completing his degree, this time focusing on having a positive influence to counter what terrorists do. "A lot has changed since 9/11." Over his nearly 20-year career he has seen several shifts in terms of the focus of counterterrorism efforts, from dealing with the more limited, in many ways, scope of Al Qaeda to the widespread nature of threats from the Islamic State and other terrorist groups operating today. "All of this has changed how we think about terrorism," Blazakis says.
The middle part of the center's name, "extremism," is especially important today, according to Blazakis. The overarching objective of CTEC is to give graduate students an opportunity to work in this field by directly carrying out research on terrorism, extremism, and counterterrorism policies. "We are working on a project with a client to explore far-right-wing extremism, why certain messages may resonate with audiences, what key phrases, words, are being used to spread that message, what messaging is effective or not effective."
Blazakis believes that some actions of the U.S. government have undeniably bolstered the recruitment of people to terrorist organizations, in particular the Iraq War and the false pretenses behind which it was fought, and most recently the visa restrictions to the U.S. from predominantly Muslim countries. "Another place where the administration is missing the thread is domestically, the threat posed by individuals influenced by extremist messaging within the United States. The resources allocated by Congress and the executive branch to combat the domestic threat are insufficient compared to re- sources provided to combat the transnational threat."
CTEC offers students access to a variety of experiences to enhance the learning that goes on in the classroom. In addition to an impressive speaker series, Blazakis worked closely with Professor Moyara Ruehsen to organize the Monterey Threat Financing Forum, a professional conference in the fields of counterterrorism financing, threat financing investigations, and compliance. There is great synergy between the work that CTEC does and the Financial Crime Management specialization offered at the Institute. "We hope to do research in the future to complement classroom learning on the financing and fundraising of terrorism groups and how it evolves."
The center also works closely with Middlebury College Professor Orion Lewis on the Special Operations Research Database, where students have collected information about special operations activities and interviewed high-level figures to better understand the policy implications of using unconventional forces to combat unconventional security threats.
While working at the State Department, Blazakis taught evening courses at Johns Hopkins University and the University of Maryland. He says he started thinking about making a move to academia a few years ago to "pay it forward" to young people who are heading into careers in public policy or the private sector, where they will be the ones influencing future policies as they relate to national security issues. The photo of Spiros Blazakis on his office wall is a great reminder about what lies at the root of motivation for terrorism and how there will always be different perspectives of what is considered a just cause. "I have a family member who was probably considered a terrorist until 1975, when he was considered a freedom fighter."
As a cofounder of a company that helps organizations narrow the gender pay gap, Zara Nanu MPA '06 is seeking to resolve one of the corporate world's most persistent problems.
 
Every action, degree, career choice Wesley Laîne MAIPS '14 takes is to lay the groundwork for a political career in his native Haiti, where he wants to shepherd transformative change for the impoverished country.
"The ultimate objective is to destroy democracies from the inside out," says alumnus Clint Watts about Russia's attempts to disrupt the political process in the U.S.