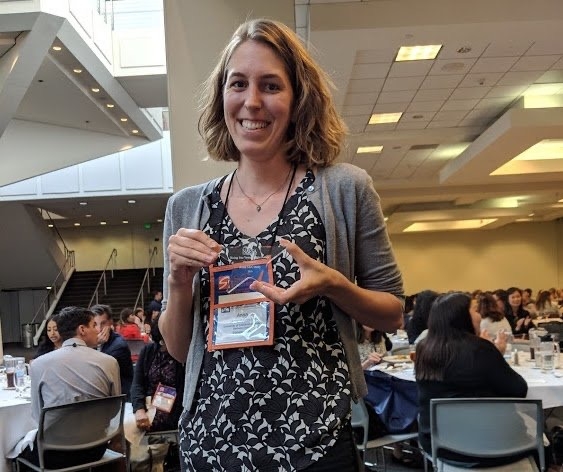 Alumna Anna McCreedy MAIEM '17 has been recognized with National NAFSA International Education National Rising Star Award.
Anna McCreedy works at the Berkeley International Office at UC Berkeley, where she is an International Student Adviser and the Programming Lead for the office. She is also actively involved in volunteering in the local international education community, acting as the Chair for the NAFSA Northern California District, as well as a member of the leadership team for the Bay Area Young Professionals in International Education.
"Since she graduated and joined the field she has consistently mentored students and alumni in our program," International Education Management (IEM) Professor David Wick wrote in a letter nominating McCreedy for the award on behalf of IEM faculty. "Her service has been both formal and informal. Ms. McCreedy has participated in alumni career panels and shared her perspectives on getting into the field and succeeding as an international student adviser. She has also given countless informational interviews and mentored current students on projects and in their job search."
The Rising Star Young Leader Award is given annually in recognition of a professional who has impacted the field of international education during the first five years of the recipient's area of work. The rising star will have demonstrated a commitment to internationalization and an ingenuity of thought that has the potential for having substantial and lasting influence upon global education. 
Adds Professor Wick: "We have been inspired and motivated by Anna's creative and innovative work to bring together our professional community in the Bay Area and Northern California."
Middlebury Institute alumna Stephanie Kim was awarded the Rising Star Young Leader Award at the NAFSA: Association of International Educators Region 12 Conference in Reno, Nevada in October 2018.
International Education Management alumni Yuki Ueda MAIEM '17 and David Saide MAIEM '15 recently completed the 2019 Academy for International Education, an an intensive yearlong training program.
International Education Management faculty members Daniel Chatham, Chris McShane, Katherine Punteney, and David Wick, joined by current student Alexandra Ramos Lopez MAIEM '20, presented Research Updates 2019 at the NAFSA Region 12 Annual Conference.