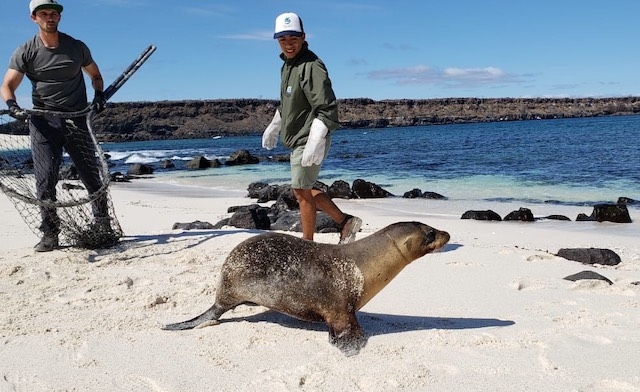 This summer, eleven Middlebury Institute students from the International Environmental Policy degree program are participating in fully funded internships at top marine organizations around the world.
The CBE Fellowship, supported by the Institute's Center for the Blue Economy, has offered over 80 students enrolled in the Ocean and Coastal Resource Management specialization of the International Environmental Policy degree the opportunity to gain valuable professional experience in the field of marine conservation since its founding in 2011.
This summer, students are working around the world, from California, Massachusetts, and Washington D.C., to France, Germany, Taiwan and Ecuador. Their work spans from sustainable fisheries and aquaculture, to wildlife protection and management.  Fellows work on advocacy, research, and data analysis on issues close to their professional passion, including healthy estuaries, clean shipping, and sustainable seafood supply chains.
Abi Ferrazzini MAIEP '19 is working in Brest, France with the World Wildlife Fund (WWF) and European Institute of Marine Studies (IUEM) at the Université de Bretagne Occidentale assisting the Center for the Blue Economy and the Nicholas Institute of Duke University in conducting a study of the contributions of the oceans and coastlines to the economy, and the need to address ocean and coastal sustainability.  Specifically, Ferrazzini will research ocean related activities' contribution to the national economies of Kenya and Tanzania, with special reference to coral reefs. Working with the WWF coordinator for the project, Ferrazzini will assist in the gathering and analysis of relevant data and in the preparation of written materials for the project.
Kimberly Aiken MAIEP '20 is working in Potsdam, Germany at the Alfred Wegener Institute (AWI) German Arctic office. Aiken will collect data about international laws and agreements applicable to the Arctic region. Her task is also to summarize the data and create reports using data visualization. Furthermore, she will help with the day-to-day work and organization of upcoming events of the AWI German Arctic Office, including a Science to Policy Workshop in Reykjavik, Iceland, which will take place in October 2019.
Richard Castillo MAIEP '20 is working as a part of the Environmental and Social Safeguards Team for the World Wildlife Federation at their headquarters in Washington, D.C. As a Safeguards Intern, Castillo will develop knowledge and training programs to educate other WWF offices and staff regarding WWF's new procedures that minimize the adverse environmental and social impacts of international development projects and enhance the positive impacts. Castillo will be working on various marine-related projects, such as ridge to reef watershed management in Central America, mangrove restoration in South America, fisheries management in Indonesia, and marine protected areas in Madagascar. 
Two of this year's fellows are located in Southern California. Hahnbin Lee MAIEP '19 is working in Long Beach, CA with the California Coastal Commission. In partnership with coastal cities and counties, the Coastal Commission plans and regulates the use of land and water in the coastal zone.  The Coastal Act includes specific policies that address issues such as shoreline public access and recreation, lower cost visitor accommodations, terrestrial and marine habitat protection, and more. Lee will develop a summary of past Commission actions on items within the South Coast District related to specific coastal resource topics including, climate change, wetlands, mitigation of fill of coastal waters, and parking requirements.
Ella McDougall MAIEP '19 will spend two-thirds of her time in Imperial Beach, CA working with the Tijuana River National Estuarine Research Reserve developing sea level rise adaptation strategies for coastal watersheds. She will learn about watershed ecosystem-based management and green-to-gray approaches to adaptation while supporting NOAA coastal adaptation and implementation trainings, creating a marine debris training manual, and engaging with Baja elected officials and counterparts. For the other third of her summer, McDougall will be in La Jolla, CA to assist the Scripp's Center for Climate Change Impacts and Adaptation (CCCIA) with evaluation and development of feasibility for additional coastal community sites for Flood Risk – Sea Level Rise Pilots. 
Three students are located in the Bay Area this summer. Sean Wils MAIEP '19 is working in San Francisco with Business for Social Responsibility. Wils will be engaging stakeholders, sustainability experts, and corporation representatives to identify how to create and prioritize solutions to international maritime shipping decarbonization, ocean pollution, and ocean noise.
Zoe Gapayao MAIEP '20 is researching on behalf of the Environmental Defense Fund (EDF), and is located in San Francisco as well. She will research the development of behavior change interventions in areas like the Philippines, Chile and Cuba. Gapayao will focus on topics such as sustainable aquaculture, indebtedness in unsustainable fishing behavior, and the failure of the National Stock Assessment Plan of the Philippines.
Also working with the EDF in San Francisco is Kelly Roche MAIEP '20. The EDF's mission is to preserve the natural systems on which all life depends. This summer, Roche will have the opportunity to conduct research on multi-species fisheries management or aquaculture regulations and produce a paper explaining the findings.
Fiona Zhou MAIEP '20 is the final fellow working with the Environmental Defense Fund, but she will be located in Boston, MA. Her EDF fellowship supports the organization's China Oceans Program in its work to advance sustainable fisheries management in China. Fiona will address two conservation priorities. The first is to build on existing research on fishery-climate linkages, assess the climate change vulnerability (i.e., exposure and adaptive capacity) of major marine fish populations from around the world driving Chinese seafood markets and international trade. The second involves preparing comparative case studies of how various fishing organizations around the world have engaged in sustainable fisheries management, including political organization, collective management of catch allocations, and other models, emphasizing the applicability of these models to China's legal and cultural environment.
Chiao Ting MAIEP '20 is working in Taipei, Taiwan, with the Satoumi Thinktank, a non-governmental organization. The goal or the organization is to help fishermen earn a fair price by developing a new type of sustainable seafood supply chain. Ting is also working directly for the Center for the Blue Economy analyzing the data from local seafood markets to identify how blockchain technology could support greater sustainable seafood traceability. 
Find more information about the Center for the Blue Economy Summer Fellows program website. You can also follow the students on the CBE Summer Fellows blog.
Twelve students in the International Environmental Policy program are participating in fully funded summer internships through the Center for the Blue Economy.
 
Eleven students in the Middlebury Institute's International Environmental Policy program are participating in fully funded summer internships through the Center for the Blue Economy.
Nine Middlebury Institute International Environmental Policy Students are pursuing fully-funded internships at top marine organizations around the world this summer as Center for the Blue Economy Summer Fellows.