For graduate students, the chance to gain professional experience and field-specific knowledge through real-world opportunities is invaluable.
Students enrolled in the International Environmental Policy masters program who are pursuing the specialization in Ocean and Coastal Resource Management are eligible for funded Center for the Blue Economy Summer Fellowships. The process begins in early spring to identify opportunities with innovative and internationally recognized marine organizations. The center provides a list of possibilities, and students may suggest additional fellowship organizations. Each project must positively affect ocean and coastal sustainability, help the host organization fill a critical need, and better prepare our students for their future careers. Below is a list of our most recent fellows. Their stories, along with tales from our CBE Summer Fellows and past fellows can be found at our CBE Summer Fellows Blog. 
Center for the Blue Economy 2021 Summer Fellows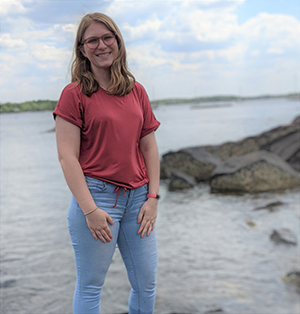 Student name:  Tabitha Birdwell
Inland Ocean Coalition
Denver, Colorado, USA (working remotely and on-site)
June 7 – August 31, 2021
Tabitha assisted the Inland Ocean Coalition on multiple projects to develop and implement its new program, the Watershed Health Program. She did this by extensively editing the existing watershed page on the Inland Ocean Coalition's website. Among other things, this entailed finding content for and editing a new watershed health e-learning course. Additionally, she researched science-based criteria for a new portion of this program, Farming for Our Oceans, which she also helped structurally develop. She also participated in national outreach to farmers/landowners to be contacted to join the program. The Inland Ocean Coalition has a small volunteer committee working on these tasks already, and Tabitha managed and oversaw that each committee member contributed to the program's development in a timely and appropriate manner.
---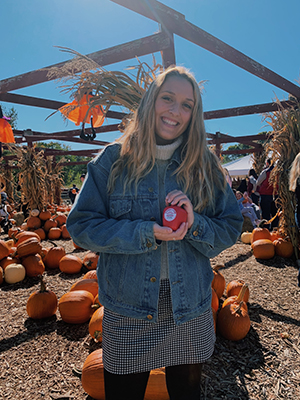 Student Name:  Elise Birkett
NYC Mayor's Office of Resiliency
New York, New York, USA (working on-site)
May 31 – August 6, 2021
Elise worked with the New York City Mayor's Office of Resiliency Land-Use & Buildings team to: 1) conduct research on best practices for effective outreach and engagement strategies in flood-prone communities; 2) develop recommendations to improve the City's outreach strategies to coastal communities; 3) attend meetings with City, State, and Federal stakeholders on NFIP outreach and engagement; and 4) assist with city agency and non-profit partner coordination to develop and embed updated flood risk and flood insurance communication into outreach outlets.
---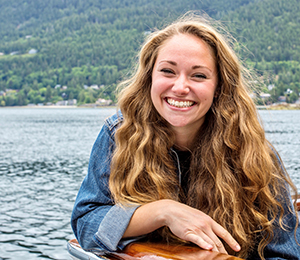 Student Name:  Olivia Cable-Barber
Oceana
Gulf of Alaska, USA (working remotely)
June 9- August 20, 2021
Olivia created a life cycle assessment of Gulf of Alaska flatfish seafood products, particularly the Arrowtooth flounder. To complete this assessment she created a bibliography, white paper, and presentation which will tell the story of the environmental impacts of catching flatfish like the Arrowtooth flounder, and estimating the cost of re-processing and shipping the fish to China and back.
---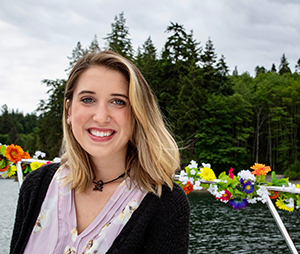 Student Name: Heather Cook
Whale Shark and Oceanic Research Center
Utila, Bahia Islands, Honduras (working on-site)
June 7-August 28, 2021
Heather worked (and continues working) with the Whale Shark and Oceanic Research Center in Utila, Honduras. Partnered with local marine biologists, she is a part of a multidisciplinary group working to characterize local artesian fisheries from a socio-economic perspective as well as assisting in survey development to aid in understanding the cause for Utila to be a hotspot for whalesharks.  She remains in Utila for the fall 2021 term, pursuing her studies remotely.
---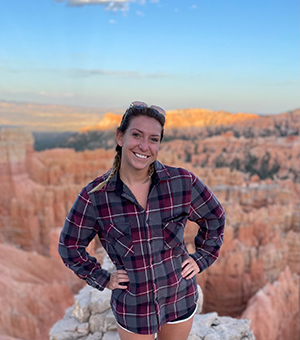 Student Name:  Grace Hansen
The Nature Conservancy
Sacramento, CA USA (working remotely)
June 1-August 11, 2021
Center for the Blue Economy
Middlebury Inst. of Intl. Studies, Monterey, CA, USA
June 1-August 31, 2021 (working remotely)
This summer, Grace will be split her time between two organizations: The Nature Conservancy and the Center for the Blue Economy. At The Nature Conservancy Grace worked with the California Chapter to analyze existing and potential opportunities for investments in blue carbon activities. She produced a portfolio that can be utilized by organizations and policy makers to accelerate blue carbon efforts in the United States and international level.
At the Center for the Blue Economy, Grace will be assisted Dr. Charlie Colgan with a grant-funded project redefining the ocean economy in the Mid-Atlantic Region. She focused on measuring blue carbon storage in current coastal wetlands and the net addition from restoration.
---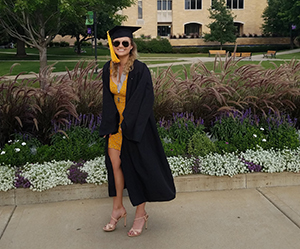 Student Name:  Natasha Hood
Anthropocene Institute's Protected Seas Program
Palo Alto, CA, USA (working remotely)
June 1-September 4, 2021
Natasha worked with the Anthropocene Institute and their Protected Seas Navigator,which provides a comprehensive guide to global marine protection. With over 11,000 areas and growing, it includes marine protected areas for all completed countries and additional fisheries and other conservation enhancing areas for the US and beyond. Natasha lent to the research and data sourced directly from management authorities which serve as a guide to the regulatory seascape. Her work not only helped fishers and boaters on the water stay abreast of the rules and regulations but also helped to inform the international ocean conservation community on the state and coverage of ocean protection.
---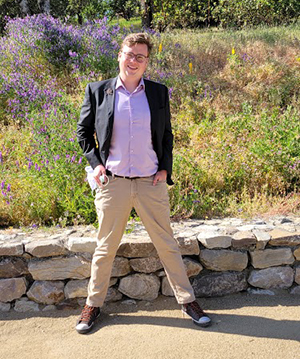 Student Name:  Samuel Naujokas
Pacific Ocean Energy Trust
Beaverton, OR, USA (working remotely)
May 24-September 1, 2021
World Wildlife Fund- Multilateral Fisheries Division
Washington, DC, USA (working remotely)
May 24-September 1, 2021
Sam worked with two organizations this summer, Pacific Ocean Energy Trust and World Wildlife Federation.    At Pacific Ocean Energy Trust Sam worked to develop model legislation for offshore wind turbine siting/development policies, in addition to building a framework for inclusive engagement for stakeholders in coastal communities connected to offshore wind. At the World Wildlife Fund, Sam focused on policy research and recommendations to inform the international Biodiversity Beyond National Jurisdiction agreement so it can be utilized to protect multilateral tuna fisheries, with a focus on the South Pacific region.
---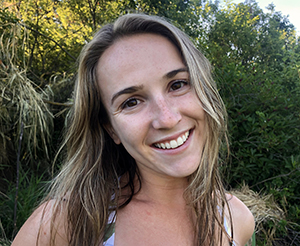 Student Name:   Mary Patenburg
World Wildlife Fund
Washington, DC, USA (working remotely)
May 24-August 18, 2021
Mary conducted and presented a research project looking at participatory processes in fisheries governance across different countries in the Latin American region to help inform the Peruvian government on how to improve their fishery management participatory processes and better engage fishers in the process. Mary's project will help make the case to the Peruvian government that adopting best fishery management practices will help ensure the long-term sustainability of its fisheries. Outside of the research project, Mary will learn about WWF's sustainable fisheries, Fishery Improvement Projects (FIP), seafood markets, and wider oceans work. In particular, Mary supported the development of FIP communications, including developing a web page to share regular updates on FIP work and working with program offices to develop short videos or blogs about WWF's FIPs which can be shared with various audiences.
---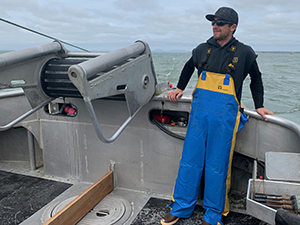 Student Name: Nick Rahaim
Center for the Blue Economy
Monterey, CA, USA and Gulf of Alaska, USA (working remotely and on-site)
May 15-November 15, 2021
Nick will investigate the challenges and opportunities offshore wind development poses for the commercial fishing industry over the summer and into the fall term. The project will include a literature review of offshore wind development and commercial fishing, a review of offshore wind policy in the US and proposed development site, and a survey of the California fishing industry to determine the potential economic impacts of offshore wind development on the fishing industry and opportunity for cooperation.  Nick is a commercial fisherman himself, and longtime ocean advocate and journalist.  As he writes in a recent blog post: "I'm approaching this research as someone from within the commercial fishing industry and as proponent of the need for offshore. This is an uncommon perspective and one I hope can assess they challenges and opportunities we face looking toward the ocean for renewable wind energy."
---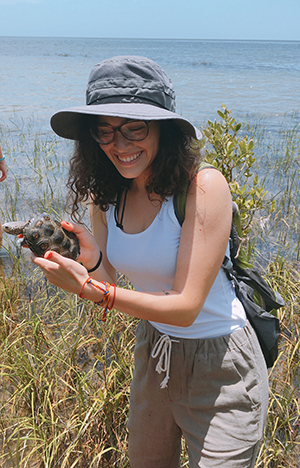 Student Name:   Laura Sánchez
Environmental Defense Fund
San Francisco, CA, USA (working remotely)
June 8-August 13, 2021
EDF Ocean Observing systems Program works with a dedicated team of scientists, economists and fishery management experts.  Laura worked specifically in partnership with Chile, Peru, and Ecuador's marine and fisheries science agencies to create a comprehensive prediction and early warning system for climate change impacts on fisheries (known as SAPO in Spanish – Sistema de Alerta, Predicción y Observación). The project's aim is to create a shared ocean observing system that spans the whole Humboldt Current across the 3 countries, which will form the basis for determining the prediction and early warning indicators for SAPO, so fishery managers in each country and the region as a whole can implement better adaptive fishery management and improve resilience to climate change.
---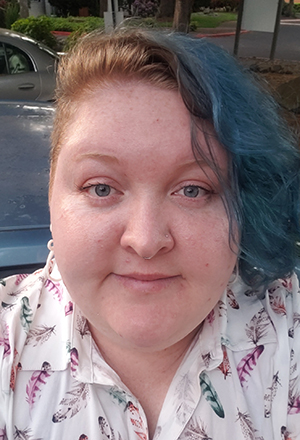 Student Name:   Louise Shurvinton-Bradley
Center for the Blue Economy
Monterey, CA, USA (working remotely)
June 1-August 31, 2021
Oceans are often left out of the climate change conversation.  Healthy oceans sequester 25% of the world's greenhouse gases each year.  Louise managed and created social media posts to further the policy advocacy work that began two years ago with the Ocean Climate Action Plan.  The Ocean Climate Action Plan was formed in collaboration with a diverse national coalition of ocean conservation organizations, researchers, policy makers, youth activists, environmental justice champions, and indigenous leaders to craft a template for federal ocean-climate policy that achieves two objectives: 1. uses ocean and coastal resources to reduce greenhouse gas emissions, and 2. helps coastal communities adapt to climate impacts in a just and equitable manner. Social media has played a key role in elevating the ocean climate agenda.   On June 22, the Ocean-Based Climate Solutions Act was introduced in the House of Representatives, a bill that the OCAP team had direct input to.  As of September 2021, key elements of the OCAP are a part of the infrastructure and forthcoming reconciliation bills.  This is a once in a generation opportunity for climate change funding.  Public opinion, social media, and societal awareness of the ocean climate connection is more important than ever in shaping federal policy and funding in areas such as offshore renewable energy, ports and shipping, coastal restoration, and sustainable aquaculture.   Louise rocked this important work. 
In addition, Louise assisted Dr. Charlie Colgan with a grant-funded project redefining the ocean economy in the Mid-Atlantic Region.
---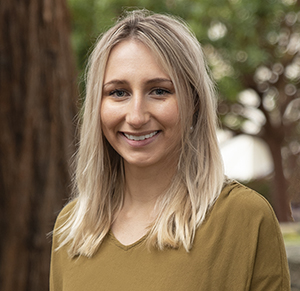 Student Name:   Diane Sikkens
Environmental Defense Fund
San Francisco, CA, USA (working remotely)
June 8-August 13, 2021
Diane worked to identify "hot spots" for fisheries governance and policy – areas in which high value target species are shifting their distributions across jurisdictional boundaries (with a focus on international jurisdictions) – and then figured out whether existing policy and governance is well equipped to deal with these changes.
---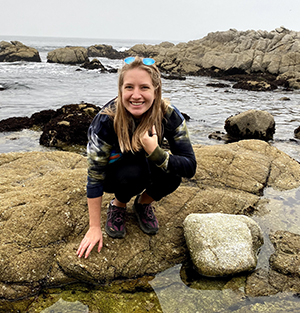 Student Name:   Emily Stokes
Conservation International
Arlington, VA, USA (working remotely)
June 1-August 20, 2021
Emily provided support for the Coral Reefs of the High Seas Coalition, a multidisciplinary alliance of partners that seeks to support the establishment of marine protected areas on the high seas. The Coalition is currently focusing its efforts on the high seas surrounding the Salas y Gomez and Nazca ridges, two seamount chains that stretch across 2,900 kilometers between Rapa Nui (Easter Island) and the Peruvian coast.   As part of the internship, Emily reviewed information on community consultations that were conducted to establish large-scale marine protected areas in the region (i.e., Rapa Nui Multiple-Use Marine Protected Area, Nazca Desventuradas Marine Park, Motu Motiro Hiva Marine Park, Nazca Ridge National Reserve) to determine the root causes for successes and failures. This will include a review of the literature, as well as semi-structed structured interviews with key stakeholders. She summarized this information into a short report with key lessons learned, as well as recommendations for how community consultations should be conducted to establish a high seas marine protected area in the region. In addition to the work above, Emily helped with planning an upcoming scientific expedition to the Salas y Gomez & Nazca ridges, as well as produced factsheets and other communications materials that helped translate key messages from Coalition scientific studies to the general public.
---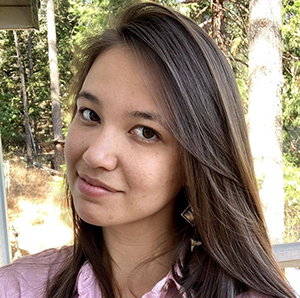 Student Name:  Sarah Wickman
Humboldt County – Planning and Building Department
Eureka, California, USA (working remotely)
June 1-August 20, 2021
Humboldt Bay has the highest rate of relative sea level rise on the West Coast of the United States. Humboldt County Planning and Building Department has therefore found itself on the front lines of climate change, with an alarmingly vast array of assets and critical infrastructure at risk to rising sea levels within the next fifty years. In order to properly address sea level rise impacts with the complex mosaic of federal, state, and local jurisdictional boundaries as well as regulatory authority found in the Humboldt Bay region, Humboldt County has undertaken a regional sea level rise feasibility study to develop options for cooperation and a coordinated regional approach to sea level rise policy and adaptation. Sarah's project was to implement the first phase of this project: coordinating outreach to Local Coastal Program agencies, state and local permitting agencies, asset owners, and the community. In this role she compiled  a list of stakeholders who will be implicated by sea level rise planning, developed survey mechanisms to gather coastal professional opinion and general public comment, and designed a community workshop that will communicate survey results and educate the community on the impending local impacts of sea level rise.  This fellowship is an example of how directly a summer project can impact an organization:  in this case, Humbolt County officials did not know about all of the stakeholders involved, nor how to reach them—Sarah set the stage for them to move forward in this important work.  Great work Sarah!
---