Networking and Alumni Success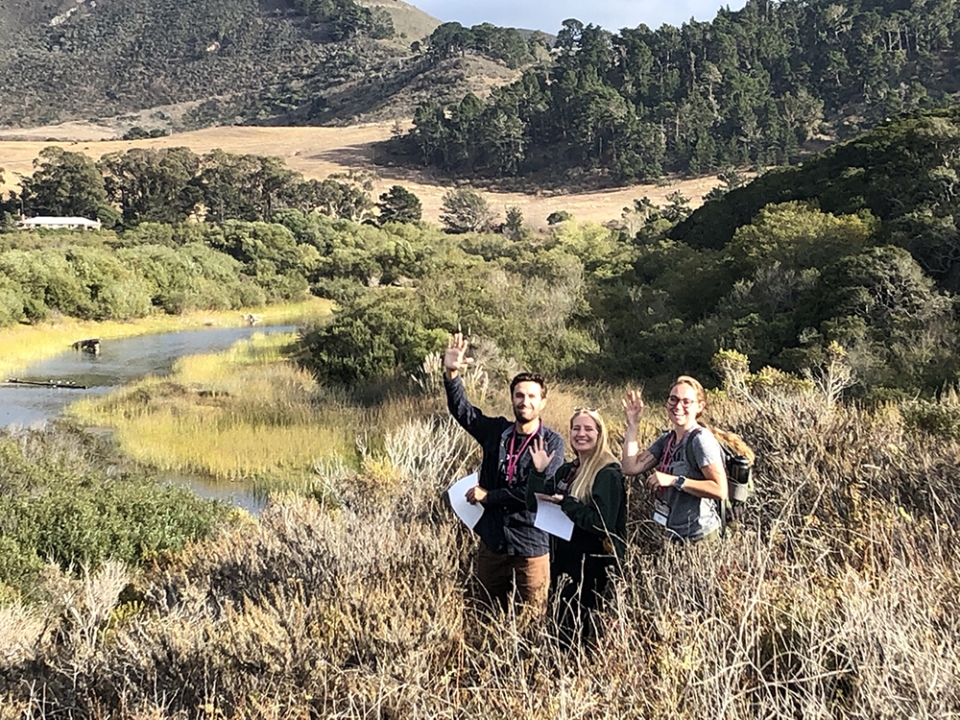 Environmental Policy graduates who have the Ocean and Coastal Resource Management specialization have done very well in the job market, with approximately 94% currently employed in the ocean and coastal resource management field.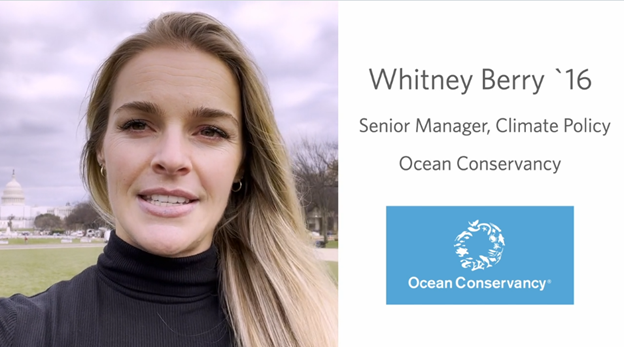 The Center for the Blue Economy established the Ocean and Coastal Resource Management specialization in 2011 after consulting with hundreds of marine policy professionals in all sectors. We keep in touch with OCRM alumni once a year and are continually impressed.  Alumni are routinely awarded prestigious fellowships such as NOAA Sea Grant, Fulbright, and Boren awards. Dozens of our alumni have risen to leadership positions, both domestically and abroad. Current students in the program are encouraged to reach out and chat with graduates to explore careers and gain valuable insight and connections in the field. Networking is a key component to student and alumni success at MIIS.  
OCRM Alumni 2011–2022
Professional Positions as of January 2023
| | | | |
| --- | --- | --- | --- |
| Grad Year | Position | Employer | Former Employer/Notes |
| 2022 | California Sea Grant State Fellow | Delta Stewardship Council | Formerly Watershed Health Program Coordinator for Inland Ocean Coalition |
| 2022 | Community Teacher/Interim Associate 2nd Grade Teacher | Stevens Cooperative School | Formerly Research Fellow: Climate and Resilience Education Task Force at National Wildlife Federation |
| 2022 | Marine Science and Scuba Diving Instructor  | Sea|mester | Formerly Research Assistant for Whale Shark and Oceanic Research Center |
| 2022 | Coastal Resilience Analyst/Planner  | Hampton Roads Planning District Commission  |   |
| 2022 | Illegal Fisheries Analyst | C4ADS (Center for Advanced Defense Studies) | Formerly Environmental Security Intern at The Stimson Center |
| 2022 | Project Coordinator | SecondMuse (Regenerative Monterey Project) | Formerly Bycatch Mitigation Intern for WWF |
| 2022 | Fulbright Fellow | The Fulbright Program | Formerly Multimedia Storyteller for Monterey Bay Fisheries Trust |
| 2022 | Senior Associate | Nuka Research and Planning Group, LLC (marine environmental consulting firm) | Formerly Coastal Geospatial Technician for the National Park Service in Anchorage, AK |
| 2022 | Program Coordinator, US Regions | Environmental Defense Fund | Formerly Blue Carbon Seaweed Intern, same organization |
| 2022 | Marine Spatial Planning Manager | The Waitt Institute | Formerly Senior Associate for The Pew Charitable Trusts |
| 2022 | US and California Conservation Outreach | Monterey Bay Aquarium | Currently also Planner 1 for Sea Level Rise Planning Feasibility Study for Humboldt County |
| 2022 | Research Analyst | Virgil Group |   |
| 2021 | Tribal Response Program Specialist | Confederated Tribes of Coos, Lower Umpqua & Siuslaw Indians | Formerly a Student Project Assistant at the Meridian Institute |
| 2021 | Lead Project Developer  | Fair Carbon | Currently also Int'l Blue Carbon Policy Consultant for Conservation International; Formerly Fair Carbon Intern at IUCN |
| 2021 | Assistant Environmental Planner | Circlepoint | Currently also an Environmental Education Intern with the Carmel River Watershed Conservancy |
| 2021 | Coastal Planner | California Coastal Commission | Formerly California Sea Grant Fellow with California State Parks |
| 2021 | Recruiter & Culture Builder | Wildtype (cellular agriculture for seafood) | Formerly Project Lead at the Good Food Institute; Formerly Project Management Assistant at Conservation Alliance for Seafood Solutions |
| 2021 | Manager, Collaborations | Climate, Transport | Business for Social Responsibility (BSR) | Formerly a Business Strategy and Partnerships at Center for Climate and Energy Solutions (C2ES) |
| 2021 | Coastal Planning Analyst | California Coastal Commission | Formerly Assistant Environmental Planner at Circlepoint |
| 2020 | Research and Policy Associate  | Antarctic and Southern Ocean Coalition | Formerly a Polar and Climate Programme Project Assistant for GRID-Adrenal in Norway |
| 2020 | Project Manager, Seafood Alliance for Legality and Traceability (SALT) | FishWise | Formerly a Seafood Social Risk Tool Analyst for the Monterey Bay Aquarium; Formerly an Int'l Conservation Policy Consultant for The Ocean Foundation |
| 2020 | Coastal Management Specialist | Pasay Harbor City Corp | Fomerly Research Intern at WWF; Formerly Marine Research Intern at Cape Eleutherea Institute |
| 2020 | Coordinator | Quinta Mazatlan World Birding Center | Formerly Americorps Member at Teton Science Schools |
| 2020 | Coastal Program Analyst | California Coastal Commission | Formerly Planning Intern, same organization |
| 2020 | Climate Change Program Manager   | California Ocean Protection Council | Formerly Climate Ready Fellow at CA State Coastal Conservancy |
| 2020 | Fish Culturist I  | Prince William Sound Aquaculture Corporation  | Formerly Fisheries Technician III at Prince William Sound Aquaculture Corporation  |
| 2020 | Veterinary Medicine Student | Murdoch University in Perth, Australia | Formerly Crew Supervisor/Rescue Intern at The Marine Mammal Center |
| 2020 | Marketing Manager and Educational Guide  | Upwelling Sustainable Seafood Company  | Formerly Marketing Assistant at TAITRA (Taiwan External Trade Development Council) in L.A., CA |
| 2020 | Senior Project Manager | HomeRise (formerly Community Housing Partnership) | Formerly Sustainable Transportation Collaboration Fellow at BSR |
| 2020 | Analyst | Endurant Energy (formerly GI Energy) | Formerly Sustainable Energy Consultant at GreenMax Capital Advisors |
| 2019 | Research Associate | Oceana | Formerly Research Assistant, same organization; Formerly intern at NOAA National Marine Protected Areas Center |
| 2019 | Environmental Scientist | Integral Consulting Inc. (analysis/assessment/negotiation/design for health, environmental, and natural resources problems) | Formerly California Sea Grant Science & Policy Fellow at California State Lands Commission |
| 2019 | Resarcher (Russian Arctic) | Institute of Current World Affairs | Formerly Boren Fellow at Boren Insitute - Mozambique (researching how natural resource management and climate change relates to political stability); Formerly Fulbright Fellow - Senegal (researching dynamics of climate impacts, focusing on coastal fishing communities) |
| 2019 | Executive Producer / Program Associate | After the Fire USA | Formerly Program Analyst for Taking Action for Living Systems; Formerly Media Specialist at Communities for a Sustainable Monterey County |
| 2019 | Global Head, Sustainability for Cloud Logistics  | Microsoft | Formerly Policy Lead at Blue Sky Maritime Coalition; Formerly Director, Global Sustainability & Corporate Citizenship at Crowley |
| 2019 | Senior Associate | KPMG Norway | Formerly Graduate Student studying the Law of the Sea, at UiT - The Arctic University of Norway |
| 2019 | Supply Chain Planning Manager | Second Harvest of Silicon Valley (food security) | Formerly Replenishment Analyst at West Marine in Watsonville, CA |
| 2019 | Able Bodied Seaman | Fill-in Captain | Stabbert Maritime Holdings, LLC | Pacific Scuba Divers | Formerly a Divemaster with Bamboo Reef Enterprises in Monterey |
| 2019 | Associate Planner 1 | Denise Duffy & Associates (planning, natural resource, and environmental consulting services) | Formerly Program Manager at Monterey Bay Fisheries Trust |
| 2018 | Sustainability Coordinator | County of San Mateo | Formerly Manager at Monterey Bay Kayaks |
| 2018 | Environmental Scientist | Climate Change Programs | California Natural Resources Agency | Formerly Coastal Planner at San Francisco Bay Conservation and Development Commission |
| 2018 | Mediator and Program Manager | Meridian Institute (support environmental implementation) | Formerly Conservation Program Manager Santa Lucia Conservancy |
| 2018 | Program Manager | The Waitt Institute | Formerly Manager, Office of the CEO at Oceana |
| 2018 | Marine Spatial Scientist | CSS (for NOAA NCCOS Marine Spatial Ecology Division) | Formerly Marine Spatial Ecologist for Rare, World Wildlife Fund, and National Geographic, Fisheries Ecologist for NOAA NEFSC |
| 2018 | Supervisory Park Ranger | Scissortail Park Foundation | Formerly Human Intelligence Collector at Army National Guard in Oklahoma City |
| 2018 | Institutional Giving Manager | The Marine Mammal Center | Formerly Climate Corps Fellow/ Assistant Project Manager at City of Hayward (shoreline adaptation) |
| 2018 | Program Manager | Alaska Solar LLC | Formerly Resilience Fellow, Mayors Office, Anchorage, Alaska |
| 2018 | Nature-Based Solutions Lead for the Climate Preparedness and Resilience Community of Practice | U.S. Army Corps of Engineers | Formerly Seattle District Aquaculture Reinforcement Team Member |
| 2018 | Country Support Officer | USAID, Bureau for Resilience and Food Security | Formerly with RARE, Policy and Governance Advisor on Fisheries; Formerly with FAO working on Blue Growth Initiative |
| 2017 | Project Manager | Corporation for Public Broadcasting (CPB) | Formerly Managing Director at MindEdge Learning (e-learning for higher education) |
| 2017 | Coastal Management Specialist & NERR (National Estuarine Research Reserve Management) Management Liaison | NOAA: National Oceanic & Atmospheric Administration | Formerly Environmental Specialist II/Coastal Planner at Dudek |
| 2017 | Communications Manager | The Phinney Neighborhood Association (community connection & civic engagement org) | Formerly Recruiting Coordinator at Amazon; Operations Coord. For Arboretum Foundation; Operations Associate, Conservation Northwest |
| 2017 | Business Owner - Animal Rights Advocate/Vegan Blogger | Off the Streets, Animal Transport & Wellness |   |
| 2017 | Natural Resource Specialist 3 | Alaska Department of Natural Resources | Formerly Policy Analyst at Univeristy of Alaska Fairbanks International Arctic Research Center ( NOAA) |
| 2017 | Stewardship Project Manager | Big Sur Land Trust | Formerly Environmental Management Advisor for Peace Corps Jamaica  |
| 2017 | Urban Conservation Manager | Seattle Audubon Society | Formerly Project Scientist, The Nature Conservancy |
| 2017 | Senior Associate | PlaceWorks (planning, design, and environmental firm)  | Formerly Senior Air Quality Scientist at FirstCarbon Solutions  |
| 2017 | Water Resources Control Engineer  | State Water Resources Control Board | Formerly Agricultural Water Management Specialist at Resource Conservation District of Monterey County |
| 2017 | Policy Analyst | International Arctic Research Center, University of Alaska Fairbanks (consulting work for NOAA) | Formerly Natural Resource Advisor, same organization |
| 2017 | Manager | Sanctuary Rock Gym |   |
| 2016 | Senior Manager, Climate Policy   | Ocean Conservancy | Formerly Climate Change Program Manager at California Ocean Protection Council |
| 2016 | Senior Consultant  | Celerity Consulting Group | Formerly GIS Analysist via Apex Systems for Apple |
| 2016 | Research Area Specialist Associate | Graham Sustainability Institute | Formerly Field Organizer for Yes on 1631 |
| 2016 | Supervisor/Assistant Equestrian Trainer | Medieval Times Dinner & Tournament Attraction | Formerly Business Development Consultant, Marine Megafauna Foundation; Equestrian artist/performer with Cavalia/Cirque du Soleil |
| 2016 | Communications Specialist | NOAA: National Oceanic & Atmospheric Administration, Marine Debris Division | Formerly Communications and Outreach Specialist at I.M. Systems Group Inc |
| 2016 | Associate Water Resources Specialist | Valley Water | Formerly Social Media Director at ESTUARY News |
| 2015 | Senior Digital Associate | Lenfest Ocean Program (part of Pew Charitible Trusts) | Formerly Outreach Coordinator, Blue Frontier Campaign (ocean advocacy group) |
| 2015 | Senior Environmental Scientist | CA State Lands Commission, Environmental Planning and Management Division (working on sea level rise policy) | Formerly NOAA Sea Grant Fellow, same organization |
| 2015 | Visiting Researcher | University of Victoria  | Formerly PhD Candidate at Memorial University of Newfoundland |
| 2015 | Resource Protection Specialist Affiliate, Channel Islands, Cordell Bank, and Greater Farallones Nat'l Marine Sanctuaries | U.S. National Oceanic and Atmospheric Agency (NOAA) | Formerly NOAA Sea Grant Fellow, Channel Islands National Marine Sanctuary |
| 2015 | Corporate Partnerships Manager | Global Ghost Gear Initiative | Formerly Coastal Program Analyst, followed by Coastal Planner, CA Coastal Commission |
| 2015 | GloLitter Partnerships  Project Coordinator  | Food and Agriculture Organization of the United Nations (FAO) | Formerly PhD Candidate at University of Tasmania, Institute of Marine and Antarctic Studies  and a Consultant (variety fisheries management and plastic pollution consulting, focus in Pacific region) |
| 2015 | Senior Transportation Planner | California Coastal Commission | Formerly Coastal Program Analyst II- Enforcement, same organization |
| 2015 | Senior Fisheries Analyst | Ministry for Primary Industries (MPI) | Formerly Environmental Scientist at California Department of Water Resources |
| 2015 | Co-Director/Co-Founder | Community Greening | Formerly Business Partner, Both Co Aquaponics |
| 2014 | Compliance and Legal Department | NORCAL Group | Formerly International Environmental Regulatory Research Analyst, Beveridge & Diamond, P.C., Autin, TX |
| 2014 | Permit Supervisor, Central Coast District, California Coastal  | California Coastal Commission |   |
| 2014 | Interim Executive Director | Haines Economic Development Corporation | Currently also an Owner/Farmer & composting consultant for Takshanuk Watershed Council  |
| 2014 | PhD Candidate | University of Tasmania, School of Geography and Environmental Studies (Studying climate change adaptation in the coastalscapes of southern Tasmania) | Formerly National Coral Reef Management Fellow at U.S. National Oceanic and Atmospheric Administration (NOAA) in Rota, Mariana Islands |
| 2014 | Associate | Measuring Impact II | Environmental Incentives, LLC | Currently Co-owner at Kinship Kitchen; Formerly at The White Mountain School |
| 2014 | Co-Creator, Host | Waste Not Why Not | Formerly Senior Consultant at RESET Carbon Ltd. in Taipei City |
| 2014 | Senior Planner | County of Santa Barbara (land use issues including coastal management) | Formerly Planner II, same organization |
| 2014 | Senior Staff Specialist | Bay Area Air Quality Management District | Formerly Air Quality Planner, Monterey Bay Air Resources District |
| 2014 | Envrionmental Planner | Dudek (environmental consulting firm) | Formerly ENV Permitting Coordinator at Loeven Groups, Inc. (owns or operates funeral homes and cemeteries in the United States, Canada, and the United Kingdom) in San Francisco |
| 2014 | Senior Associate | Environmental Incentives, LLC | Formerly Marine and Coastal Ecosystem Services Consultant, Inter-American Development Bank |
| 2014 | Arborist | Orchardscapes | Formerly Farmer/Education Supervisor, Homeless Garden Project |
| 2014 | Conservation Programs Manager | Save the Waves Coalition | Formerly Plastic Pollution Manager The Surfrider Foundation |
| 2014 | Adaptation Program Manager | Center for Climate Adaptation Science and Solutions, University of Arizona | Formerly NOAA Coastal Management Fellow, Puerto Rico Coastal Zone Management Program |
| 2014 | Senior Consultant  | Implement Consulting Group | Formerly Head of International Delivery for cBrain (neuroimaging software) |
| 2013 | Senior Manager, Project Delivery, Marine, Gender and Safeguards Specialist | Conservation International  |   |
| 2013 | Bay Resources Analyst | San Francisco Bay Conservation and Development Commission (BCDC) | Currently also a PhD Marine Policy Candidate at University of Delaware, Formerly with US Army Corps of Engineers as a NOAA Sea Grant Fellow  |
| 2013 | Director (Independent Consultant) | Kearns & West | Currently also a Founder and Principal of Seagrave Consulting (Self-Employed), Formerly with San Francisco Bay Conservation and Development Commission |
| 2013 | International Relations Specialist | Bureau of Ocean Energy Management  | Formerly International Affairs Specialist, NOAA: National Oceanic & Atmospheric Administration |
| 2013 | Director of Content Marketing | Zeplin (product design software & firm) | Formerly Integrated Marketing Manager at Comfy by Building Robotics (mission: make modern buildings more energy efficient, comfortable for humans) |
| 2013 | Microgrant Co-Manager | Our Kids Climate (International) | Formerly Lionbridge (translation & localization company) |
| 2013 | Land Protection Manager | Triangle Land Conservancy (mission:  get people out into preserves and into nature) | Formerly with South Carolina Environmental Law Project |
| 2013 | Fisheries Consultant | Nordenfjeldske Development Services (NFDS) | Formerly Consultant at TRAFFIC: Conducts intelligence gathering at wildlife markets in South Africa to analyze the scale of the illegal wildlife trade at major urban centers; Streamlines information sharing between customs officers from ten different countries at major customs workshop in China. |
| 2013 | Writer, Editor, Strategist | Self-Employed | Formerly California Certified Organic Farmers (CCOF |
| 2013 | Program Project Manager | Amazon Web Services (AWS) | Formerly Operations Project Manager at CelLink Corporation |
| 2013 | Equity and Policy Manager | Portland Water Bureau | Formerly Director of Governance and Policy and Senior Manager of Ocean Health Index at Conservation International |
| 2012 | Lecturer  | California State University, Monterey Bay | Formerly with County of Monterey |
| 2012 | Senior Manager, Corporate Climate Solutions | Conservation International  | Formerly with Lestari Capital, Before that with World Resources Institute |
| 2012 | Authenticity Coach | Awaken Authenticity | Formerly with Paddle On/ Environmental Traveling Companions (ETC) |
| 2012 | Business Development | The Reynolds Group | Formerly with Stevenson School, Pebble Beach |
| 2012 | Marine Program Manager | WildAid | Formerly with Lindsay Wildlife Experience |
| 2011 | Policy Coordinator | Surfrider Foundation | Formerly with California Coastal Commission |