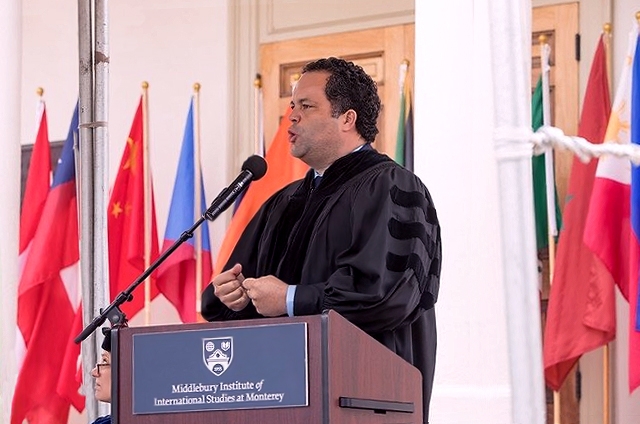 It was a historic spring Commencement at the Middlebury Institute for many reasons, including that it rained during the May graduation ceremony for the first time in the school's 64-year history. But the weather did nothing to dampen the spirits of proud families and friends gathered to celebrate the accomplishments of 269 students from 24 countries.
Middlebury President Laurie L. Patton told the audience that "the Institute is a place where idealism is fostered," and shared the inspiration she feels every time she visits Monterey and interacts with students who "want a career of meaning," and to "make a positive contribution to the world."
'Your job is to be builders of a better future," spring Commencement speaker and human rights activist Ben Jealous told the graduating class. The former head of the NAACP and gubernatorial candidate in Maryland encouraged them to "dive in and lead right now," and not to let anyone limit their aspirations to tackle more than one important issue at a time. He shared his experience as a young leader of the NAACP successfully ignoring the advice of elders to only focus on one policy matter at a time. Jealous was presented with an honorary degree from the Institute.
Each year the graduating class picks a student to deliver an address at Commencement and this year's speaker was Gabriella Schlesinger-Jones MBA '19. She had the class laughing with inside jokes, but also talked "in all seriousness" about her love of the Samson Student Center because "it celebrates all the things that makes MIIS and MIIS students so incredible. So many different cultures, so many different interests and passions and ideas, all sharing one microwave." 
Spring Commencement 2019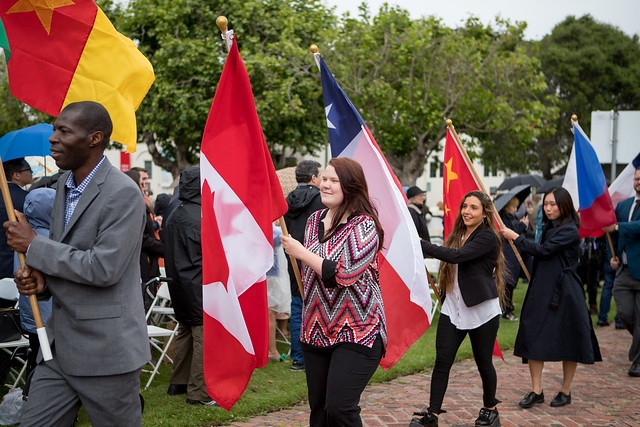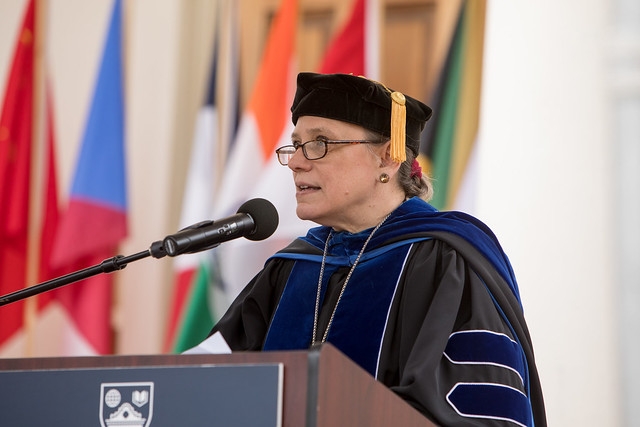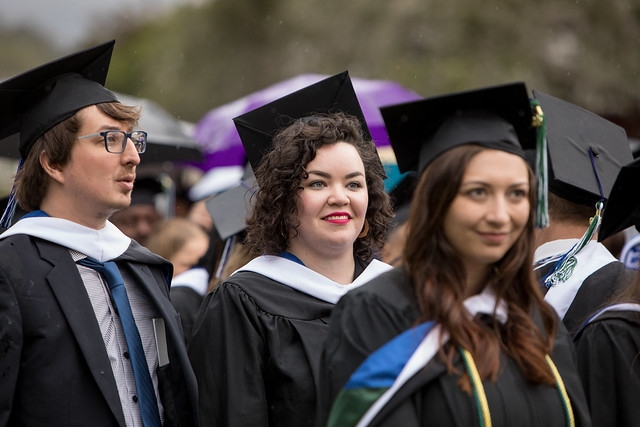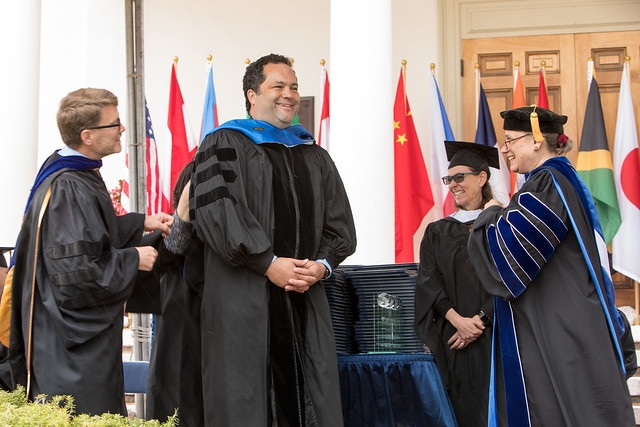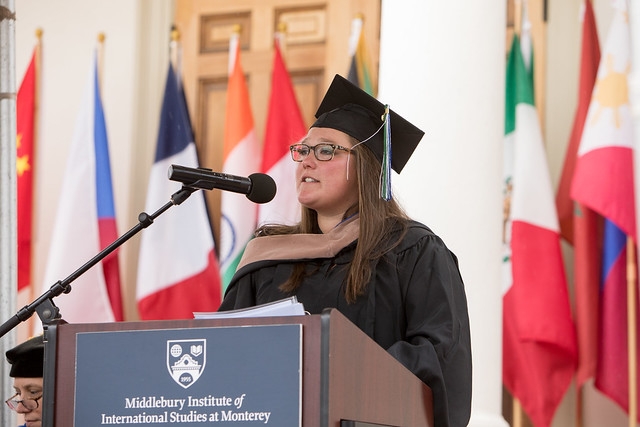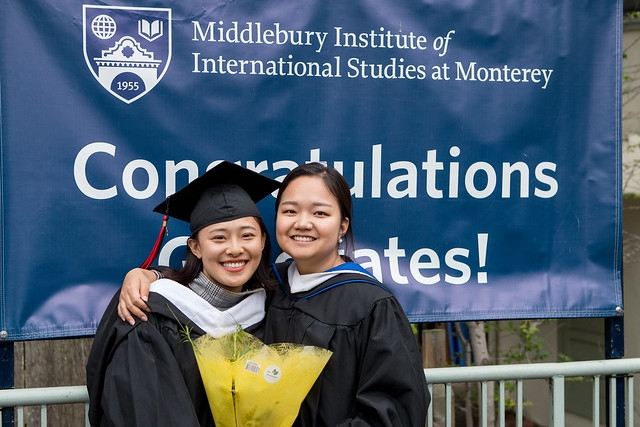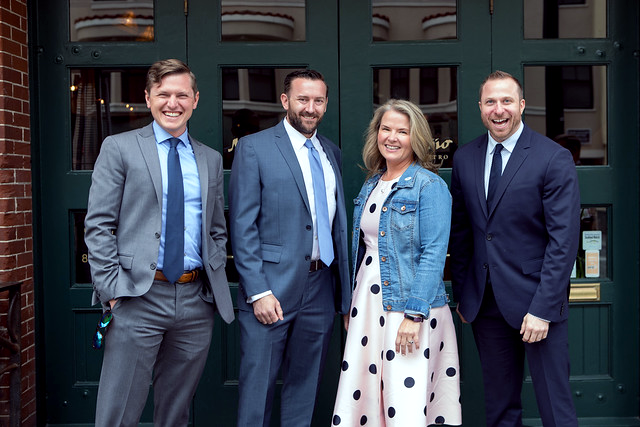 Before conferring degrees, President Patton, Dean of the Institute and VP for Academic Affairs Jeffrey Dayton-Johnson and Institute Board of Overseers Vice-Chair Cathy Lee recognized the contributions of the four Alumni Achievement Award winners. The 2019 Distinguished Alumni Award was awarded to Maureen Sweeney MPA '94 who has enjoyed a successful career in the language and international services field, being a part of the organizing teams for 10 Olympic games as well as a host of other international sporting events. 
As founding partner of Tiller Language Services, Sweeney has hired numerous Institute faculty and graduates. "The Institute has impacted all aspects of my career," Sweeney shares. She worked closely with former Dean and Chief Interpreter of the Olympics Bill Weber for decades until he retired in 2016. When she was studying for her degree in Public Administration, Sweeney's dream career had been to work for an international organization like the United Nations. When she saw a notice that Weber was interviewing students from the Translation and Interpretation program for internships during the Atlanta Olympics she decided to sign up even though she was not qualified as an interpreter. Two months later she was headed to Atlanta to be the assistant to the chief interpreter, setting a course for her career.
The Young Alumni Achievement Award for the Graduate School of International Policy and Management was awarded to Shawn Harris MPA '13, one of the founders of the Institute's Mixed Methods Evaluation, Training and Analysis Lab (MetaLab), who since 2014 has worked as a field researcher with Conflict Armament Research collecting data on illicit weapons in armed conflicts.  Dr. David Chiesa MATESOL/LPA '10 was awarded the Young Alumni Achievement Award for the Graduate School of Translation, Interpretation and Language Education. Chiesa earned his PhD in applied linguistics from Georgia State University. He has lived, worked and conducted research in East and Central Asia for 15 years and published numerous empirical research articles and book chapters. Currently, Chiesa is a language testing and assessment specialist for the Ministry of Public Education for the Republic of Uzbekistan.
Sean Brownlee MBA '11 was awarded the Alumni Service Award. He is a Special Operations United States Marine with over 21 years of global service. He is a senior enlisted advisor for the West Coast Readiness Support Program and is a foreign area regional affairs officer. He is business owner and a strong advocator for retail who has been recognized by his work on Capitol Hill. Brownlee has maintained a strong tie to the Institute since graduating eight years ago and frequently mentors students and assists with recruiting efforts.
The Middlebury Institute Winter Commencement on Saturday December 15th celebrated the achievements of 84 graduates from 14 countries.
 
Noted Afghan educator Sakena Yacoobi tells 270 Middlebury Institute graduates from 31 countries that "every one one of us needs to be humble" to have an impact working with communities around the world.
"We don't all need to be full time activists, but we all need to be active," Commencement speaker Bill McKibben told 287 Middlebury Institute graduates from 31 countries on Saturday.