First WorldViews Lecture Explores Nationalism & Immigration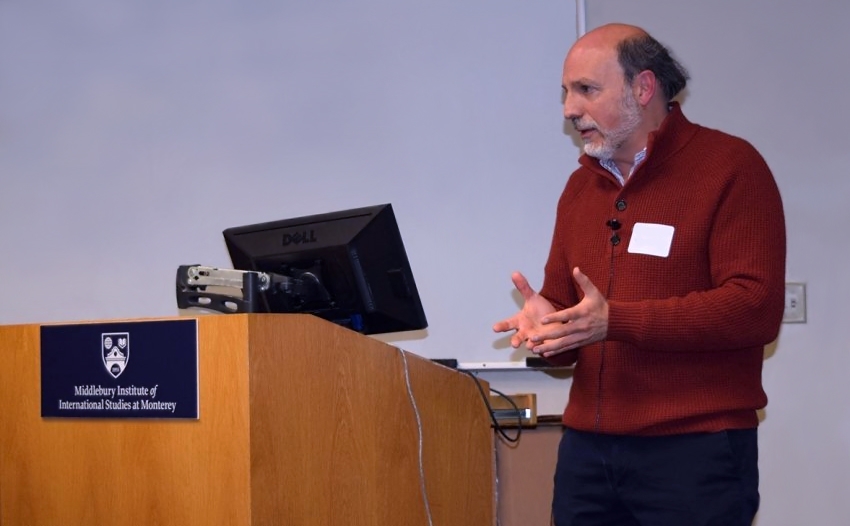 Nationalism is first and foremost an ideology and movement and is not inherently a bad thing, but when it turns into a discourse of exclusion it can open the door for "pathologies" like nativism and neo-fascism to take hold, Professor William Arrocha told the audience at the first session of this year's WorldViews Speakers Series Thursday night. Arrocha delivered his talk, "Stemming the Tide toward Nationalism" to a full house in the McGowan Building on the Institute's downtown Monterey campus.
Arrocha compared nationalism with Janus, the Roman god of duality, usually portrayed with two faces: "One face looking toward the past, and another face looking toward the future." Citing the example of Catalan nationalism, he noted that in greater Spain, the regional government officials who recently tried to help Catalonia break away from Spain are seen as "betraying the institutions and the core values of Spanish nationalism." Yet if you were to talk with the majority of Catalans who supported theses officials' actions, "they would tell you that these officials are not traitors, they are heroes. Their expression of nationalism is one of self-determination."
Moving the focus to the United States, Arrocha traced the long history of nationalism-fueled sentiment against immigrants here, with Irish, Italians, Chinese, Japanese, and others having been subject to immigration quotas, laws restricting their civil rights, and other forms of discrimination for many decades. Arrocha pointed out that as recently as the year 2000, a former senior advisor to Democratic President Jimmy Carter warned, to the dismay of many liberals within his own party, of an "invasion" or "reconquista" of the Southwestern U.S. by immigrants from Mexico. "The conversation about immigration issues in this country today is not as uncharacteristic as we might want to believe. It reflects a dominant discourse that cuts across parties and scapegoats immigrants from certain countries that are unfairly perceived as a threat to American nationalism."
Prof. Arrocha's academic research focuses on human rights, migration, and human security, and explores the causes of oppression and social exclusion. A faculty member in the Institute's International Policy and Development program, he teaches courses on international development, migration and human rights, as well as U.S.-Mexico relations. He appears regularly on UNIVISION and has been a consultant for the Association of Caribbean States, the United Nations Conference on Trade and Development, and the governments of Mexico and Canada.
The WorldViews Speaker Series continues on March 13 with Professor Jason Blazakis, director of the Center on Terrorism, Extremism, and Counterterrorism, speaking on "New Threats: Terrorism and Cybercrimes." The final session of WorldViews this spring will feature Professor Pushpa Iyer, director of the Center for Conflict Studies, and Professor Thor Sawin speaking on "Identity through the Words of Another" on April 10. All WorldViews lectures are ticketed events, with the $10 per ticket fee including the lecture and a reception sponsored by Scheid Vineyards. To register, visit go.miis.edu/worldviews.