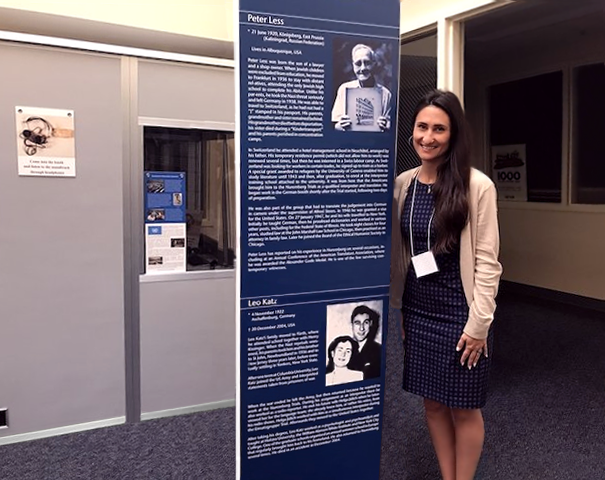 Leopold (Leo) Katz, grandfather of Middlebury Institute international education management alumna Evelyn Lueker MAIEM '18, used to describe his relationship with his birth place of Nuremberg, Germany as a poetic three-part story that involved fleeing persecution, returning for justice, and ultimately finding love.

 
Katz and his wife Helga are featured in the exhibit "One Trial, Four Languages" in the McCone building about the pioneering interpreters who laid the foundation for the field through their work at the Nuremburg trials after the end of the World War II. The exhibit, created by the International Association of Conference Interpreters (AIIC), is on campus as part of a series of events marking the 50th anniversary of the Institute's translation and interpretation program.
Lueker returned to campus last weekend to participate in a panel discussion at the 2019 Monterey Forum. "The whole family is thrilled about this," Lueker shares, and adds that they had not been aware that her grandparents were featured in this exhibit until she was contacted by Professor Jacolyn Harmer, who invited her to be a part of the Forum. Lueker, who works with international scholars at the University of California San Diego, credits her "omi and opa" for inspiring her to pursue a career in international education. "Their incredible resilience, passion for giving voice to those who do not have one, constant pursuit of justice, and amazing ability to forgive has been an inspiration to me my whole life."
Lueker's great-grandfather, Leo Katz's father, was a cantor and a schochet, or ritual slaughterer, for the Nuremberg orthodox synagogue. He realized early what a threat Hitler posed for his family and sought a way for them to leave Germany, finding refuge first in Newfoundland, Canada in 1937, and later in New Jersey. Leo was drafted into the U.S. Army as soon as he came of age and was eventually assigned to military intelligence. He returned to Europe in 1944 as an interrogator of prisoners-of-war. He was part of the team of interpreters who interpreted the initial Nuremberg trials from and into English, German, Russian and French. It was the first time simultaneous interpreting was used at a trial, and the work of the Nuremberg interpreters is considered the foundation of the field of simultaneous interpreting as we know it today.
Helga Juelich's family, although Jewish, lived as Christians in Cologne. Her father owned a women's clothing factory and the family was well off. When he was arrested on Kristallnacht in November of 1938, her family finally realized the threat they were under in Nazi Germany. Their attempts to escape the country together failed, and her parents decided to save their children. Her brother made his way through family connections to the U.S. and Helga was part of the Kindertransport to England. She never saw her parents again; her father committed suicide and her mother died in a concentration camp. Helga did not feel welcome in England, where she was considered an "enemy alien" and had to support herself through low-paying jobs. She told Lueker that the best experience she had in England was when she was sent to an internment camp with other refugees in the Isle of Man. After the war ended she heard a call on the radio for qualified people to work as interpreters at the Nuremberg trials. She applied, hoping to find her mother when she returned to Germany, as she did not know what had happened to her.
When Helga had her interview for the position of interpreter she was only 23 years old. The radio announcement she heard in England was made by Leo, and when she met him she told her family she felt "a little starstruck" – she also says he hired her because of her legs. Lueker says both her grandparents were determined to make the most of the life they were given. "Their house was open to all, and they took every opportunity to invite people to stay, or to provide a helping hand." They also took their children to marches, protests and meetings, relishing the freedom they had in the United States to speak up when faced with injustices, having lived through the horrible consequences of what happens when people do not speak up for others.
Language services professionals including Dr. Yun-Hwang Lee, interpreter at the recent U.S.-North Korea summits, will appear at a conference celebrating 50 years of translation, interpretation, and localization instruction at the Middlebury Institute on May 4-5.
The 2019 UN MoU Universities Conference brought representatives of translation and interpretation programs and UN staff members from around the world together in Monterey for a two-day gathering on the Institute campus.