Middlebury Institute Showcases Programs, Community Collaborations for Area Leaders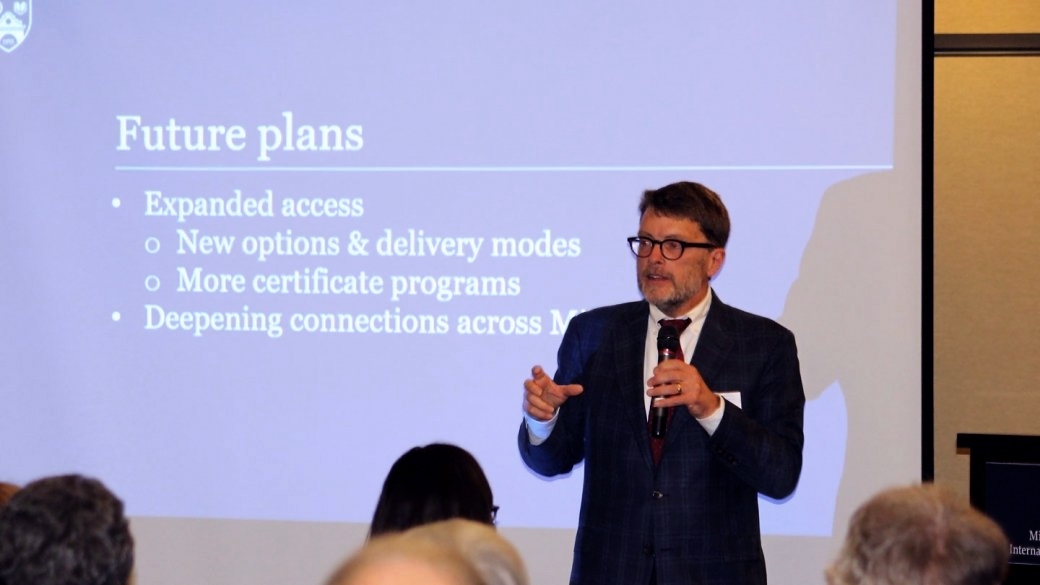 Nearly 50 community leaders gathered to learn more about the Middlebury Institute's impact both globally and locally at the inaugural "Institute Impact" event Wednesday night in Monterey. Guests including local elected officials, leaders in the business, education, government and non-profit sectors, and the media enjoyed interactive showcases of Institute programs and centers.
"We're fortunate as a community to have the Institute as one of our assets and I'm eager to share the value of this distinct learning environment with anyone who will listen," said Deborah Hicks, a member of both the Institute Board of Overseers and the Center for the Blue Economy Advisory Council who welcomed the group and introduced Jeff Dayton-Johnson, vice president for academic affairs and dean of the Institute
Dayton-Johnson explained how the Institute's mission—educating professionals to advance understanding, promote peace, and drive change in pursuit of a more just world—applies in both global and local contexts, highlighting activities that ranged from alumni interpreting for heads of state around the world, to the Center for the Blue Economy working with the City of Monterey on sea level rise adaptation strategies. "We aspire to have both a global reach and a local impact," he said.
In addition to a trio of featured speakers, the showcases allowed guests to delve deeper into programs including the James Martin Center for Nonproliferation Studies; the Center for the Blue Economy; the Center on Terrorism, Extremism, and Counterterrorism; Custom Language Services; the Summer Intensive Language Program; the META Lab; and the full range of master's degree programs available at the Institute.  
Each of these programs is continually evolving and adapting. "The landscape for higher education is changing more rapidly now than it has in the past," according to Dayton-Johnson, who cited changes in student expectations and demographics, as well as labor market profiles and employer needs. "If we're successful, the rate of change between where we are today and where we are five years from now is going to be much greater than the rate we've experienced in the past five years," he said, stressing the need to be "nimble and innovative" in expanding accelerated and hybrid / low-residency programs, as well as short-term professional certificate programs.
The third speaker, student Paula Granger MANPTS '19, shared her recent experience working with students at Marina High School on a project where their class is examining a global problem and considering potential solutions. The teacher who recruited Granger and a classmate for the role stressed that many students haven't traveled much and their knowledge and experience of other countries is limited. "Because we're MIIS students with diverse perspectives and backgrounds," says Granger, "we can bring the world to them."