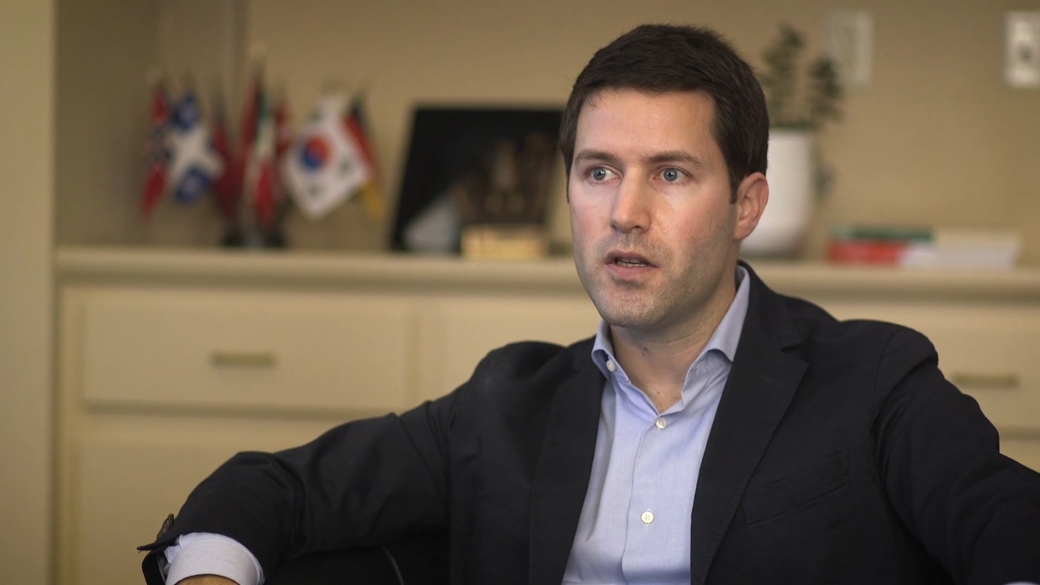 Professor Philipp Bleek of the Middlebury Institute's MA in Nonproliferation and Terrorism Studies program has received the Institute's Faculty Excellence Award for Academic Year 2020/21.
"During the pandemic we've often heard the saying 'In online learning, clarity is kindness,'" noted Jeff Dayton-Johnson, vice president for academic affairs and dean of the Institute. "The Faculty Excellence Award Committee was proud to recognize Professor Bleek as a colleague whose teaching exemplifies this clarity. They were impressed by the work he did in redesigning not only his course structures but also his pedagogy, to take fullest advantage of the online learning environment." 
Bleek is grateful for the support he received from colleagues as he reworked his approach to his courses. "For fall 2020, the first semester we were fully online, I revisited the fundamental structure of my classes, both an introductory 'lecture' class and a skills-oriented workshop. I incorporated some principles I picked up from Camp Design Online, the excellent online pedagogy 'summer camp' staff put on, and I also tried hard to put myself in the shoes of my students."
A Deep-Rooted Commitment to Teaching
His commitment to teaching has deep roots, Bleek explains. "My parents were both teachers—my father a university professor, my mother a primary school teacher—and I internalized from them the notion that teaching is honorable. I was also blessed to have multiple exceptional teachers, from primary school all the way through graduate school, and they are among the people I admire most. A big part of why I am a professor and not a policy wonk in government and the think tank world in Washington, D.C., is that the Institute deeply values teaching."
Nominations for the Faculty Excellence Award were opened to the campus community in February, with nominees then considered by a selection committee made up of two faculty members, two students, and one member of the Institute Leadership Group. After narrowing the field to a short list of finalists, the committee reviewed recent student evaluations and observed each finalist in the virtual instruction setting before reaching their decision.
Dayton-Johnson noted that Bleek's course structure is "a model of 'high challenge, high support,' giving students a great deal of agency and responsibility for their own learning while creating many frameworks to assist them in these efforts, synthesize what they have discovered, and guide them as they apply this to their careers." He added that Bleek exemplifies how "excellent teaching and pedagogical experimentation have continued to thrive" even in the midst of a global pandemic.
"I pushed myself hard to invest my efforts where they were going to yield the biggest payoff, rather than in trying to hone things to perfection," said Bleek. "For example, I made a decision that I could put as much time as I felt I needed into preparing to record video lectures, but that I would record them in one take and wouldn't edit or even watch them before posting them. That was a bit scary, but I think it was the right decision."
Innovations to Be Retained
The sudden shift to a fully online learning model produced results that exceeded Bleek's expectations. "The introductory class, in particular, produced some of the strongest work I've seen during the decade I've been at MIIS. I've been particularly thrilled with the quality of the student small-group discussions, all the more so because as both a teacher and former student I know how challenging group work can be." The new structure, including a "flipped classroom" dynamic, worked so well that Bleek plans to retain it after the Institute returns to in-person classes.
Asked about his favorite teaching experiences at MIIS, Bleek notes that "I really treasure the collaboration opportunities I've had with a number of students over the years, many of which have led to coauthored publications."
As this year's recipient of the Faculty Excellence Award, Professor Bleek will receive a cash award and will be invited to give the faculty address at December 2021 Commencement. 
Associate Professor of Nonproliferation and Terrorism Studies Philipp Bleek presented on "Drones and CBRN Terrorism Threats and Responses" as the closing speaker for the June 3-4 "Countering Drones 2020" conference, organized by Defense iQ.
In mid-December, Associate Professor of Nonproliferation and Terrorism Studies Philipp Bleek traveled to Moscow to present at a US-Russian dialogue and also met with MIIS and Moscow State Institute of International Relations dual degree students.
Professor Thor Sawin is the 2020 recipient of the Middlebury Institute's Faculty in Excellence Award, recognized for his positive impact on students, modeling to them "the highest standard of being a professional, teacher, and kind human being."