Spanish Community Interpreting
The Professional Certificate in Spanish Community Interpreting prepares participants for successful careers in the high-demand job market for trained community interpreters.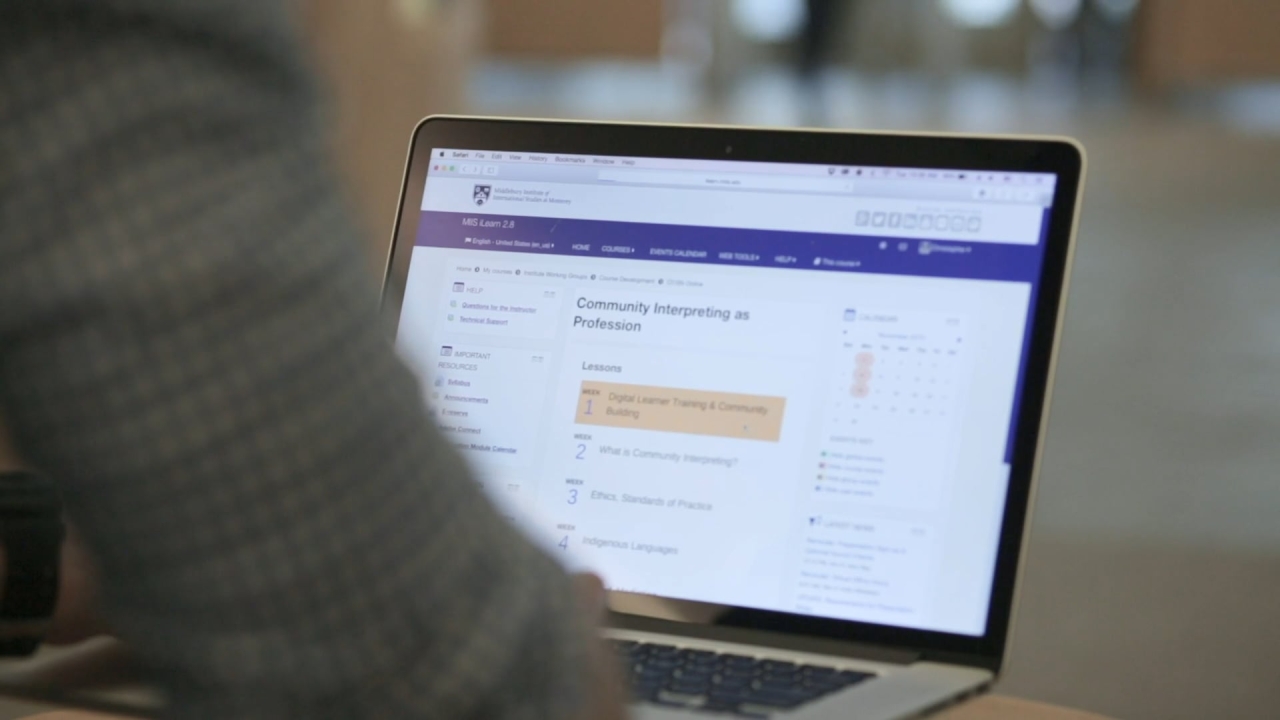 Gain New Skills and Sharpen Existing Ones
In just nine months, you will gain the skills necessary for a rewarding career in legal or medical interpreting. California is the largest employer of community interpreters in the United States, with average annual salaries of $61,500.*
Find out if Spanish Community Interpreting is right for you
The Middlebury Institute Advantage
Our low-residency program is intentionally designed so that you can attend classes without giving up your current job.
Complete four online modules, and then attend a final one-week residency in Monterey.
Choose to specialize in either legal or medical interpreting.
Learn from our expert faculty, who are also practitioners in the field.
Career Outcomes
In this recording of an online discussion, we review the career outlook for Spanish medical and legal interpreters in the U.S., including compensation data and career management frameworks. Watch the video.
Application for Fall 2021 Cohort is closed
Follow the steps below to access the application:
Start your online application
Please select one: Middlebury Institute of International Studies
I confirm that I am applying to: Non-Degree or Certificate
What level are you applying for?: Spanish Community Interpreting
Please select one: Fall 2021
Start Your Application
Curriculum and Schedule for 2021-2022
Fall 2021: Core Courses
Module One (August 23 - October 17): Basic Interpreting Techniques
Module Two (October 25 - December 19): Community Interpreting as a Profession
Spring 2022: Choose Your Track
Medical Track
Module Three (January 31 - March 27): Medical Concepts and Terminology
Module Four (April 4 - May 29): Written and Sight Translation of Medical Texts
Legal Track
Module Three (January 31 - March 27): Legal Concepts and Terminology
Module Four (April 4 - May 29): Translation and Interpreting in Court Settings
June 2022: Residency in Monterey
Medical Track (June 13 - 17): Medical Interpreting Workshop (5 days)
Legal Track (June 6 - 10): Legal Interpreting Workshop (5 days)
Next Steps
To apply, visit our How to Apply page and follow the on-screen instructions to begin.
The Fall 2021 cohort application is now closed. Our Fall 2022 application will open on Monday, January 3, 2022.
In addition to a completed application, prior to admission you will submit an online Language and Skills Test to determine your bilingual language proficiency.
Tuition
Cost: $5,000 
Payment plans are available.
Workforce development funds may be available from your community. 
Payment and Refund Policies for 2020-2021
Contact Us
Contact us if you have any questions.
*Data source: Mean salaries for medical and legal interpreters in California for 12-month period March 2019 – February 2020 from Burning Glass® Technologies.
Accreditation, NC-SARA Information, and Online Student Resources