Making Waves: 2019 Year In Review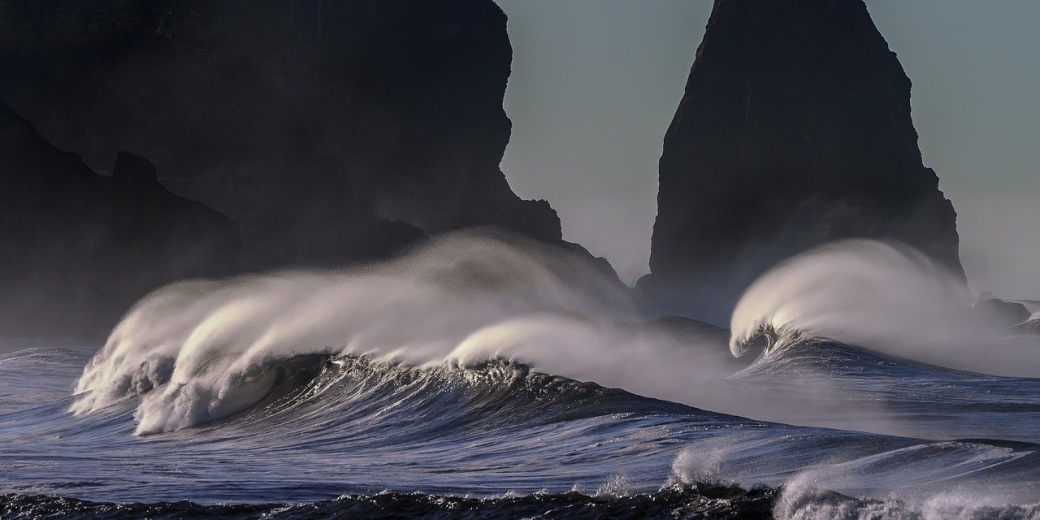 Promoting a sustainable ocean and coastal economy is the mission of the Center for the Blue Economy. We do this through economic research, teaching, and advising on policy for regional, state, and national governments.  This story showcases some of 2019's activities and achievements.
---
The Ocean Climate Action Summit: From California Consensus to the first National Ocean Climate Policy
On October 18th, 2019, the Center for the Blue Economy and Blue Frontier co-convened a meeting of thought leaders from across industry, government, academia, and the conservation community of California.  The goal?  To refine the Ocean Climate Action Plan (OCAP) and take it to the national stage.
The Ocean Climate Action Plan has two goals: 1) use ocean and coastal resources to reduce dependence on fossil fuels and simultaneously reduce greenhouse gas emissions and 2) to help coastal regions adapt to climate change.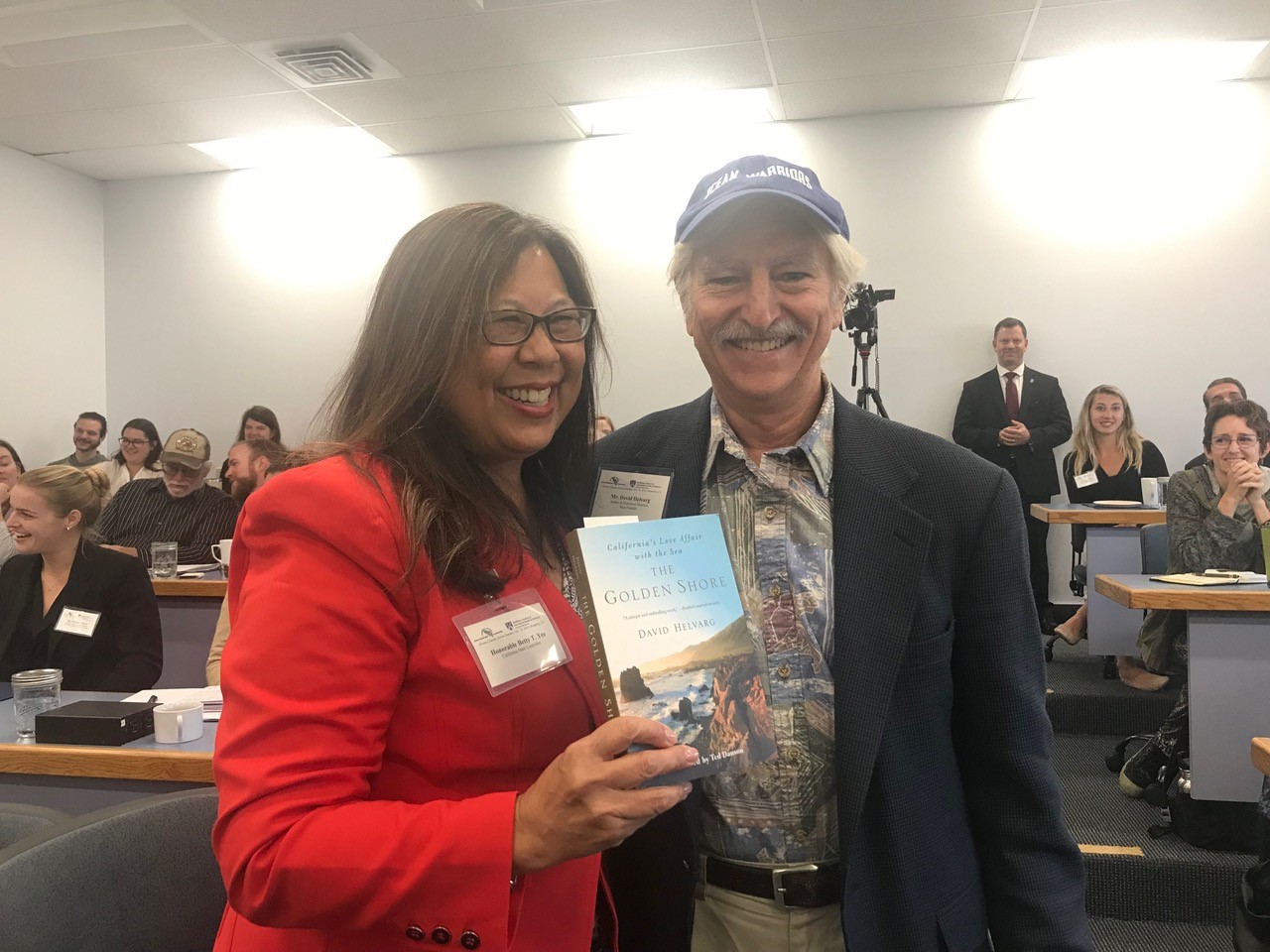 The Honorable Betty T. Yee, California State Controller, kicked off the meeting with an inspiring keynote speech in which she applauded the OCAP effort, and looked toward a sustainable, clean-energy future.   She emphasized that the nation must move away from fossil fuels, and actively create new employment sectors and business opportunities. Ms. Yee made it quite clear that she is dedicated to advancing national sustainability and taking strong action on climate change, and that California can and should lead the way.
On January 13th, the first consensus draft of the Ocean Climate Action Plan was released. After a comment period, the second draft will be released on March 2nd, 2020.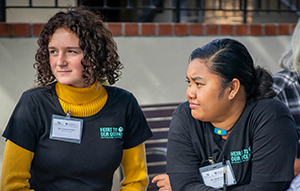 From there, Ocean Climate Action Plan will be taken to D.C. for a series of national meetings April 28-30. The goal is to finalize the plan by June 2020 and then begin working on federal legislation that translates the framework into a bill for the 2021 Congress.
---
Center for the Blue Economy 2019 Research
Continuing Or Completed Research Projects
Economic Evaluation of the Southern Sea Otter—in our first project with the Monterey Bay Aquarium, the Center for the Blue Economy conducted surveys of businesses and tourists in the Elkhorn Slough and Moss Landing areas to assess the economic values generated by sea otter-related tourism and recreation.  READ MORE
U.S. Ocean Satellite Account—we continue our work with the U.S. Bureau of Economic Accounting (BEA)—marking the first time in U.S. history the oceans will be part of the separate set of satellite accounts tracking important industries by the BEA.  Preliminary results are expected to be released in March, 2020. READ MORE
The AlaskaNor Project—this is a project to quantify the blue economy of Alaska and Norway, in collaboration with the University of Alaska, Anchorage and Nord University in Buda, Norway, funded by the Norwegian Foreign Ministry.  
The Blue Economies of Kenya and Tanzania—measuring the blue economies of those nations for the World Wildlife Foundation. READ MORE
The Economic Value of Ocean Observing Systems—the network of big data collection buoys and systems, observation platforms; we are assessing the value of that data to end users (recreational fisherman, surfers, sailors, etc.). READ MORE
The Economic Value of Stillaguamish River Wetland Restoration—project for the Washington State Department of Fisheries & Wildlife to understand the economic benefits of restoring wetlands on the lower Stillaguamish River on the eastern shore of Puget Sound. READ MORE
Moss Landing Highway One project: Highway One is the only North/South highway along California's coast, and it sits on a nationally significant estuary, the Elkhorn Slough National Estuarine Reserve. We will provide economic evaluations of alternative approaches to maintain the highway and the estuary. 
West Cliff Drive in the of City of Santa Cruz:  this economically important road is threatened by sea level rise.  CBE will evaluate the economic costs/benefits of various adaptation strategies. READ MORE
New Research Projects
UN FAO (Food and Agricultural Organization) on the Value of Wetlands for Fisheries Habitat, conducting global literature review on that extensively studied area, and creating a precis for that organization.
The Economic Value of Estuaries in the U.S—working for NOAA and Restore America Estuaries.
Coastal and Riverine Flood Mapping, a project for NOAA on the impact of flooding on the ocean economy, stemming largely from the methodology used in the National Ocean Economics Program. 
City of Saco and Saco Bay Water Quality:  NOAA project that uses the same risk/projection probability modeling system to look at ROI and costs/benefits of maintaining water quality systems in the face of climate change risks. 
---
Center for the Blue Economy Summer Fellows
For graduate students, the chance to gain professional experience and field-specific knowledge through real-world opportunities is invaluable.  In 2019, eleven Middlebury Institute students from the Ocean and Coastal Resource Management concentration of the International Environmental Policy degree program completed their Center for the Blue Economy fellowships.  Below is a list of our 2019 CBE Summer Fellows, with an excerpt from one of our more far-flung fellows in the Galapagos Islands.  Their stories in their own words can be found at sites.miis.edu/cbe-fellows.
Highlighted Student:  Andres Schrier, Wild Aid, Galapagos Islands, Ecuador: Andres main duty was to develop a database of all illicit activity committed by fishing and tourists boats in the Galapagos marine reserve, but in addition, he joined patrol boats to board and search vessels, seeing firsthand how his data was gathered, and he helped with tagging and tracking of endangered species.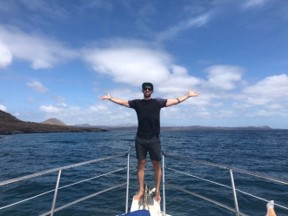 "I had been continuing to work on the manual at national park when I was abruptly told that I would be part of a large expedition going to the island of Española for 7 days.  We were split into 10 different groups to cover the entire island. I was to be in a group of three on the far side of the island primarily counting albatross, but also examining the tortoises.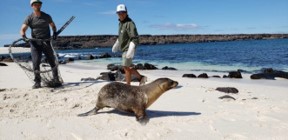 On the day of the trip we all boarded the National Parks largest boat, La Sierra Negra, and accompanied with a helicopter made our way to Española. When we arrived to Española my group was flown by helicopter to the far side of the island where we would be camping and collecting data for the next week.
The first three days were tough as we had to hike between 10-20km everyday using machetes to cut through thick brush covered in thorns, but the experience was incredible. After day three the helicopter helped us move camps as we and dropped us much closer to the coast.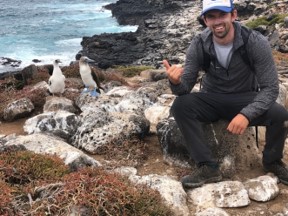 Those last two days were fantastic as were constantly surrounded by albatrosses taking care of their fledglings, blue footed boobies, Galapagos Sea Lions, marine iguanas, humpback whales and a plethora of other bird species."
2019 CBE Summer Fellows 
Kimberly Aiken, Alfred Wegener Institute (AWI), Potsdam, Germany:  collected information about international laws and agreements applicable for the Arctic and created an illustrated fact sheet.
Richard Castillo, World Wildlife Fund (WWF), Washington, DC:  worked on ridge-to-reef watershed management in Central America, mangrove restoration in South America, fisheries management in Indonesia, and marine protected areas in Madagascar.
Adrielle Biance Antone Ferrazzini, World Wildlife Fund (WWF) and European Institute of Marine Studies (IUEM), Brest, France: researched the ocean's contribution to the national economies of Kenya and Tanzania, with special reference to coral reefs.
Justine Zoe Gapayao, Environmental Defense Fund (EDF), San Francisco, CA: designed behavior interventions in areas like the Philippines, Chile and Cuba focusing on topics such as sustainable aquaculture and fishing behavior.
Hahnbin Lee, California Coastal Commission (CCC), Long Beach, CA: developed a summary of past Commission actions on items related to climate change, wetlands, and mitigation of coastal waters.
Ella McDougall, Tijuana River National Estuarine Research Reserve and Scripp's Center for Climate Change Impacts and Adaptation, Imperial Beach/La Jolla, CA: developed sea level rise adaptation strategies for coastal watersheds and Climate Status Reports for various State Park coastal sites.
Kelly Roche, Environmental Defense Fund (EDF), San Francisco, CA: conducted research on multi-species fisheries management or aquaculture regulations and produced a paper explaining the findings.
Chiao Ting, Satoumi Thinktank, Taipei, Taiwan:  designed behavior change initiative to help fishermen to earn fair price in a newly developed sustainable seafood supply chain.
Sean Wils, Business for Social Responsibility (BSR), San Francisco, CA: engaged stakeholders to create solutions to international shipping decarbonization, ocean pollution, and ocean noise.
Yuye Zhou (Fiona), Environmental Defense Fund (EDF), Boston, MA:  supported the EDF China Oceans Program in its work to advance sustainable fisheries management in China.
---
2019 Ocean and Coastal Resource Management Lecture Series
March 9, Picture of His Life—Amos Nachoum, nature photographer, part of the Jewish Film Festival
April 2, Climate Change in the Pacific, Ms. Cary Anne Cadman
May 2, The Policy and Politics of the Green New Deal, Mr. David Roberts
September 3, A Brief History of the World (and Ocean) Public Trust, Dr. Mike Orbach
September 10, Chasing the Thunder, Film Screening and Panel Discussion
September 17, Growing Green Businesses and Decarbonizing Freight: Student Presentations
September 24, Searching for Lost Sharks, Dr. David Ebert
October 1, Can Technology Save the Oceans? Ms. Sandra Ponce de Leon
October 8, Accommodating and Leveraging Ecological Connectivity in Marine Conservation and Management, Dr. Mark Carr
October 15, Talking Transport: How Corporate Collaboration, Reporting, and Innovation Enable a Cleaner Blue Economy, Mr. Nico De Golia
October 22, Understanding Climate: Be Careful What You Ask a Scientist, Dr. Brendan Kelly
October 29, Galapágos Corals: Canaries in the Coal Mine, Dr. Cheryl Logan
November 5, Regional Collaboration on Climate Resilience and Green Infrastructure in the San Francisco Bay Area, Ms. Kelly Malinowski
November 12, Coastal Climate Relocation: How to Manage "Managed Retreat?" Panel discussion
November 19, United Nations Negotiations on Biodiversity Beyond Areas of National Jurisdiction, Ms. Laura Strickler
December 3, Bringing Fisheries Into the Digital Age, Dr. Rod Fujita
December 10, Power Plants, The Coastal Act, and the Case for Undevelopment, Ms. Sarah Newkirk
---
2019 Publications:  The Journal of Ocean and Coastal Economics
Volume 6, Issue 1 (2019)
Research Articles
Any Port in a Storm: Vessel Activity and the Risk of

IUU

-Caught Fish Passing through the World's Most Important Fishing Ports; Gilles Hosch, Bradley Soule, Max Schofield, Trevor Thomas, Charles Kilgour, and Tim Huntington
Economic Impacts of Coastal Hazards on Mississippi Commercial Oyster Fishery from 2005 to 2016;Benedict C. Posadas
Aquatic Invasive Species Change Ecosystem Services from the World's Largest Wild Sockeye Salmon Fisheries in Alaska; Tobias Schwoerer, Joseph M. Little, and Milo D. Adkison
Aligning Ocean Plastic Pollution and Human Health a Co-benefits Approach; Dr. Karyn Morrissey 
An Integrated Climate Science-Economic Model for Evaluating Adaptations to Sea Level Rise: A Prototype Model for Monterey, California; Charles S. Colgan, Fernando DePaolis, and Philip King
Actual Versus Hypothetical

WTA

Stated Values for Recreational Fishing Licenses: Experimental Evidence of Fish Tales; Scott Steinback, Kristy Wallmo, Sabrina Lovell, Eric Thunberg, and John Foster
Taco Tuesday Anyone? Understanding student demand and knowledge of local seafood; Jamie A. Picardy, Kyle Foley, Eden Martin, and Tiia Kandflick
Reviews
Port Performance from A Policy Perspective – A Systematic Review of the Literature; Eamonn

OC

onnor, Natasha Evers Dr., and Amaya Vega
Evaluating Oyster Aquaculture's Cost-Effectiveness as a Nitrogen Removal Best Management Practice – A Case Study of the Delaware Inland Bays; Jefferson F. Flood
Application Notes
Investing in the New Blue Economy: The Changing Role of International Development Organizations in Catalyzing Private Sector Investment in Support of Regional Strategic Action Programmes for the Sustainable Development of Coasts and Oceans; Ryan Whisnant and Veerle Vandeweerd
Volume 6, Issue 2 (2019) Special Issue on the Blue Economy of Bangladesh
Research Articles
Initial Measures of the Economic Activity Linked to Bangladesh's Ocean Space, and Implications for the Country's Blue Economy Policy Objectives; Pawan G. Patil, John Virdin, Charles S. Colgan, M Gulam Hussain, Pierre Failler, and Tibor Veigh
Future Importance of Maritime Activities in Bangladesh; M Gulam Hussain, Pierre Failler, and Subrata Sarker
Future importance of healthy oceans: Ecosystem functions and biodiversity, marine pollution, carbon sequestration, ecosystem goods and services; Mohammad Mosharraf Hossain
Coming Stakes in the Ocean: Food Production, Shipping and Trade, Tourism, Ecosystem-biodiversity, New Technologies and Climate Change Challenges in Bangladesh; Muhammad Abdur Rouf, Md. Moshiur Rahman, Sk Mustafizur Rahman, and Md Nazmul Ahsan
Blue Economy and Climate Change: Bangladesh Perspective; Subrata Sarker, Firdaus Ara Hussain, Mohammad Assaduzzaman, and Pierre Failler
Augmenting Marine Food Production Through Fisheries Management and Mariculture; S M. Sharifuzzaman, M I. Golder, and M. Shahadat Hossain
Blue Biotechnology, Renewable Energy, Unconventional Resources and Products as Emerging Frontiers at Sea; Sheikh Aftab Uddin and Mohammad Mahmudul Islam
Ship Breaking and its Future in Bangladesh; Jewel Das and Muhammed Ali Shahin
Institutional Arrangements for the Blue Economy: Marine Spatial Planning a Way Forward; Daud Hassan and Md. Ashraful Alam Ashraf
Coastal and Marine Tourism in the Future, Mohammad Nur Mobi and Md. Alauddin Majumder
Policy Interventions for the Development of the Blue Economy in Bangladesh; Pierre Failler, M Gulam Hussain, Khurshed Alam, and Ahmad Al Karim
Special Content
Introduction to the Special Issue on the Blue Economy of Bangladesh; Pawan G. Patil, Pierre Failler, and Khurshed Alam
2019 Team Developments
David Helvarg:  New Senior Fellow 
David Helvarg is an award-winning journalist who has spent decades writing about and advocating for the blue economy.  David is the founder and Executive Director of the Blue Frontier Campaign, from which he organizes the Blue Vision summits and the Peter Benchley Ocean Awards. David is our co-convener and partner in the Ocean Climate Action Plan effort.
Mr. Daniel Tung-Lin Hung:  New Visiting Scholar 
Mr. Hung is a Senior Executive Officer for the Government of Taiwan, Penghu County, where he serves as Director of Tourism, Director of Urban Planning, Director of Economic Affairs, and Director of General Affairs.
Three Additions to the Center for the Blue Economy Advisory Council
Melissa Garren, COO & Chief Scientist at Pelagic Data Systems 
Holding a Ph.D. in Marine Biology from Scripps Institution of Oceanography, with a completed postdoctoral fellowship in the Dpt. of Civil and Environmental Engineering at MIT, and 20 years of experience underwater as a PADI certified scuba Divemaster, Melissa Garren brings substantial expertise to the intersection of technology and marine conservation.
Peter Macy, Principal, Macy Management Partners 
Peter Macy is a high-energy and committed leader with over twenty years of experience growing innovative businesses in regulated industries as an executive, investor and investment banker.
Dylan Todd Simonds, Chair, the Dylan Todd Simonds Foundation 
Through the Dylan Todd Simonds Foundation, Dylan supports environmental, educational, and civic projects, and as a trustee of the Pittsburgh-based Elsie H. Hillman Foundation he helps to allocate grants in support of a broad array of initiatives with an emphasis on women, minorities, and civic leadership.
2019 was a great year!  On to 2020!