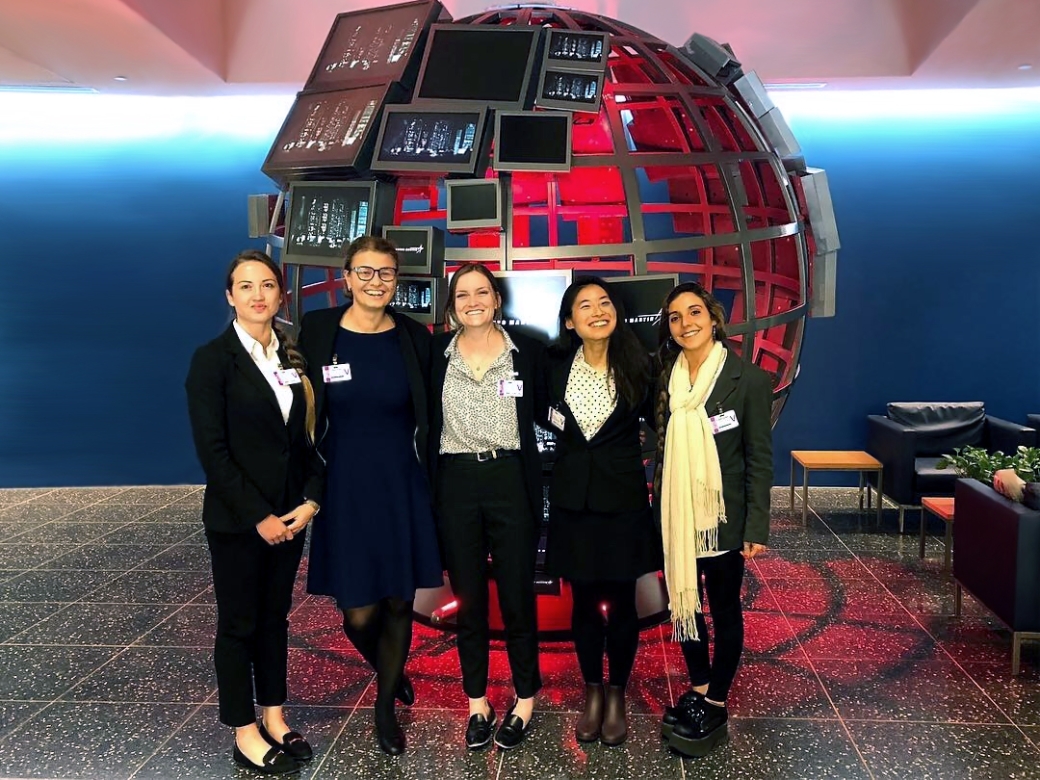 A team of four students from the Middlebury Institute placed second out of 47 teams in the Atlantic Council's Cyber 9/12 Strategy Challenge, a highly competitive national competition held annually in Washington D.C.
Coached by Visiting Professor of Cyber Security Elaine Korzak, the all-female team of Nonproliferation and Terrorism Studies students Valentina Bianco Hormaechea MANPTS '20, Nona Jones MANPTS '20, Jaewon Oh MANPTS '20 and Middlebury '13, and Julia West MANPTS '20, made it through two rounds of stiff competition from many much larger universities such as Stanford, Georgetown, Columbia, Brown, Duke, and Tufts, to be announced one of the final two teams. "Achieving second was unbelievably special," shares Oh, "I feel so thankful to have been a part of this team." A team from the U.S. Air Force Academy took first prize.
The Cyber 9/12 Strategy Challenge invites students from across the globe to compete in developing policy recommendations tackling a fictional cyber catastrophe. The term 9/12 refers to the challenge to imagine what policymakers do the day after a crisis. Held in different locations, the U.S. challenge, designed in partnership with Lockheed Martin, took place in Washington D.C. on March 21-22. This year, students were only given two weeks from the time they were presented with the final task to the presentations, as opposed to six weeks in previous years.
Oh says that in the week leading up to the competition the team's ideas started to come together, but it still felt like they were missing something. "Once we got to DC and started working on refining our notes and thoughts with Dr. Korzak, though, it all started to take off." In preparing for the competition, the team watched videos of debates in the U.S. Congress about the upcoming census, in particular to one person who works for the Census Bureau. Hormaechea says the team could not believe when that person ended up being one of the judges in their last briefing. That is just one anecdote, she says, as there were many well-known experts and officials in the audience during their briefings. "We were not expecting to end up briefing such personalities!"
"This experience has cemented my belief in shared team leadership," says West. "I think each of us brought unique knowledge and talents to the table, but, most importantly, we all managed to showcase our team cohesiveness without sacrificing our individual strengths. Equally, we were fortunate to be guided by Dr. Korzak, who supported our efforts with a full creative license and made sure we spoke in our own voices." Jones adds that she believes the success of the team "really came down to a combination of previous education, excellent coaching by Dr. Korzak, and our team dynamic. And maybe some MIIS related puns."
For Oh, the most exciting moment was definitely when teams were announced as finalists. "Dr. Korzak had told us that we had nailed our presentation during the semifinal round, and I don't know if we even fully realized how well we had done until she said that. But even then, doing well doesn't necessarily have to mean the top two teams, especially when we were competing against both military schools and reputable schools with really huge, well-developed cyber programs! They announced our name last, too, and I think all of our hearts stopped for a moment as we were waiting and hoping and wishing. When they said 'MIISattribution 2.0,' I started crying instantly. It was unforgettable."
In the two years that Korzak, who leads the Institute Cyber Initiative, has coached teams in this challenge they have both reached the semi-finals. The team from last year won the Best Written Memo Award, earning additional praise from one of the judges who called it the best memo they had seen "in the history of this competition." Hormaechea shares that "participating in this competition was definitely a challenging and enriching experience. It pushed me out of my comfort zone and in doing so, I had the opportunity to learn a lot." She adds: "It is amazing to be able to engage with these types of opportunities and extracurricular activities that definitely complement what we learn in classrooms."
A team of four Middlebury Institute students was awarded "Best Written Brief" in the Atlantic Council's Cyber 9/12 Student Challenge.
Dr. Elaine Korzak is excited about the opportunities ahead for the next generation of cyber policy experts as she takes over leadership of the Middlebury Institute's Cyber Initiative.
A team of four Middlebury Institute students recently participated in an international cyber competition hosted by the Atlantic Council in Washington, D.C.