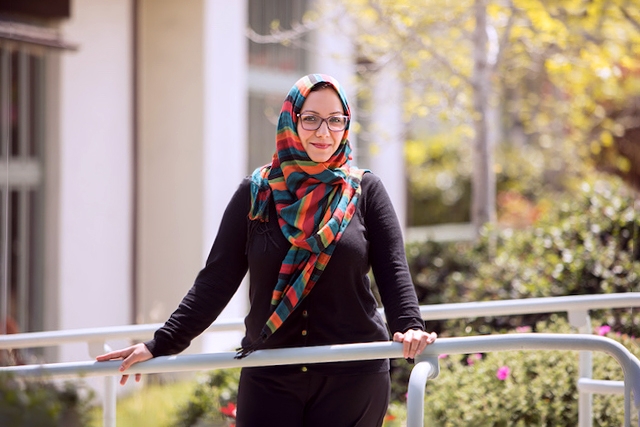 Current International Policy and Development student Hajar Masoud MAIPD '19 talks about her life in Gaza—and how the experience has shaped her view of the world.
"I wish you peace of mind" is the greeting of choice for Hajar Masoud MAIPD '19. Born in Egypt to Palestinian parents who fled their homeland during the 1967 war, Masoud moved back to Gaza when she was a teenager. She knows what it means to freeze in terror when bombs start falling, how to find her own strengths, what it is like to be treated as a second-class citizen—quite literally—and how beautiful life can be in the most unlikely of circumstances. She shares with us some of what she has learned.
Stories are very powerful. When we were living in Egypt, my grandmother would tell us wonderful descriptive stories from Palestine, of the amazing people, the incredible beauty of the land, and the incomparable citrus from the trees in Gaza. My siblings and I had only ever known life in Egypt when our family decided it was time to move back, yet we were ready and excited to go home.
Nobody wants war. There are good people in Gaza, and there are good people in Israel. The good people just need to speak up more, and the world needs to listen. A mother is a mother no matter where she is from. I would like people to realize we are human beings.
Empathy can be nurtured. Our father was a surgeon at a Palestinian hospital in Egypt and he would take my sister and me to work with him. He wanted us to meet other Palestinian children and build our character so we would be more empathetic. I first volunteered with the Red Crescent (Red Cross) in 2001, but in reality, I have been volunteering to help others my whole life.
You don't realize how strong you are until you look back on what you have gone through. It shocked us when we first experienced an invasion after moving back to Gaza. For others it was less shocking, as it was considered comparatively minor. You never get used to serious war.
I understand what it means to freeze when you are scared. On Saturday, September 27, 2008, I was pregnant and standing on my balcony at home. The time was somewhere between 11:30 a.m. and noon, which is when children are walking home from school. Bombs started falling and I completely froze. My father pulled me inside.
The safest place is to be together. In 2014, when my son was around five, the war coincided with Ramadan, so we were all fasting during the day. In each house people decide what is the safest place, and that is where they gather when the bombing starts. My son held my hand and said, "It will be fine. It is just fire- works." After 10 days of staying home I took him with me to work, inspecting aid distribution sites. You realize that there is no safe place. You cannot keep children inside forever.
I always volunteer when there is a war. I can drive and my English is good. I have skills that are useful, and I like to use them to help people. When international organizations coordinate for journalists to come, I am always happy to show them our side of the story. The first thing we always do to celebrate their arrival is to bring them to a place that is open and serving food. Often these journalists will get children the help they need. A reporter from New Zealand and I once met a nine-year-old girl who desperately needed surgery, and after the reporter wrote about her, the girl got out and was treated in Turkey.
Something inside of me told me I would be happier doing the work I am doing now. I am actually a very good civil engineer. My expertise is water infrastructure. Even when I worked on an infrastructure project as an engineer, I volunteered with the Red Crescent. Before coming to Monterey I worked as a monitoring and evaluation specialist for international aid groups for many years. The field is constantly evolving, and I am grateful for the opportunity to learn with and from other people. My family has loved Monterey while we've been here, but a part of me feels guilty every time there is a bombing or crisis, as I feel I should be there to help.
Gaza is an experiment in resiliency. We are actually surviving really well despite restrictions on so many parts of life. We dress well, we enjoy everything. People are like people anywhere else; sometimes they love life, sometimes not. We take great pride in the things that are within our control, like food. Gaza has the best food. We recycle, reuse everything. It is a wonder to see all the amazing ingenuity our young, educated population has shown adjusting to energy scarcity and lack of materials. It is actually quite beautiful.
Alumna Maame Alice Yelbert-Sai is passionate about being what she calls a "whole woman." "For me leadership is at its roots simple - it starts with self-understanding."
Healthcare entrepreneur Temie Giwa-Tubosun MPA '10 is bringing critical lifesaving infrastructure to her native Nigeria.
Perhaps the greatest life lesson recent graduate Elea Becker Lowe MAIEP '18 can share is one she herself has heeded: when presented with an opportunity, go for it.