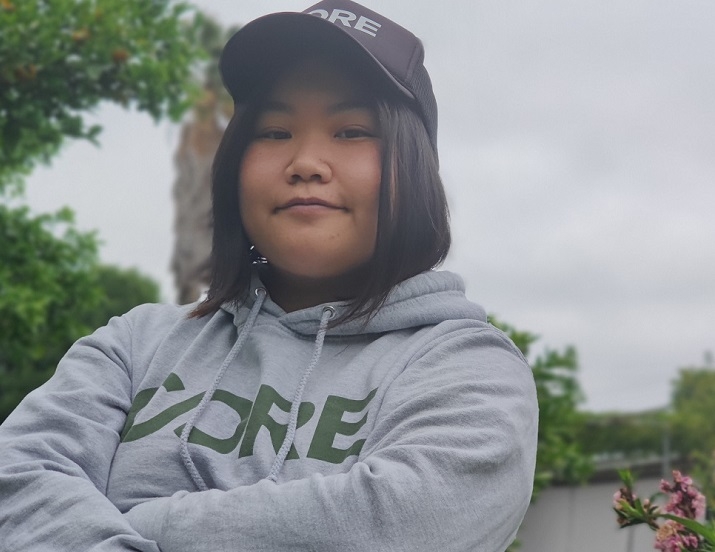 Middlebury Institute alumna Emily Hoang, a 2020 graduate of the joint MPA/MA in International Education Management, has been at the forefront of the COVID-19 response in Los Angeles, first helping to organize testing sites, and then coordinating vaccination efforts in the community.
Emily Hoang had just graduated from the Institute when she found herself at the center of an urgent operation in the second largest metropolitan area in the United States. Within weeks of earning her joint master's degree in December 2020, Hoang began working with a California nonprofit—CORE or Community Organized Relief Effort—that was providing field-based humanity response work for LA communities that had been hit hard by the COVID pandemic. Hoang initially was tasked with assisting mobile testing sites in LA County's Baldwin Park municipality, but when her supervisors learned of her fluency in Mandarin and Cantonese, she was reassigned to the mobile team in another area, specifically San Gabriel.
Regarding the work, Hoang says the days have been long, but rewarding. She spends eight hours a day in a high-stress environment—speaking Cantonese, being pulled to translate, helping register walk-ins, fielding questions, and sometimes facilitating over 1,000 vaccinations in a single day. 
One aspect of her time with CORE that Hoang is most proud of is her work in partnership with a local community health clinic based in San Gabriel, called Herald Christian Health Center (HCHC). There, she assisted in the creation of a clinic specifically targeted toward elderly seniors for whom there was a lack of access to technology due to the language barrier. She's been able to utilize her language skills to develop a tracking system streamlining the entire process.
"I was brought on the team to support the logistics and provide suggestions on what could be improved upon within the clinics, such as workflow, structure, and how to engage and keep track of all the people that were coming through our pilot vaccination clinic."
All of her hard work felt especially gratifying when she was able to facilitate her own parents' vaccinations in a smooth and streamlined process.
Because of the near-immediate transition from school to emergency humanitarian work, Hoang hasn't had much of an opportunity to reflect on how her education prepared her for the moment, though perhaps that's telling—she was prepared for the moment and didn't even have to think about it.
When pressed, she says that confidence in her skills might be the greatest influence so far, "[knowing how] to approach difficult situations—and the confidence to know how to speak up and figure out how to adapt on-the-fly working and thinking."
In the coming weeks, Hoang will be relocating to Washington, D.C., for a new position as a program associate with IREX, the global development and education firm. When asked about her future aspirations, Hoang responded, "Currently, I'm taking everything as it comes but I hope to work within the field of education in emergency response. That is what I'm really passionate about and really interested in. So, I see my work with IREX falling really in line with my future goals of getting to a place where I'm able to dive into the question of what education should look like when you're faced with a crisis like COVID. It's a good time, too, because clearly it's quite needed."
Career Advisor Scott Webb MPA '07 draws on years of experience in the field to offer advice and insights on how to get hired in international development, even during a pandemic.
On graduation day, Lauren Hammer Aguilera MATI '20 was hired to be a Spanish Interpreter at the COVID-19 Testing Center in Watsonville and she started working full time the very next day. 
Temie Giwa-Tubosun MPA '10 is the founder and CEO of LifeBank and she is being recognized for her groundbreaking work using technology and innovation to address blood-shortages in Nigeria, and for LifeBank's respond to the pandemic.