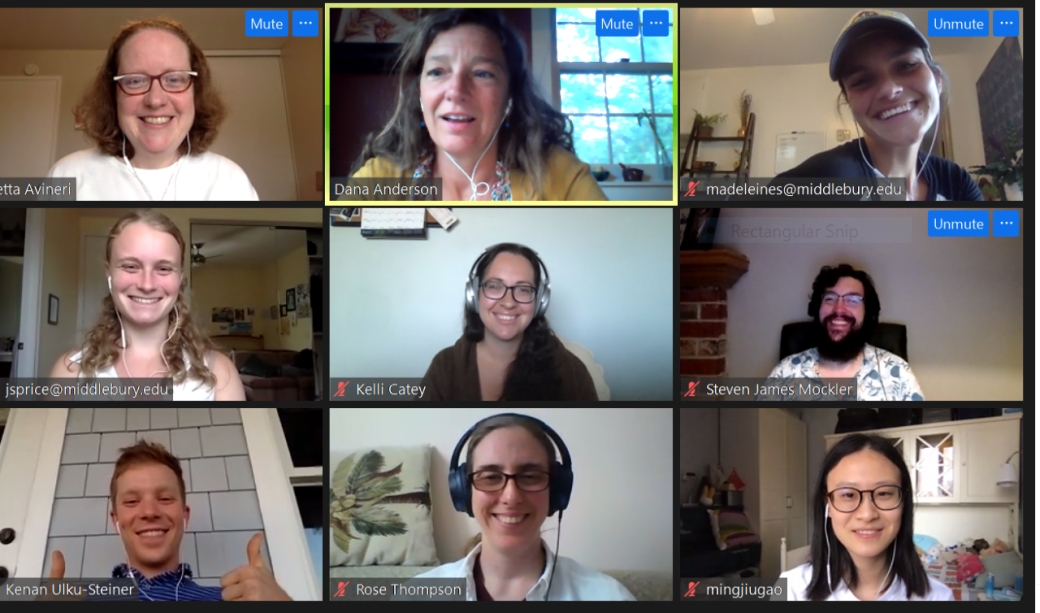 The Middlebury Social Impact Corps (MSIC) program continues to leverage academic strengths across Middlebury programs by connecting students to social change. The program is a collaboration between Middlebury College, the Middlebury Institute, and community partners featuring cohort-based learning, mentorship, and community client projects. This year, the 8-week summer program also included lessons in remote team building and virtual problem solving.
 
Despite the obvious issues a global pandemic posed for this highly immersive learning program, organizers decided to forge ahead and embrace the challenge, creating an engaging and impactful remote program. "The needs in our communities continue and have intensified for many. It was a clear choice for us when building a "virtual" program for the summer - sustaining the commitment to our coalition of partners, preparing our students for an uncertain future, and collaborating to create innovative, impactful experiences for everyone involved," explains Middlebury Institute Professor Netta Avineri, who collaborated closely on this project with her Vermont colleague Dana Anderson of Student Creativity, Engagement & Careers at Middlebury College. The program was supported by the Office of the Provost.
Four Middlebury Institute graduate student scholars and three Middlebury College undergraduate interns worked in two cohorts on projects with two community partners, Peacock Acres, and Big Sur Land Trust. Each cohort was provided with training throughout the experience, including in intercultural communication, ethics, and the 6 pillars of social impact learning as well as other relevant skills such as interviewing and survey design. "What this summer has revealed for me is that I have more agency than I believe," shares Kenan Ulku-Steiner. Fellow Middlebury College student Julia Price says that she learned so much from facing her fears. "This summer, I have gained strong interpersonal skills. I feel so much more confident with my public speaking. When I click to share my Zoom screen, I feel that I do have something to bring to the table." 
Peacock Acres provides supportive housing, intensive case management, and life coaching for foster children and young adults who have been separated from their families. This project-based cohort focused on storytelling for multiple audiences (​e.g., educators, community members, donors)​ in order to increase awareness and understanding of the value of the foster youth and to reduce stigma associated with youth in foster care.
"Working with the Middlebury Social Impact Corps was a wonderful experience," says Kelly Quackenbush MPA '15, director of strategic projects at Peacock Acres. "The students did an amazing job of listening and learning about the needs and strengths of our organization and coming up with great ideas to advance our mission in the community."
Big Sur Land Trust's mission is to inspire love of land across generations, conservation of our unique Monterey County landscapes, and access to outdoor experiences for all. The project the students worked on over the summer involved assessing the viability of mission-oriented, nature-based programming focusing on novel ways for the community of Monterey County to engage with the land. The final deliverable included analyzed data and recommendations.
"We have been partnering with Middlebury for many years and continue to find great value in the opportunity to work with such high-caliber students," shares Big Sur Land Trust Director of Development Kate Mitchell Mehle. "The projects we give them are substantial, and the research the students turn around to us is valuable in supporting strategic decision-making. We always benefit from their fresh perspective about our work."
Six Middlebury Institute graduate students partnered this summer with undergraduate students from Middlebury College in the Middlebury Social Impact Corps, working with organizations in Peru, Monterey, and The Bahamas.
 
Four Middlebury College students were among the seventeen undergraduate students invited to spend the summer at the James Martin Center for Nonproliferation Studies, learning about the field, and pursuing independent research with top experts.
 
Middlebury Institute Professor Netta Avineri has co-edited (with Laura R. Graham, Eric J. Johnson, Robin Conley Riner, Jonathan Rosa) the Routledge Publishers volume Language and Social Justice in Practice.