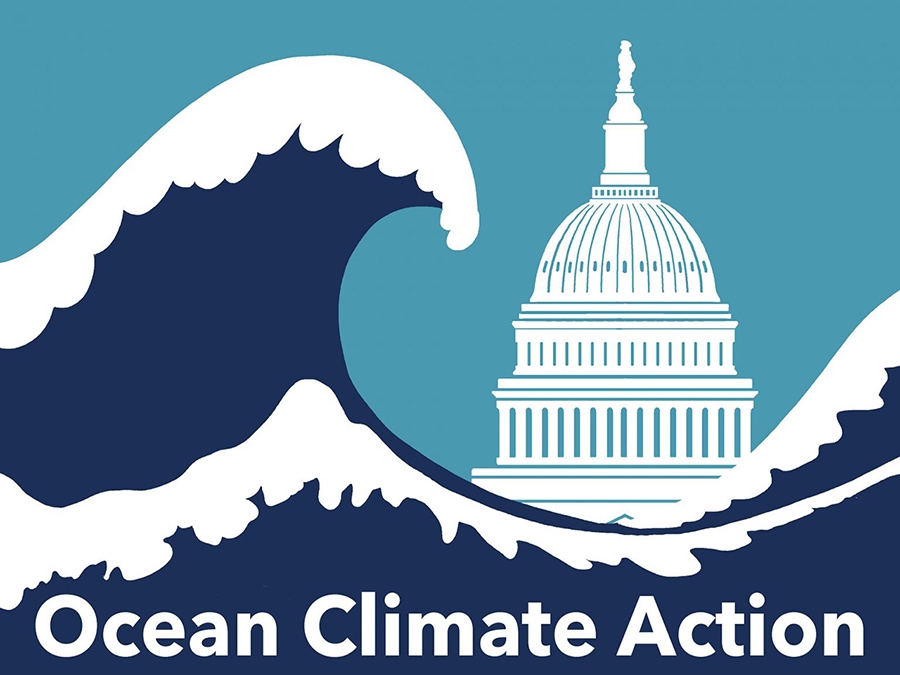 Climate change and ocean health are often thought about as separate silos, when the two are interconnected. 
Climate change is warming the oceans and changing their chemistry.  Without ocean health, the entire planetary water cycle and oxygen cycle are in danger.  The oceans sequester huge amounts of carbon dioxide helping to cool the planet, but that may not continue with "business as usual."  Climate change affects even those far from any coastline.  We must solve the ocean climate challenge together, and we have a short window of time to take action. 
The Center for the Blue Economy has partnered with Blue Frontier to bring together thought leaders from across industry, government, academia, and the conservation community to craft the Ocean Climate Action Plan or OCAP.  The plan, with its growing support, has provided the template for some of the first ocean climate legislation and policy actions in U.S. history. 
Ocean Climate Action Priorities Summer 2021
---
Ocean-Based Climate Solutions Act:  This outstanding bill includes protections for oceans, coasts, rivers and lake systems, while promoting sustainable job opportunities and renewable offshore energy. The Ocean Climate Action Coalition provided input into the bill and strongly supports it's passage. 
 
Coastal Barriers Resources Act:  This current law protects dunes, seagrass, coastlines, coral reefs, lake and river shores across 3.2 million acres of the U.S., saving lives, increasing wildlife habitat, and saving taxpayer money, but should be expanded to the west coast and all the vulnerable areas of the nation. 
 
Clean Ocean Energy: It's time for expansion of federal leasing for offshore wind and federal investment into research and development of wave and tidal energy.   We must address the rising temperatures on the planet affecting the oceans and all life on earth and move towards sustainable energy.
 
Shoreline Restoration to Promote Climate Resilience:  Storm intensity is increasing, and sea levels are rising, making storm surges and flooding more intense.  The Ocean Climate Action Coalition supports calls for $10 billion in federal funding through

NOAA

to create jobs building living shorelines and natural barriers for our coasts, ports, and along inland rivers and the Great Lakes.  Nature-based solutions will save lives, save taxpayer money, and create wildlife habitat.  It's time to move post-disaster funding into pre-disaster planning.
Learn more about our Ocean Climate Action Priorities in Summer 2021 by joining our mailing list and read the full plan (30 pages):  READ THE OCEAN CLIMATE ACTION PLAN (OCAP)
Our Voices are Being Heard
---
Many Biden Administration policies already mirror the Ocean Climate Action Plan (OCAP) goals. For example, OCAP calls for 30GW of offshore wind by 2030 and this is exactly what President Biden has called for; OCAP calls for 30% of US federal waters to be in Marine Protected Areas by 2030 and Biden signed an Executive Order to this effect; and in the newly released Nationally Determined Contributions outlining US climate goals, the Biden administration commits to promoting living shorelines and decarbonizing the maritime sector, two more key OCAP goals.
David Helvarg sums up Biden's actions well in his column that appeared on April 29th, 2021 in The Hill: Does Biden have an ocean policy?  He says, "If all of Biden's promised blue economy investments find their way into the big infrastructure plan that the White House now calls The American Jobs Plan, the U.S. could find it has an effective ocean policy after all."
"It's time for boldness because there is so much to do!" - President Joseph R. Biden.  
April 2021 Lobby Day + the Big Picture
---
The Ocean Climate Action (Virtual) Capitol Hill Lobby Day on April 14th was focused on a few key priorities, but into summer 2021 and beyond, we will continue to make sure federal agencies use their regulatory and budgetary power to support ocean and coastal environmental justice and climate action.  Our coalition will continue to work to make sure all of our key recommendations are made a priority:
Offshore renewable energy that supports communities and ecosystems
A job-producing living shorelines coastal restoration industry
Sustainable fisheries and aquaculture
The greening of our ports and shipping industry
The 30x30 initiative to expand marine protected areas to 30% of federal waters.
Follow us on Social Media
---
TWITTER @CBE_MIIS or @Blue_Frontier and FACEBOOK @CenterForTheBlueEconomy or @BlueFront.org and INSTAGRAM @OceanClimateAction
About the Ocean Climate Action Coalition
---
"The ocean is one of the most powerful tools we have to help head off the worst consequences of global climate change," says Ocean Climate Action Plan signatory Mike Conathan in a recent Hill Article.  
The non-partisan Ocean Climate Action Plan (OCAP) was developed over the last two years in collaboration with hundreds of organizations and individuals, including a Youth Advisory Council, with Blue Frontier and the Center for the Blue Economy acting as convenors.  OCAP includes the best ideas from industry leaders, marine conservationists, academics, frontline communities, youth activists, and policymakers.   It is a template for strong federal legislation, and indeed, many components have been adopted into HR 8632, the Ocean-Based Climate Solutions Act, but our work does not stop there.  On April 13th, Ocean Climate Action Coalition met with key federal agencies including:  EPA Office of Environmental Justice, Dept. of Energy, NOAA, FEMA, Bureau of Indian Affairs, Department of Transportation, Marine Mammal Commission, EPA Office of Water, Department of Commerce, and the U.S. Coast Guard.   On April 14th, members of the public, 300+ strong, met with Senators and Members of the House of Representatives to make the case for ocean climate action now.   More actions will be planned for the summer of 2021.