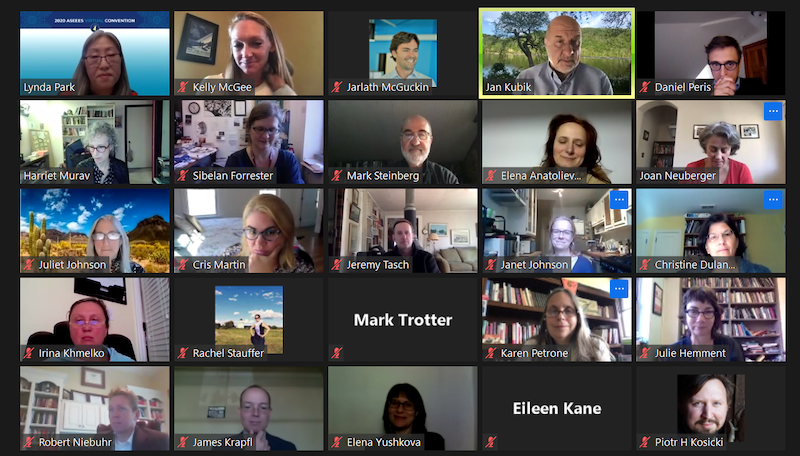 The Graduate Initiative in Russian Studies (GIRS) funded four MIIS students: Alex Carlier, Jessica Juarez, Darrel Stanaford and Tomohito Ishikawa, to attend the Association for Slavic, East European, and Eurasian Studies (ASEEES) annual convention on November 5-8 and November 14-15, 2020.

 
This year's convention, themed "Anxiety and Rebellion," provided opportunities for the students to learn from experts on topics such as generational conflict in Russia, the geopolitics of countries "in between" Russia and the EU, and the role of the Orthodox Church in military directives. A panel discussing survey research on Russian elites drew the attention of several participants from MIIS and revealed an emerging area of study in the field.
Attending the conference helped prepare these Middlebury Institute students to share their own research at future conferences and strengthened the knowledge base that students will require in their careers as diplomats and experts in international relations.
International Policy and Development student Alex Carlier MAIPD '21 noted the significance of the conference to his career as a foreign area officer in the US Army: "While I most often deal with political, military, and economic issues, I think staying tied to the academic community is vital for maintaining a broad perspective."
Journalist, author and documentary filmmaker Vladimir Pozner spoke with students in 400- and 500-level Russian courses about the development of mass media in Russia, the deterioration of U.S.-Russia relations, and the changing nature of how information is received through technology.
 
Joshua Yaffa, a Moscow correspondent for The New Yorker, discussed his book, Between Two Fires: Truth, Ambition, and Compromise, with students in 400- and 500-level Russian courses on November 5 in a conversation hosted by the Graduate Initiative in Russian Studies (GIRS).
 
The Graduate Initiative in Russian Studies (GIRS) recently hosted Matthew Rojansky, director of the Kennan Institute at the Woodrow Wilson Center, and Jill Dougherty, former CNN correspondent and instructor at Georgetown University, to lead a workshop entitled "How to Do a Television Interview."