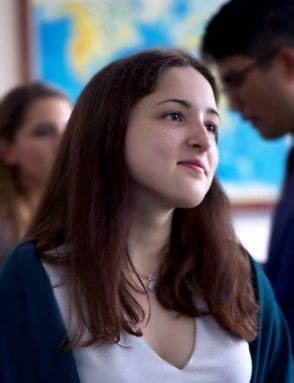 Anastasia Bunina 
Anastasia is a junior research fellow at the Center for North American Studies at the Institute of World Economy and International Relations (IMEMO). She focuses on US domestic politics, the role of money in politics, congressional elections and the foreign policy agenda. Anastasia is also studying US-Russia relations, actively using the comparative method and looking for common ground and interests in different areas. In 2018 and 2019 she participated in IMEMO – Harriman Institute exchange program conferences. In 2019 she was a visiting fellow at the James Martin Center for Nonproliferation Studies.
Anastasia received her MA in Comparative Politics in 2019 from the Peoples' Friendship University of Russia (RUDN) and holds a bachelor's degree in American Studies from the State Academic University for the Humanities, affiliated with the Institute of US and Canadian studies (ISKRAN).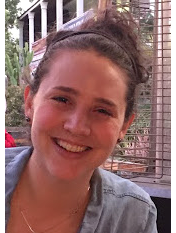 Anna Bar
Anna Bar is an M.A. candidate in Eurasian, Russian, and East European Studies at Georgetown University. She holds a B.A. in history and Russian studies from the University of California, Los Angeles. Anna received a National Security Education Program David L. Boren Scholarship for study in St. Petersburg, Russia in 2013 and went on to work at Freedom House and the U.S. Department of Defense before beginning her studies at Georgetown.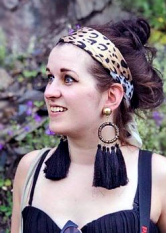 Anne Liebig
Anne Liebig is a third-year PhD student in Russian literature at the University of Edinburgh and holds a Staatsexamen degree in English and Russian from Heidelberg University, Germany. Her doctoral research revolves around post-Soviet nostalgia, the power of popular fiction, and national identity construction through literature. Anne's further research interests include the history of the intelligentsia, memory politics, and dissident movements in general. Anne has published on a range of topics, including Bulgarian diabolist fiction and counterculture under Putinism, and co-organised a conference on Otherness in Russian Literature and Culture at the University of Oxford in 2018.
Originally from East Germany, Anne has also worked as a German as a Foreign Language teacher for over a decade. She has taught at schools and higher education institutions in Northern Ireland, Scotland, New Zealand, Siberia and Kazakhstan and volunteered as an English teacher in Nepal. Anne also spent exchange semesters at St. Kliment Ohridski University in Sofia and the State University of Saint Petersburg. Outside research, Anne enjoys travelling, kickboxing, and photography.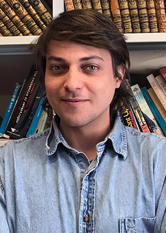 Aron Ouzilevski
Aron Ouzilevski is currently pursuing an M.A. in Global Journalism and Russian / Slavic Studies at NYU, and working at NYU's Jordan Center for the Advanced Study of Russia. After graduating with a B.A. in English literature from Lewis & Clark College in 2015, Aron moved to Russia, where, with the help of his native fluency in Russian and cultural ties to the country, he worked as an editor for the contemporary culture platform inrussia.com, and as an editorial assistant at The Moscow Times. He played a large role in two multimedia projects produced by The Moscow Times: Generation P, a site that profiled 18 teenagers who lived their whole lives under Vladimir Putin, and Mothers & Daughters, which told the stories of three generations of Russian women through four families. His interests include literary nonfiction, Soviet rock and cinema, contemporary Russian politics, literary translation, oral histories, and documentary storytelling.
Daniel Higuchi
Daniel is currently an MA student at the John Hopkins School of Advanced International Studies in the European and Eurasian Studies department. Before starting at the SAIS Bologna, Italy campus in the Fall of 2018 he worked for three years at the National Defense University (NDU) in Washington, DC managing the institution's Field Studies Program for senior foreign military officers. He came to NDU by way of Almaty, Kazakhstan, where he spent an academic year studying Russian on a Boren Scholarship.
Daniel received his bachelor's degree from the University of California, Los Angeles where he majored in Political Science and Russian Language & Literature. He was a member of the Russian Language Flagship at UCLA and through this program spent a summer in Vladimir, Russia and was a Foreign Language Area Studies Fellowship recipient. Daniel wrote his undergraduate thesis on Russia's relationship with NATO and his current research interests include Russian energy policy, disinformation campaigns, and Russia in the Arctic.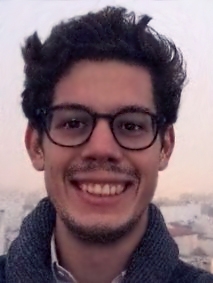 Fabian Trau
Fabian Trau graduated in Slavonic Literature, History and Political Science from the University of Heidelberg, Germany. He attended summer schools in Moscow, Voronezh and Vladivostok and studied a half year abroad at the State University SPBGU in Saint Petersburg. His research interests are the literature of the early 20th century and the cultural transfer between Russia, Poland and Germany. This year he finishes an MPhil in Comparative Literature at Queens' College, University of Cambridge. He is an alumnus of the German Catholic Journalistic school (IFP) and worked for several German media companies including ARD during the European Soccer Championship in Warsaw 2012 and the Olympic Games in Sochi 2014.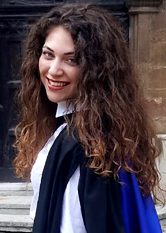 Katerina Pavlidi
Katerina Pavlidi is a PhD student in Russian literature at the University of Cambridge. In her current research, she uses the absurdist works produced by members of the Russian Avant-garde movement OBERIU as a springboard to examine Russian postmodernist texts produced within the underground circles of Moscow Conceptualism, with a particular focus on the texts of Vladimir Sorokin. Specifically, she looks at the linguistic experimentation and the deconstruction of the concept of the body that permeates these texts and she explores how these aspects fit in the bigger picture of the Soviet state and its established narratives. Other research interests include the communication of senses, such as pain, through literature, New Russian Drama, and theories of power. At present, she is organising a workshop related to Russian Avant-garde theatre and she is participating in the organisation of a festival on contemporary Russian culture.
Prior to her PhD, Katerina studied Byzantine and Modern Greek literature at the University of Cyprus and at the University of Athens, and she completed her MPhil in Comparative Literatures and Cultures, with a focus on Russian literature, at the University of Cambridge. Katerina's professional experience includes an internship at a publishing house in London, teaching Greek as a foreign language and working as a teaching assistant at a secondary school in London. In her free time she enjoys reading, travelling, learning languages varying from Ancient Greek and Latin to Spanish and German, dancing and playing the guitar.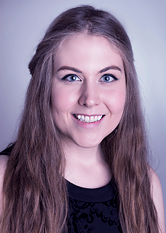 Megan Burnham
Megan Burnham is a graduate student at Indiana University's Russian and East European Institute. Her academic interests include Russian foreign policy, hybrid and information warfare, and Russia's cyber strategy. The research for her Master's thesis is concentrated on Russia's use of hybrid tactics to influence political discourse and practices in two Baltic states–Latvia and Estonia. Megan is the recipient of a National Security Education Program David L. Boren Fellowship, and she has spent the past academic year studying the Russian language and developing her thesis research while living abroad in Latvia. Before leaving for her Boren Fellowship period, Megan was an MA Fellow at Indiana University's Russian Studies Workshop, a research and training center that was supported by a Carnegie Corporation of New York grant. She has been the recipient of multiple awards for her engagement in Russian studies, including three Foreign Language and Area Studies fellowships, a Department of State Title VIII Fellowship, and a Benjamin A. Gilman International Scholarship award. In addition to the Monterey Summer Symposium on Russia, Megan has participated in numerous academic and professional events, including the Estonian Atlantic Treaty Association's NATO-EU Roundtable and the Milton A. Wolf Seminar on Media and Diplomacy.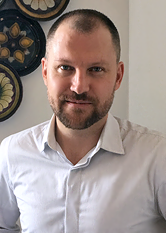 Riley Ossorgin
Riley Ossorgin is Director and Advanced Lecturer of the Russian program at Fordham University at Lincoln Center. He teaches Russian literature, art and language courses from the late nineteenth to the mid-twentieth century. He studied Russian at Princeton, Middlebury, and Columbia and completed his Ph.D. in Slavic Languages and Literatures at Columbia in 2017. His dissertation was on visual polyphony in Dostoevsky's work and his research focuses on visual art works to interpret literary texts. At Fordham, he teaches interdisciplinary courses such as Russian Media and the State, Russian Visions: The Interplay Between Russian and Soviet Art and Literature, The Russian Icon in Dialogue with the Arts, and Dostoevsky and Race in America. He founded the Fordham Russian Choir and the Fordham Russian Forum. The forum hosts conversations about Russia between Manhattanites, students, local experts, and artists. He is interested in Russian news sources and is currently working on a news aggregator to organize reliable reporting on Russia into a single interface.
Stefan Lacny
Stefan Lacny is originally from Oxford, UK and is a graduate of Trinity College, Cambridge, where he studied Modern and Medieval Languages (French and ab initio Russian) as an undergraduate from 2012. After spending part of his year abroad studying at Moscow State University, he specialised in Slavonic Studies in his final year, taking papers in Russian and Polish literature, history and culture and graduating with First Class Honours in June 2016. He continued this training into his MPhil at Cambridge, in which he received a Distinction and again specialised in Russian and East European Culture. During this degree, he became especially interested in the intersection between cultural production and the practice of state ideology in the former Soviet sphere, and after studying early Soviet nationalities policy in the 1920s/30s he wrote his MPhil thesis on early Soviet documentary cinema in Central Asia from 1926 to 1934. He is currently approaching the end of a two-year period away from academia, in which he has worked as a translator at the European Parliament in Luxembourg and a lecturer at the Jagiellonian University in Kraków, Poland, and will be returning to the UK in September 2019 to begin his PhD on early Soviet documentary cinema in Ukraine. Outside of research, his interests include politics (at the national and European level) and international relations.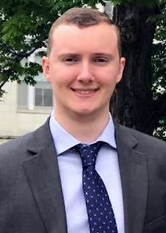 Timothy Kostelancik
Timothy Kostelancik is a candidate in the Master of Science in Foreign Service Program at Georgetown University. His professional background includes internships with the U.S. Department of State, the U.S. Senate, and the U.S.-Russia Business Council. He received his BA in Political Science and Russian from Middlebury College in 2018, having spent two semesters abroad in Yaroslavl and Moscow, Russia. Kostelancik's 2018 thesis addressed Russian hybrid warfare in the context of the 2014 annexation of Crimea. His other interests include energy security, investment in Central Asia, and the security and macroeconomic implications of emerging technologies.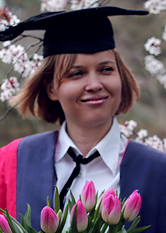 Yulia Savikovskaya
Yulia Savikovskaya was born in St Petersburg and graduated with BA in International Journalism and MA in European Societies from St Petersburg State University. She then continued to study at Oxford University and completed MPhil in Migration Studies and more recently DPhil in Social and Cultural Anthropology. She researched changes of self-identifications and social trajectories of Russians who had lived in the UK in 2010s. She is interested in the legacy of Soviet past and nostalgia in modern individuals and intersections of cultural influences (Soviet, post-Soviet and Western) on contemporary biographies. She is also a playwright, a translator of plays and books, a music and theatre critic with publications in English and Russian covering European and Russian theatre, opera and classical music. She is currently writing her first novel, collecting materials for a play about the nature of creativity in music and translating several plays by modern British authors.