How I Got Hired: Freelance Translator, Self-Employed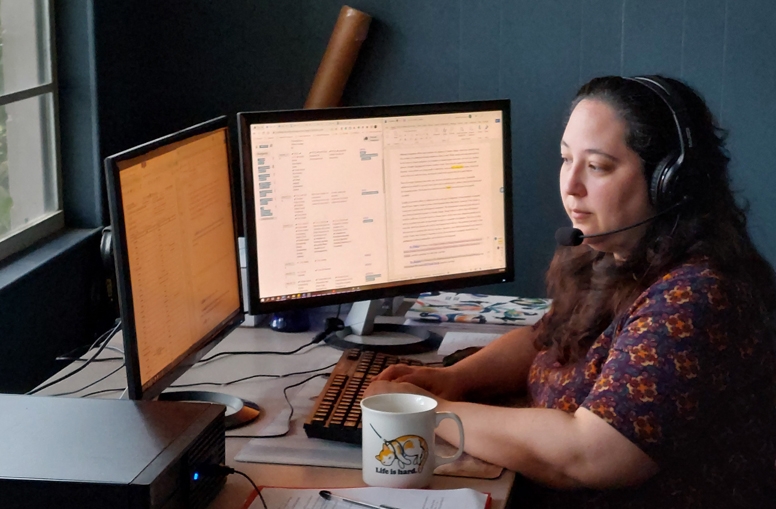 Middlebury Institute graduates discuss where they are working today, how the Institute helped them get there, and what advice they'd give to current and future MIIS students.
My name is Dawnielle Jacobson and I graduated with an MA in Translation from the Middlebury Institute in 2014. My languages of study were French and Spanish. I interned with the English Translation Service at the United Nations Headquarters in New York City, and now I am a freelance translator based in Interlachen, Florida.
Why Work as a Freelance Translator
I love working as a freelance translator. I love the flexibility, the ability to work from anywhere, and the fact that I can do it in my pajamas—but above all, I love that it gives me the opportunity to do something different every day. I work with private clients and international organizations on a range of issues such as human rights, environmental conservation, migration, climate change, gender equality, data protection, peace and security, tourism and international law, just to name a few.
The skills I learned at the Middlebury Institute didn't just improve my ability to translate; they helped me become a better writer in my native language as well. This has allowed me to keep things interesting by working as a précis-writer, editor, copywriter, and occasional transcriber. One of my favorite non-translation jobs is writing guidebooks for European tours and putting them together in InDesign (a skill I learned in one of the localization courses I took while attending the Institute). After graduation, I interned with the English Translation Service at UN Headquarters in New York. That amazing opportunity was made possible through the Institute's partnership with the United Nations, and I continue to benefit from that connection as a regular freelancer for the UN.
The Center for Advising and Career Services was instrumental in launching my career, as the internship at the UN led to a number of other opportunities. Professors Julie Johnson and Holly Mikkelson taught me the skills I needed to be a successful translator, and in the Translation and Interpretation as a Profession course, I learned everything that I needed to know to start my own business. I really appreciated the flexibility of my degree track, which allowed me to take a number of electives, particularly in localization.
Cultivate Friendships and Build a Network
As far as advice for current students, I should add that, while freelancing has a lot of perks, it can also be lonely work. My MIIS network of friends and colleagues provides support and a pool of qualified freelancers that I can draw from when I have too much on my plate. Be sure to cultivate friendships and take advantage of this extensive network in pursuing your dreams.
For More Information
| by Nina Fink MATI '12

Translation and Interpretation alum Nina Fink shares how she landed a career as a freelance translator and interpreter.

MultiLingual Magazine featured four Institute alumni in an article about women leaders in the language services industry. 

| by Clara Clymer

We interviewed Rachel Chan, one of six interpretation students selected for the prestigious Stanford Health Care interpretation internship.