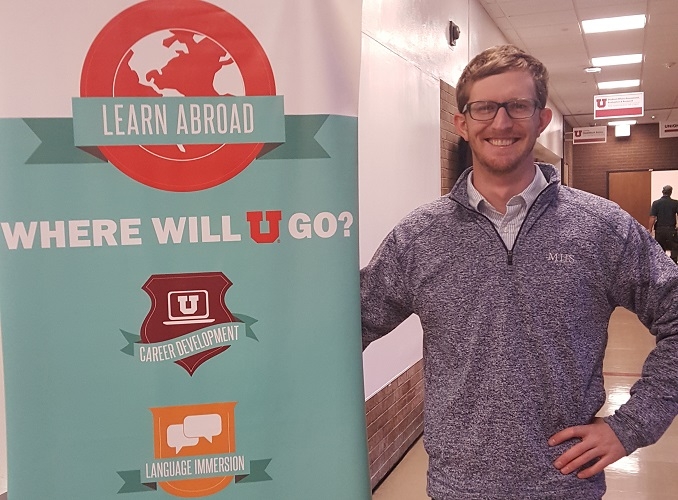 Middlebury Institute graduates discuss where they are working today, how the Institute helped them get there, and what advice they'd give to current and future MIIS students.
My name is Daniel Watson and I graduated with an MA in International Education Management (IEM) from the Middlebury Institute in 2017. My language of study was Spanish. After completing my practicum as an education abroad advisor at Portland Community College (PCC), I became a marketing and technology coordinator for the Learning Abroad program at the University of Utah (Salt Lake City).
I found the job posted on the Forum on Education Abroad's job board while I was finishing my practicum at PCC; I had begun applying for jobs a few months before graduating. After a successful first-round interview, they flew me out to Salt Lake City for an in-person interview, and I was lucky enough to have a job squared away before I graduated. 
Practicum and Coursework Prepared Me Well
My practicum played a huge role in preparing me for my current role. At PCC, I created a strategic marketing plan and worked daily in the student enrollment system Terra Dotta, both duties I have in my current job. The Marketing and Recruiting class I took at MIIS was very helpful, as was the mentoring from the IEM faculty. Also, the Higher Education Administration class gave me the vocabulary to explain why I was a good fit for a large public institution like the University of Utah.
Network, Do Informational Interviews, and Apply!
My advice for students is to network as much as possible, do informational interviews whenever you can, and start applying for jobs early! Networking and informational interviews can help you narrow down what type of job you'd like to end up in.
Emily Hoang, a 2020 graduate of the joint MPA/MA in International Education Management, has been at the forefront of the COVID-19 response in Los Angeles, first helping to organize testing sites, and then vaccination efforts in the community.
Middlebury Institute students in the International Education Management degree program share how they have overcome challenges to continue their professional development during a global pandemic.
Like many students who studied abroad, I was really interested in trying to find a way to make a career out of that experience. I looked into what skills that might involve, and I realized that it really is a professionalized field that needs a special skill set. The Middlebury Institute was a way for me to get that.