A Matter of Interpretation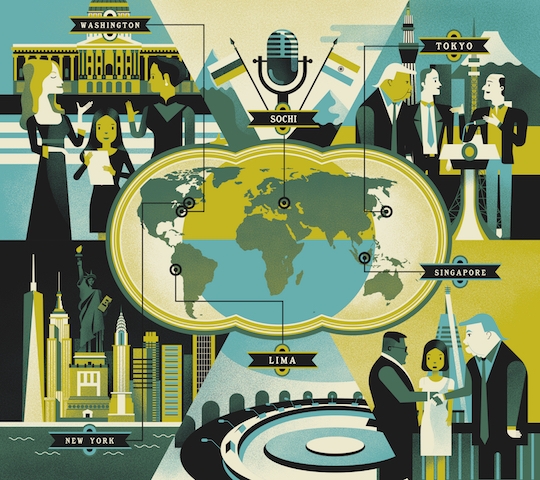 "The language industry" - of which interpretation is a significant part - "is probably the largest industry that you have never heard of," says Barry Slaughter Olsen MACI '99, an associate professor at the Institute and an active member of the International Association of Conference Interpreters.
Of course the "you" in this case speaks more to the general public, rather than anyone associated with the Institute, but the point is clear. As the above feature demonstrates, anywhere there are people who don't speak the same language, there is a need for interpreters - and people from the Institute are interpreting at the highest levels.
May I have a word
Over the past year, Institute alumni, students, and faculty have served as interpreters at some of the world's most important global gatherings, from large events to intimate one-on-one meetings between heads of state. Here is a glimpse at some noteworthy occasions.
Washington D.C.
State Department interpreter Lam Chung-Pollpeter MACI '00 interpreted for Melania Trump when President Xi Jinping of China and his wife visited the White House in November 2017.
Sochi
MIIS student Vipin Kumar MATI '19 interpreted for Indian Prime Minister Narendra Modi when he met with Russian President Vladimir Putin in Sochi, Russia, in May 2018, and again when the two leaders met in New Delhi, India in October 2018.
Tokyo
Lefteris Kafatos MACI '10 was assigned by the State Department to interpret for U.S. President Donald Trump when he met with Japanese Prime Minister Shinzo Abe in Japan in November 2017, and again at the UN Security Council in September 2018.
Singapore
MIIS alumna and former professor Yun-hyang Lee interpreted the high stakes meeting between President Trump and North Korean President Kim Jung Un held in Singapore in June 2018.
Lima 
On hand to interpret at the 2018 Summit of the Americas in Peru were alumni including Camila Gonzales-Misas MATI '13, Diana Tomioka MACI '10, and Maria Covadonga Soto Casar MATI '13.
New York 
Several Middlebury Institute alumni helped facilitate communications between world leaders at the UN General Assembly in New York in September, including UN staff interpreters Sheila Shermat MACI '88, Sarah Irene MACI '10, Adrian Delgado MATI '93, Daniel Casanova MACI '95, and Laurence Binnington MATI '00.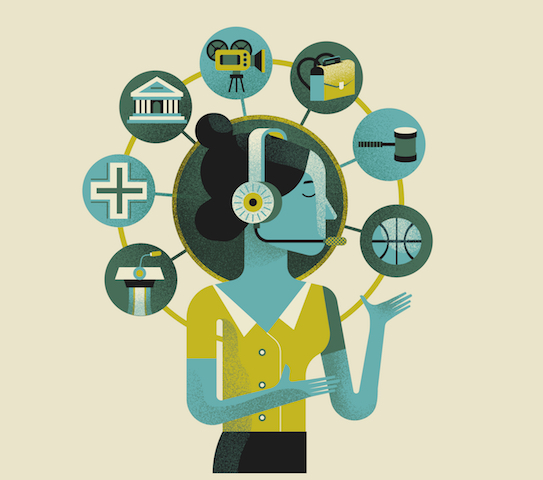 Here, There, and Everywhere
The number of scenarios requiring the presence of interpreters has grown exponentially during the past 75 years. Most people are aware of the key role interpreters play in fields like diplomacy and business. We asked Professor Barry Slaughter Olsen MACI '99 to suggest three examples of situations where the average person might not realize interpreters are a vital part of the action. (Olsen, an experienced practitioner, says his most unusual assignment was for the automaker BMW, riding shotgun in a car going 120 miles an hour, interpreting lessons from the trainer next to him to other drivers via a radio.)
Sports
You've seen them at the Olympics, but did you know every team in Major League Baseball now has at least one interpreter on staff?
Entertainment
When press junkets take actors abroad, they'll usually have an interpreter by their sides. 
Education
Whether at larger district council events or at parent-teacher conferences, interpreters often play a critical role connecting officials and non-English speaking parents.
| by Eva Gudbergsdottir

Lissett Samaniego MATI '10 of Stanford Hospital and Clinics answers questions about a critically important field.
 

| by Jason Warburg

The role and ethical obligations of diplomatic interpreters became the subject of intense interest following the summits President Donald Trump held with North Korean and Russian leaders.