Celebrating Achievements of 76 Graduates at Virtual Winter Commencement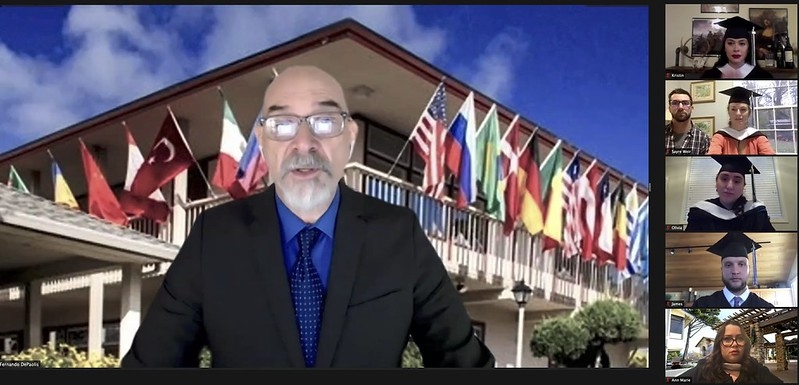 In this year of many firsts, the Middlebury Institute community came together to celebrate the achievements of 76 graduates from 15 countries at its first Virtual Winter Commencement on Saturday, December 12.
 
"We all came to MIIS for a specific reason—some more known than others—but with a common goal to get one step closer to our career aspirations. In this sandbox of the MIIS community, we picked up new tools and sharpened others. We supported each other's weaknesses with our strengths and grew in our own self-confidence to build our own sandcastle, our way." If there was a recurring theme to this event, it was summed up by Student Speaker Pia Park MAITED/MPA '20 in three words as Tenacity, Ohana (family), and Principals, as this graduating class knows a thing or two about adapting to a rapidly changing world and overcoming challenges, the deliberate and important act of maintaining human relationships in a remote world, and staying true and standing up for principals to make a difference. "If this year has taught us anything, it's taught us that plans are supposed to be crushed, adapted, and remolded—2021 is so ready to be molded for the better."
View the gallery in a new window.
2020 Virtual Winter Commencement
"You shook off the smoke and ashes, the cats on your keyboard, the dread, the cabin fever, and kept logging into Zoom, kept posting to Canvas, kept downloading pdfs, kept creating Google Docs. This was a great act of beauty, and the ultimate expression of your humanity." As is the tradition for the Winter Commencement, the winner of the Faculty in Excellence Award gave the main address, and this year it was Professor Thor Sawin. He took note of the particular achievements of this graduating class, persevering through one challenge after another, including two semesters impacted by a global pandemic. "I have never been prouder to teach MIIS students than after this year, after seeing what you all have done to provide home and hope to each other."
Sawin called on the new graduates to a further act of human defiance and beauty and nature – "to continue learning languages, learning the words of the other, learning the ways that people from the other group would word things, would phrase things." He called language learning a radical act. "It is the greatest tool that you can use in your future careers, and the greatest hope for creating alliances of change, and even of love and respect in a world that desperately needs that."
Vice President for Academic Affairs and Dean of the Institute awarded posthumous degrees to two valued members of our community who we lost in 2020, Michael Donnelly MANPTS '20, and Aaron James Ensman MATESOL '20. Both were remembered fondly by their families, classmates, and faculty.
The ceremony was recorded and is available for viewing.
| by Eva Gudbergsdottir

Paulette Lynch, Temie Giwa-Tubosun, and Lefteris Kafatos are the 2020 recipients of the Middlebury Institute Alumni Achievement Awards.
 

| by Eva Gudbergsdottir

The Middlebury Institute community found meaningful ways to celebrate the very real accomplishments of graduates through a series of virtual events, even starting a few new traditions.
 

| by Eva Gudbergsdottir

Human Rights Activist Ben Jealous encouraged the 269 graduating students at the Middlebury Institute Spring Commencement not to wait to start their job of being "builders of a better future."