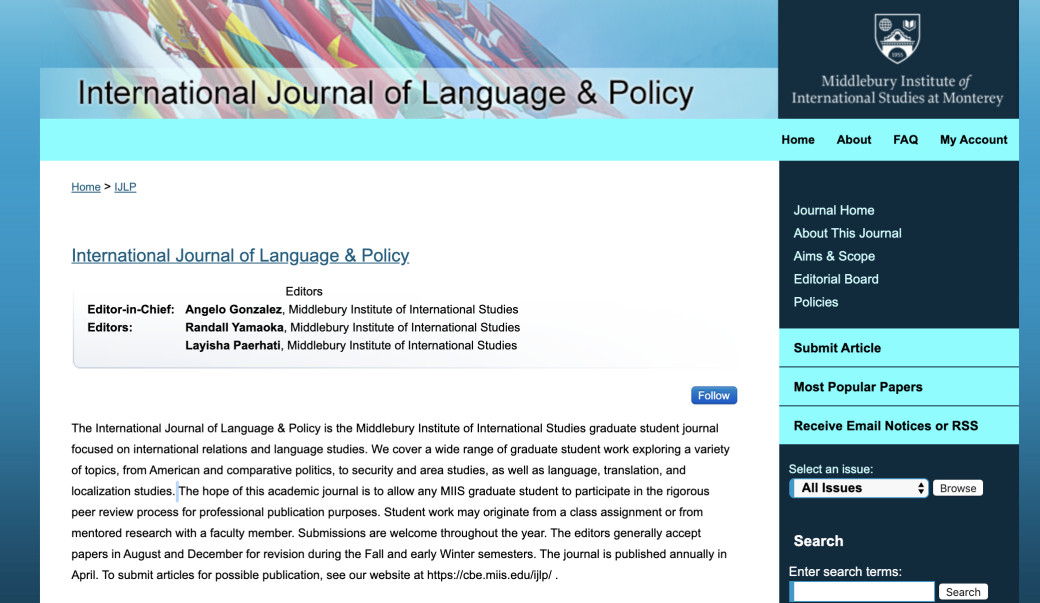 This spring, a group of students, led by Angelo Luis Gonzalez MAITED/MAIPD '20 along with faculty advisors, launched a new peer-reviewed academic journal named The International Journal of Language and Policy. The journal is currently accepting submissions.
 
After consulting with fellow students and several faculty, Gonzalez got in touch with Charlie Colgan, director of research at the Institute's Center for the Blue Economy and editor of the Journal of Ocean and Coastal Economics. "Dr. Colgan's incredible wealth of knowledge on starting academic journals and what it takes to build continuity for a research journal was instrumental in creating the necessary gumption for our student-led purposes," Gonzalez shares."In my free time, I would schedule meetings with Dr. Colgan and discuss the journal idea and what might be the parameters of the journal's aim & scope, of whom would the journal seek for publications, and inevitably, who would continue the journal's future."
Gonzalez says a lot of the credit for the journal belongs to fellow students Layisha Paerhati MAIPD '20 who configured the website and other champions of the projects, including Jaewon Oh MANPTS '20, president of Student Council, and Katherine McKenney MAIPD '20. Associate Professor Philipp Bleek is the Journal's main faculty advisor and Deniz Oractepe, associate professor and director of the Institute's Graduate Writing Center helped set up processes for peer review. The project is further supported by the academic leadership of the Institute.
"When I was a masters student many years ago," Bleek says, "I served as editor-in-chief of our interdisciplinary journal. Based on that experience, I saw my role as a faculty advisor both as supporting Angelo—and through him his various collaborators—while at the same time highlighting the challenges to launching and sustaining a journal. I'm thrilled Angelo and his team weren't dissuaded by the latter and looking forward to this new outlet showcasing some of the thoughtful, rigorous, relevant work that is a hallmark of this place." 
Gonzalez is very happy to see his idea for a journal come to fruition and have strong support by faculty and students. "The seed was planted in good soil and I'm happy to be graduating with planting this tree, in whose shade I will not sit in. The foundation of academic integrity built within our academic journal will be the nexus of change for our Institute. It will provide the opportunity for future students to participate in the grand adventure that we all wish to pursue - to change the world." 
"I am very pleased to see the launch of this peer-reviewed academic journal at MIIS," shares Laura Burian, dean of the Graduate School of Translation, Interpretation and Language Education. "It will provide opportunities for our students to expand upon and bring to a wider audience the important research and writing they are doing for their classes. Beyond this, as we have so many students studying translation or taking content-based language coursework, MIIS is uniquely positioned to include in this journal translated content and student-written research in multiple languages."
Two Middlebury Institute students are part of a team developing and producing 3-D printed protective masks for healthcare providers in North Carolina.
 
Four Middlebury Institute International Education Management students facilitated a pre-departure training session for Rotary Exchange Youth Program, putting some of the lessons they are learning in class to practice.
Four Middlebury Institute students competed in the annual Atlantic Council Cyber 9/12 Strategy Challenge. While in past years they would have traveled to Washington D.C., this year the competition was held online.