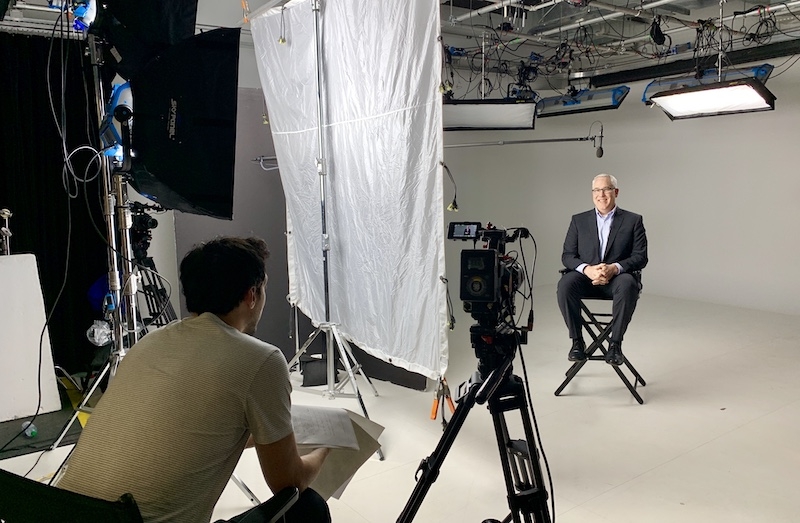 Middlebury Institute Translation and Interpretation Professor Barry Slaughter Olsen is the recipient of the 2020 American Translators Association (ATA) Innovation Award, which recognizes a person or entity that has worked in a particularly innovative way to benefit ATA and/or the language professions.
 
At the ceremony on Friday, October 23, author and well-known translator Jost Zetzsche presented Olsen with the award as part of the ATA's 61ST Annual Conference, this time held virtually. Zetzsche noted that Olsen has over 25 years of experience as a conference interpreter and that he "combines professional expertise and innovative approaches to interpreter education, advocacy for interpreting, and entrepreneurship."
"It is an honor to be recognized as an innovator by the American Translators Association," shares Olsen. "So much of what I have been able to do over the years stems from the support I have received for my ideas from the Middlebury Institute. Being encouraged to think outside the box about interpreting and teaching and supported when I had new ideas really helped me achieve  much of what I wanted to do. I am simply proud to be a part of the Middlebury Institute community."
A graduate of the Institute's Translation and Conference Interpretation degree program himself, Olsen has taught in the Russian and Spanish interpreting programs since 2007. "He has co-taught the practicum in interpreting, developed techniques for teaching interpreting remotely, and designed and taught a course on remote interpreting technology," Zetzsche said in his presentation and adding that during the global pandemic, "he has generously shared his expertise on integrating new technology into tried and true pedagogical approaches with students and colleagues alike." 
Zetzsche further noted that Olsen is a tireless advocate for cooperation among academia, professional and industry associations, and interpreters in all fields. "As co-president of InterpretAmerica (2009-2020), he co-produced conferences, webinars, virtual events, and publications, as well as provided consultancy, public speaking, and advocacy. As an entrepreneur, Barry helped develop one of the first platforms for remote simultaneous interpreting and was awarded two patents as co-inventor of ZipDX. An active member of the International Association of Conference Interpreters, he has interpreted for the G20, the World Economic Forum, the U.S. Department of State, the Inter-American Development Bank, the Organization of American States, and many other public and private sector clients. In 2020, Barry joined KUDO, a multilingual web conferencing platform, as vice president of client success."
"As a visionary and innovator," Zetzsche continues, "Barry is focused on the future and the growing effects of technology on the interpreting profession. from 2016 to 2020, he wrote and produced a monthly blog and video called The Tech-Savvy Interpreter examining specific technologies and trends that are changing the way interpreters work." A highly sought-after speaker on multilingual communication and technology, who has been interviewed by major news outlets, Zetzsche went on to say that Olsen's co-presentations for TEDxMonterey and Wired have become go-to resources for explaining what's involved in being a professional interpreter. "Barry's innovative force in a number of areas and ability to explain professional interpreting to a larger segment of the general public make him a natural choice for ATA's first Innovation Award."
Middlebury Institute Professor George Henson has been nominated for a Northern California Book Award in the translated fiction category for his translation of Mephisto's Waltz: Selected Short Stories by Sergio Pitol.
At its annual conference last week, the American Translators Association (ATA) awarded its highest honor to Professor Holly Mikkelson of the Monterey Institute of International Studies.
Slator, Barry Slaughter Olsen