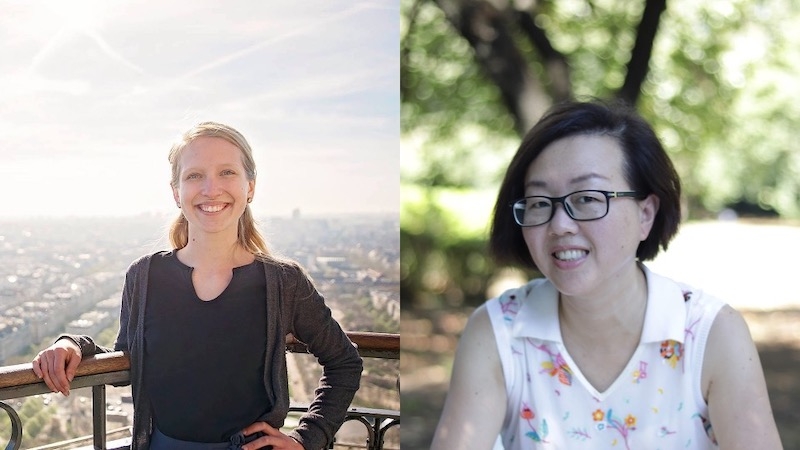 Middlebury Institute students Meng Zhang (Barbara) MATI '22 and Helen Bartlett MATLM '22 took a class project and turned it into Translators for Elders (TFE), a new crowdsourcing initiative to help older citizens bridge language barriers.
 
Translators for Elders started as a project for a winter term course they took called Crowdsourcing Social Localization and Translation. Bartlett says Professor Adam Wooten gave them complete freedom on the types of projects we wanted to do. The Asian American Senior Association of Pennsylvania (AASAPA) immediately came to Zhang's mind. AASAPA is a nonprofit organization advocating for senior citizens where Zhang has served as its Chairperson of the Board and knows first-hand the need for language help in the community. 
"The elders often need help translating documents for them," Zhang says, "including medical, immigration, legal, tax, utility, or financial information. There have been numerous times when older adults had to miss their doctor visits or opportunities to get involved in activities due to not understanding the correspondence mailed to them. This can lead to physical and mental illness."  TFE's mission is to help the elderly, as well as low-income families and anyone in need, to overcome the language barrier. "We strive to provide high-quality translations at no cost to anyone in need, starting with Chinese and Spanish translations." In February 2021, TFE was approved by the Institute leadership as an Immersive Professional Learning initiative (IPL).  
Zhang says that through her professional and non-profit experiences she started realizing the importance of getting the right training in language translation and interpretation. "Although I have successfully interpreted for conferences, trade talks and negotiations, I feel that language learning is a life-long journey that should never cease. Not all language programs are created equally. The translation and translation and interpretation, and translation and localization management programs at MIIS clearly stand out among others. The programs will perfect my language skills and equip me with techniques required professionally. Middlebury's excellent faculty team—from academic expertise to career advisory—topped with its vast network of resources for graduates, are deciding factors that brought me to the Middlebury Institute."  
Bartlett studied Anthropology, French, and Spanish as an undergraduate. "I always knew I wanted to continue my education along the same path, but I had no idea how to, or what localization even was at the time. I've always loved learning other languages and using them as a tool to connect with people that I never would have known otherwise. I entered the working world for a few years, and got experience working with people from all over the world in a library setting, assisting immigrants in navigating the US naturalization process and facilitating programs for kids of all ages in English and Spanish. Through that work, the massive need for more cultural humility, openly multilingual settings, and generally equalizing the opportunities and resources available for all people here in the States became painfully apparent. I decided to pursue a career in which I could leverage my background within a managerial or administrative role to encourage a shift in the current norm of workplace dynamics. The TLM degree at the Institute is the ideal track to explore different roles and build the necessary skills to take on any job in the industry. " 
Translators for Elders will be an ongoing project at Crowdin.com. As a crowdsourcing translation project, it will engage MIIS students as well as linguists and localization professionals worldwide to participate in and become part of the TFE translation community. As Bartlett explains, volunteers choose what they would like to do and roles include: pre-translation preparer, translator, post-editor, reviewer, project manager, logo designer. TFE is a fully registered nonprofit organization at the State and Federal level. Bartlett and Zhang say everyone is welcome to join TFE now and be part of the growth of this exciting startup. At this moment, they are running off of donations and the IPL funding from the Institute.
Translators for Elders has already been featured in two major international news media. World Journal, the largest Chinese newspaper published a story on the initiative on March 9, 2021 and a few days earlier a story was published in USA.fjsen.com.
On March 20, 2021 they will be hosting a Translate-a-thon at 6 pm PDT. This will be a drop-in style session to explore crowdin.com and ask any questions about how to get involved, plus a raffle. This is not the only opportunity to learn more about this initiative and the students ask anyone interested to contact them directly for more information. You can find them also on Facebook, Instagram, Twitter, and LinkedIn.
Three current Middlebury Institute Translation and Localization Management students, who recently founded the TLM Mentorship Program to help formalize connections in the field, say they are "completely blown away" by enthusiastic response by alumni.
Thirteen Middlebury Institute Translation and Interpretation students contributed translations to the most recent issue of Latin American Literature Today.
 
Middlebury Institute student Jem Walker MATI '21 won first prize in the UN organized St. Jerome Translation  Competition for his translation from French into English.