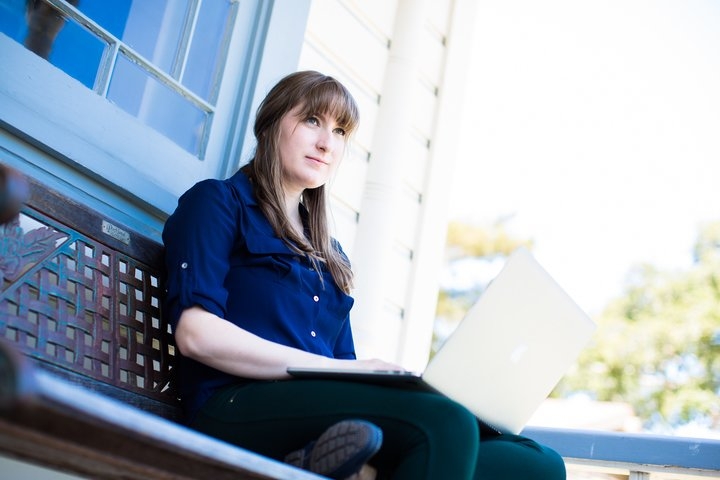 The Middlebury Institute has launched its first online graduate degree. The Online Master of Arts in Translation and Localization Management (TLM) is an advanced-entry degree designed for working professionals. Applications are now open and the first students will start pursuing their degree in the fall of 2020.
This new degree was created as a response to requests from people working in the field of localization management who would like to earn their degree, improve their skills, and take the next step in their career without taking time away from their careers. The Institute has a unique status in this burgeoning field as a leading graduate school for localization, translation, and interpretation.  
"We are thrilled to launch this online degree in Fall 2020," says Dean of the Graduate School of Translation, Interpretation and Language Education (GSTILE) Laura Burian. "It will be a great fit for alumni from our translation, translation and interpretation and conference interpretation degrees, and others in the field with work experience who want to continue working full time while gaining more in-depth localization skills." 
The localization and language services industry, which focuses on the translation of products into local languages and the adaptation of products to suit local cultures and markets, is a $40 billion market, projected to grow at a rate of more than 7 percent annually.
"For the last 15 years, pursuing a Translation and Localization Management degree was available only to those who could move to Monterey," says TLM Program Chair Max Troyer. "While our on-site enrollment is fantastic, we wanted to be able to offer the degree to those who can't easily relocate. Our online students will learn the skills that will let them take their careers to the next level and apply what they learn to their current positions."
Students enrolled in the 32-credit online program will have access to all the same personalized career and advising resources, including access to workshops and training sessions, as students in the on-site programs. "I'm so excited to welcome the first cohort next fall!" Burian says. 
International students who earn a localization degree will be eligible to apply for a two-year extension of their resident status after graduation.
More than 30 companies and organizations attended the Middlebury Institute Translation, Interpretation, and Localization Management (TILM) Career Fair held at the Monterey Marriott on February 15, 2019.
The 2018 Middlebury Institute Translation, Interpretation and Localization Management Career Fair drew employers from international organizations and companies from around the world.