Students Quiz FBI Agents About Career Paths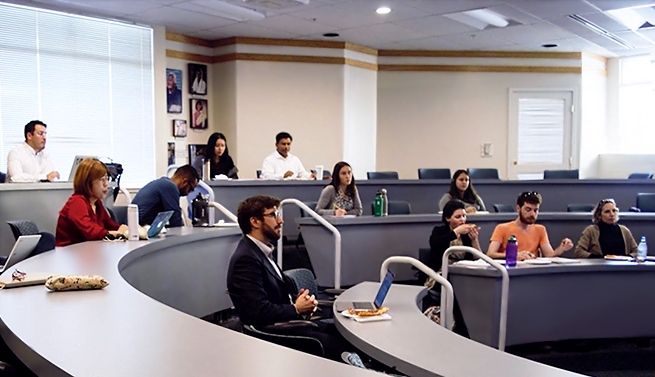 A roomful of Middlebury Institute students recently flipped the script on FBI Special Agents Brenda Atkinson DeGrasse and Melissa Patrick. The agents—who are normally the ones in the room asking the questions—were instead quizzed about their career paths and experiences by a group of 20 students last Thursday.
DeGrasse and Patrick shared anecdotes from the divergent career paths that led them to their current positions with the FBI's San Francisco Field Office. Both are attorneys and their work typically focuses on compliance, providing guidance to other FBI personnel about the legality and ethics of different potential courses of action when investigating cases.
Both noted that fluency in a second language is one of several factors that can qualify someone as a potential FBI agent, underscoring the point with an anecdote about an interrogation where the two subjects spoke to one another in Mandarin, assuming that no one else in the room would understand them—except, one of the agents present was fluent in Mandarin and listened in quietly as the subjects revealed valuable information about the case.
The FBI's priority areas of focus—counterterrorism, cyber, counterintelligence, public corruption, civil rights, and organized crime—to a large degree mirror academic disciplines taught at the Institute, including the Nonproliferation and Terrorism Studies degree program, the Cyber Initiative, the Financial Crime Management certificate program, the Translation and Interpretation degree program, and others.
The visit by Special Agents DeGrasse and Patrick was co-hosted by the Center on Terrorism, Extremism, and Counterterrorism (CTEC), the Center for Advising and Career Services, and the Terrorism Studies Club.