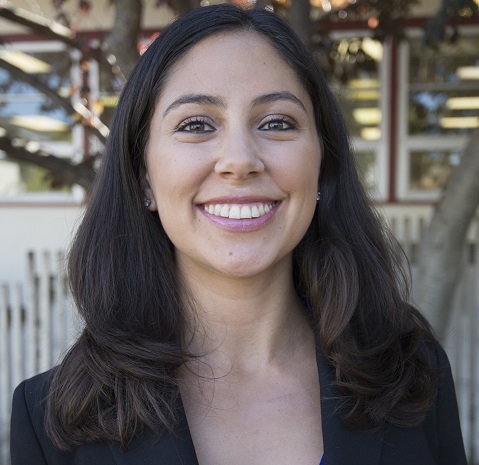 Middlebury Institute graduates discuss where they are working today, what it was about the Institute that helped them get there, and what advice they'd give to current and future MIIS students.
My name is Katerina Borghi and I graduated from the Middlebury Institute in 2014 with an MA in Translation and Interpretation (TI). My language of study was Spanish.
Currently
Founder and Chief Language Professional, Nexos Translations, Orange County, California
Previously
Spanish Court Interpreter, Superior Court of Maricopa County, Phoenix, Arizona
Immersive Learning and Internships
At the Middlebury Institute, I went on the January-term (J-term) Cuba trip. I also had several summer internships: medical interpretation at Stanford Hospital, conference interpreting at Universidad Internacional Menendez Payo (UIMP) in Santander (Spain), and court interpreting at the Superior Court of Maricopa County in Phoenix, Arizona.
The Road to Court Interpretation
Thanks to the incredibly talented professors, as well as the network of internships provided by the Middlebury Institute's Center for Advising and Career Services (CACS), I was able to first pursue a summer internship and then a full-time staff position with the Superior Court of Maricopa County in Phoenix, Arizona. I owe all of my internship opportunities in my time at MIIS to my generous professors, as well as the excellent career services staff who helped me not only to pursue these opportunities but also gave me the edge to excel at them.
From Newcomer to Pioneer
I believe that the attention and dedication of my professors coupled with the network of internships that MIIS has at its disposal gave me both the skills as well as the opportunity I needed to work in places that would have otherwise been out of reach for a newcomer to the profession. I was able to secure a full-time position at one of the most respected Court Interpretation Departments in the country right after graduation. The person who hired me already knew me well from the internship and was fully confident in my skills to do my job from the training I had received at the Institute. I became one of the first interpreters to be certified in the state of Arizona through the Arizona Court Interpreter Credentialing Program (ACICP) at the program's inception.
A Piece of Advice
The best way to start a career is to set yourself apart from the crowd. MIIS can be an important piece in any journey to strive for excellence in your career. Not only will it give you recognition in the field, but it will also give you the skills required to continue to earn recognition through awards, certifications, and successfully tackling your career market after graduation.
Translation and interpretation student Jessie Liu shares her work as a certified court interpreter and translator in California, and how she is enhancing her skills as a student at the Middlebury Institute.
 
Middlebury Institute Professor Barry Olsen is the recipient, and "natural choice" for the first American Translators Association (ATA) Innovation Award, which recognizes a person or entity that has worked in a particularly innovative way to benefit the language professions.
 
While there's nothing like making a first impression in person, with the right preparation you can turn a virtual career fair into real-life job opportunities. Here are six ways to maximize the increasingly popular virtual career fairs.