Institute Alumni Feature Prominently on New List of Localization Influencers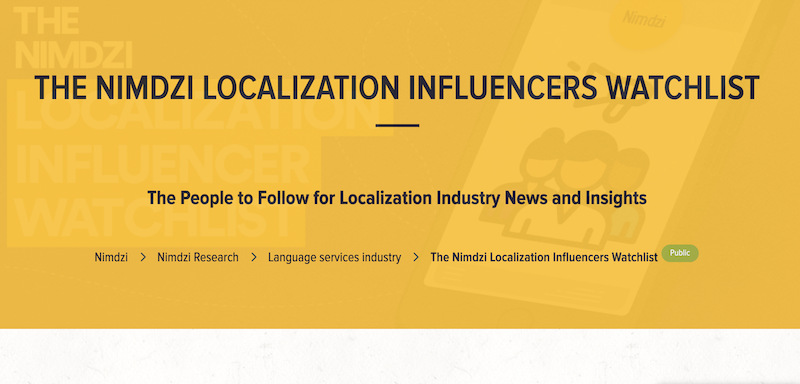 Six Middlebury Institute alumni, including two faculty members and one staff member, are featured on the new Nimdzi Localization Influencer Watchlist.
The Watchlist, published in July, lists the top 50 people to follow for localization industry news and insights. One of the hallmarks of a Middlebury Institute education is the opportunity to learn from leaders in the industry, faculty with vast professional networks and relevant field experience that they bring to the classroom. On the list you will find Translation and Localization Management Professor Adam Wooten MAT/MBA '06, and Translation and Interpretation Professor Barry Olsen MACI '99.
Other notable alumni on the list are MIIS Career and Academic Advisor Winnie Heh MATI '90, Ewandro Magalhães MACI '08 Chief Language Officer at Kudo, Uwe Muegge MAT, Head of Terminology for Global Business Marketing at Facebook, and Allison McDougall MBA, Senior Vice President for Global Revenue at Amplexor International.
Based in Seattle, Nimdzi Insights is a full-service analyst and consulting firm focused on the language, translation and localization industries.
Slator, Max Troyer

| by Jason Warburg

Language services professionals including Dr. Yun-Hwang Lee, interpreter at the recent U.S.-North Korea summits, will appear at a conference celebrating 50 years of translation, interpretation, and localization instruction at the Middlebury Institute on May 4-5.

| by Eva Gudbergsdottir

Middlebury Institute alumna Linda Childs Hothem found the perfect person to help make her dream for a foundation to support arts education come true in recent graduate Natalia Weinberger.