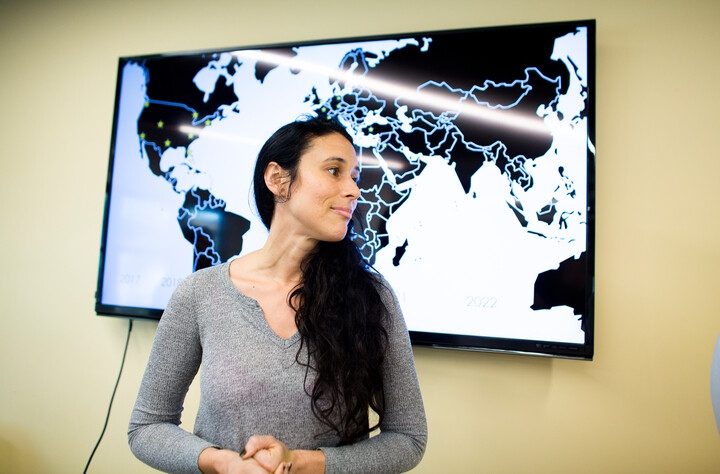 As a career coach who has worked with hundreds of people across all phases of the career journey, I am most often asked, "How do I create a résumé that will actually get seen by recruiters?"
 
This question has become more relevant in recent years with the immense popularity of Applicant Tracking Systems (ATS), or computer programs that scan résumés for keywords before they are passed on to hiring managers.
While these technologies have brought employers increased efficiency and convenience, they have also created a gap in the job market between candidates who are qualified for a role and those who understand the power of keywords.
Thankfully, hope isn't lost, because there are really easy ways to create effective résumés that can get past a computer and impress a recruiter, and I'm going to share three of my favorite strategies with you today. These three tips have helped 80 percent of my clients land job interviews or contacts from a recruiter within one week of applying.
Tip #1: Reverse engineer the process
Whenever I build a résumé, I never build it for my clients, but for the jobs they are applying to.
That means studying five or more similar job descriptions, scanning for all possible keywords, and noting the common tasks they are asking for. This allows me to create a targeted story that highlights their accomplishments in relation to the job, not in regard to their careers as a whole.
To appear well rounded, many job seekers create a blanket résumé that speaks to a multitude of capabilities, tasks, and skills without verifying if any of them are even in the job description. This approach will not benefit you but actually penalize you, because every word counts—if it's not listed in the job description, don't include it. Rethink and reword your résumé so it aligns with what the employer is asking for.
Recommendation: Create a list of the top keywords and tasks in your industry in a spreadsheet and include them in your résumé across all sections (Experience, About, and Skills).
Tip #2: Create a results-driven résumé
Most of the résumés I review list out all the tasks the job seeker performed without ever pointing to a single outcome.
I spent the first five years of my career in sales, and I learned very quickly that results sell better than product attributes do. That's why I build résumés with the following format:
Strong action verb + tasks performed + results achieved (with a quantifiable metric)
Let's look at an example. Here is a task-focused statement in a résumé: 
Led certification programs for producers in multiple countries focusing on fair trade principles
New results-driven bullet:
Oversaw development and execution of 16+ certification programs, defining clear roadmaps, providing updates to internal teams, identifying roadblocks, and communicating risks across many moving parts, driving $1M in revenue
The difference between the first and second statement is the results, combined with job-specific keywords that tell a descriptive story and immediately communicate to both a computer and a hiring manager that this candidate is an excellent fit for the role.
Recommendation: List out all the tasks you performed in each role, then think about the outcomes you helped drive with quantifiable Key Performance Indicators (KPIs); e.g., costs saved, revenues driven, efficiencies gained, stakeholders impacted, etc.
Tip #3: Formatting is crucial
I advocate for one-page résumés, but more recently two-page résumés are accepted in certain industries. If you are still in college or are a recent graduate, stick with one page. From my research and conversations with recruiters at firms like Google, Amazon, and Starbucks, one page is the way to go for anyone with less than 10 years of experience when applying to jobs in tech and consumer-packaged goods. Management consulting firms have similar expectations. In other industries, especially nonprofit, two pages are the new standard. If in doubt, speak to someone who works in your industry of interest for advice. Regardless of length, brevity and relevance are critical.
Hiring managers will give your résumé six seconds of attention, and if they can't get a good impression of your fit for the role in that time frame, you will get passed over. That isn't meant to be discouraging news but rather an insight to encourage you to format your résumé in a way that makes it skimmable. 
To help recruiters out, I create four separate sections for my clients:
About: Three or four sentences with keywords that immediately call out the candidate's areas of expertise and three superpowers that differentiate them from their competitors. This will help a recruiter get to know your background and strengths right off the bat.
Experience: Three or four roles with bullet points that follow the results-driven formatting highlighted above. As shown above, I bold keywords and metrics so they pop.
Education: List out your schooling and any additional certifications or areas of focus. 
Skills: I only include this section for technical roles or if I see certain technologies listed in multiple job descriptions. Do your research to decide if you need to include it or not. Phrases like "project management," "excellent communicator," or "detail-oriented" do not belong here—include them in the About section. 
Recommendation: Know your industry and adapt the length of your résumé to the field and your years of experience.
If you have more questions about creating a high-converting résumé that will increase your chances of getting hired, feel free to send me an email at hello@celinasouffrant.com or check me out on LinkedIn. Job hunting is never fun, but with the right strategy and approach, it can be much more effective and even rewarding.
No matter the field or discipline, remote work (and remote learning) are becoming increasingly crucial and may be the key to your success. Our experts explore how to succeed in intercultural virtual teams.
While there's nothing like making a first impression in person, with the right preparation you can turn a virtual career fair into real-life job opportunities. Here are six ways to maximize the increasingly popular virtual career fairs.
 
Our recent online discussion gave insights into a day working as an interpreter. The panel featured faculty and alumni who have worked in a range of professional settings, including the U.S. State Department, COVID-19 testing centers, courtrooms, hospitals, and more. Watch the recording.