Two Institute Students Pass "Legendarily Difficult" Federal Court Interpreters Exam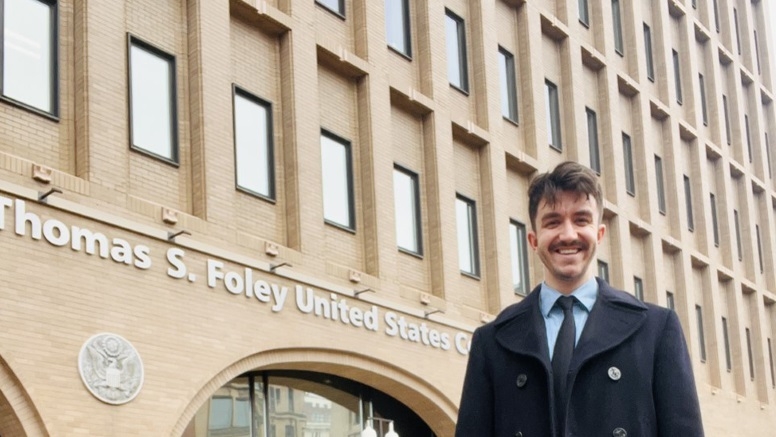 In a courtroom, every word carries the potential to shape a person's future in profound ways. Because of that, interpreters must pass an extremely rigorous examination before they can practice in federal court—a high standard just achieved by two Middlebury Institute students, Andrew Belisle MACI '23 and Leilani Padilla-Young MATI '22.
 
"The Federal Court Interpreter Certification Examination (FCICE) has a reputation for being one of the most difficult professional certification exams in the interpreting field," according to Winnie Heh, career advisor for the Institute's translation and interpretation master's degree programs. "It tests both core interpretation skills and knowledge of a wide range of legal terminology and concepts, and requires tremendous preparation and focus."
Interpreters working in the federal court system are responsible for interpreting conversations and testimony in the courtroom for participants who may not understand English well enough to follow court proceedings. If a defendant, plaintiff, or witness misunderstands what is happening in court, it can materially affect the outcome of a case.
"People told me that hardly anyone passes the exam on their first attempt and that the passing rate is under 20 percent," says Padilla-Young, who did not pass on her first few attempts. Fortunately, on her fourth attempt in 2022, she says "the timing for the exam could not have been better for me—just a couple of months after graduating from the Institute, which meant there was plenty of time and energy for studying."
Belisle similarly reports that he "had heard of the legendary difficulty of the FCICE; everyone spoke about it in hushed and terrified tones. I was not convinced that I would pass, but I did feel that my first two semesters at the Institute gave me a chance."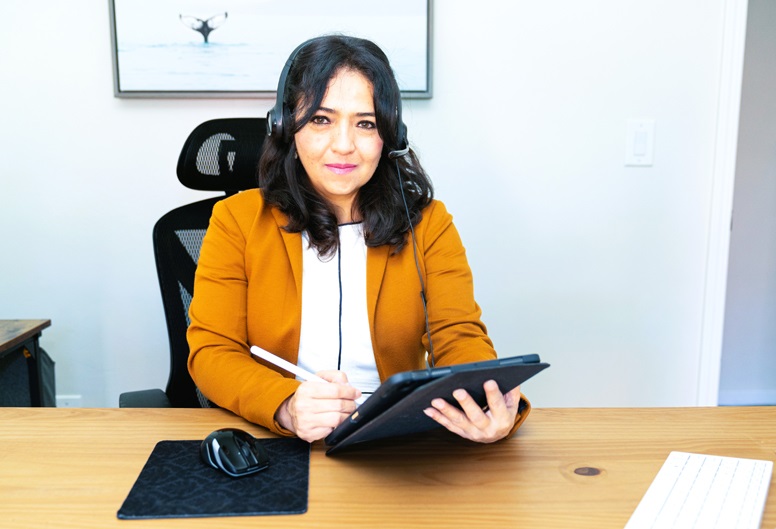 The FCICE is offered only for the Spanish/English language combination since that is the primary interpreting need in the U.S. federal court system. The exam occurs in two parts—written and oral—and applicants must pass the written test in order to qualify to take the oral. After passing the written tests online, Belisle took the oral exam at a testing site in his home state of Washington, while Padilla-Young traveled to one in San Jose. Both prepared extensively in advance of the exam.
"I enrolled in a self-guided FCICE prep course," says Belisle, who blogged about his exam preparation. "I spent about five hours a day over a four-week period running consecutive, simultaneous, and sight translation exercises specific to federal court." He adds, "The training we received in the first two semesters at MIIS definitely contributed to passing the exam. I drew a lot of inspiration from the techniques we learned in class. Legal interpretation is a special brand of intimidating due to the accuracy required."
Padilla-Young offers abundant praise for her professors' efforts to prepare her for the exam. "MIIS faculty are an invaluable resource; the school helps you develop a toolbox for high-stakes exams. Interpretation professors Leire Carbonell, Nancy Cox, and Cas Shulman-Mora make effective in-class suggestions; translation professors George Henson and Carles Andreu guide students through the process of finding solutions to complex challenges; Michael Jacobs supports English B students with diction and pronunciation; Christiane Abel shares golden nuggets on consecutive interpretation; and Julie Johnson's and Katie Dutcher's mindfulness classes are a space for finding inspiration."
The oral exam tests "the ability to effectively perform the three modes of court interpreting: sight translation and simultaneous and consecutive interpretation." (The written word is translated; the spoken word is interpreted.) Applicants are tested on "both formal and informal/colloquial language, technical and legal terminology, and special vocabulary or other specialized language use which is part of the active vocabulary of a highly articulate speaker."
As for what happens next, Belisle wasted no time accepting a few federal court interpreting assignments over winter break. 
"It was exciting to be able to start so quickly, and I'm enjoying the challenge. In the future, I'd like to combine court and conference work as a freelancer. Being involved in the judicial process is a fascinating and meaningful experience for me."
For her part, Padilla-Young aims to get on the roster for court interpreting assignments in the San Francisco Bay Area and hopes also to obtain certification to interpret in the California State court system. Her goal is to build a practice around both courtroom interpreting and conference interpreting, especially in fields with social, environmental, and/or spiritual facets.
With Good Preparation, "You've Got This!"
Both Padilla-Young and Belisle have words of encouragement for interpretation students interested in following their path. "The FCICE is not more difficult than the material we handle at the Middlebury Institute," says Belisle, "and with adequate preparation, the exam is manageable. The certification also provides a reassuring safety net, knowing that you will always have federal court work available to you." Regarding that practical aspect, Belisle notes that "in the weeks since I've been using my new certification, there has been a tangible financial difference. One of my interests is breaking down the taboo of talking about freelancer finances, so if anyone has any specific questions about making a living as a court interpreter, please don't hesitate to reach out." 
Padilla-Young emphasizes the importance of developing an understanding of the U.S. court system and how it works, notes the value of having study partners whose first language is your second language, and encourages students to "be selective with study resources and rely on high-quality, aptitude-specific material." With those tips in mind, she says, "You've got this!"
| by Clara Clymer

We interviewed Rachel Chan, one of six interpretation students selected for the prestigious Stanford Health Care interpretation internship.

Translation and Interpretation graduate Amandine Martin describes how career management courses and the Middlebury Institute network helped her to launch her career as a freelance interpreter and translator.

| by Sierra Abukins

Sidharth Babu MATI '24 shares how advanced language study has been critical in his role fostering understanding and relationships between China and India.