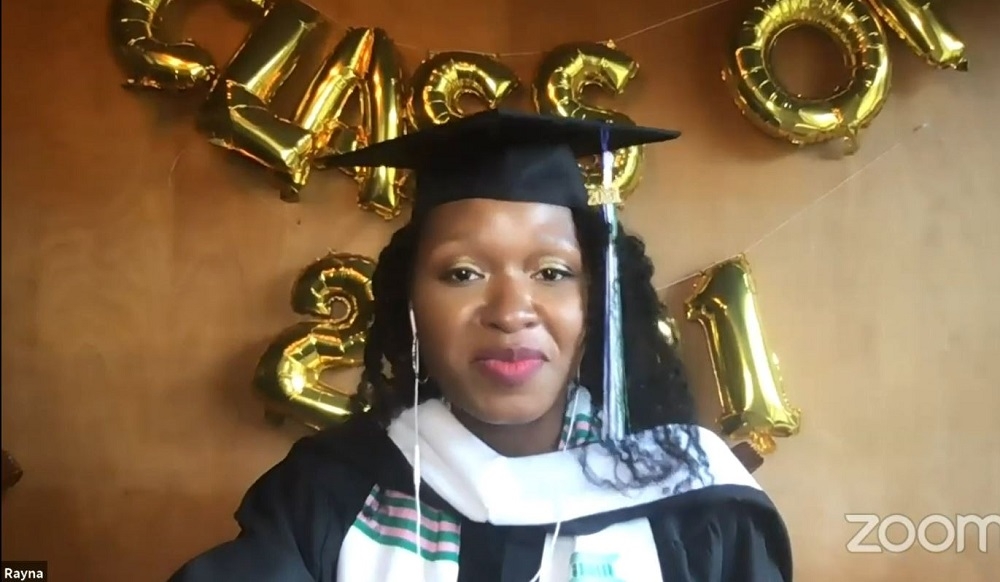 In an exceptional moment concluding an exceptional year, on Saturday, May 15, the Middlebury Institute marked spring Commencement with a creative and joyous virtual ceremony that celebrated 217 graduates from 18 countries.
The ceremony, presented via Zoom to an audience of more than 600 graduates, loved ones, faculty, and staff, featured keynote remarks from Brian Deese '00, director of the White House National Economic Council, as well as comments from student speaker Rayna Rogers MANPTS '21, Global Citizen's Award winner Dr. Gary Slutkin, Dean of the Institute Jeff Dayton-Johnson, and Middlebury president Laurie Patton.
Calling the graduates "post-COVID pioneers," Deese emphasized the significance of this unique inflection point in history. "The opportunity embedded in this moment is breathtaking. … You can rewrite prior rules. You can question assumptions that have been embedded in how we operate as a society for decades, even centuries. Take this moment to think forward to the 'how' of how you want to build connections and communities."
Deese went on to describe the climate crisis in particular as a "generational challenge" that will impact all facets of society. But "my message is fundamentally a hopeful one, because the story of the post-COVID economy, the post-COVID society, has yet to be written. Each one of you will hold that pen. And while there may be uncertainty, there is far more opportunity. Where there is no prior precedent, there is also no limitation."
The student speaker, Rayna Rogers, is a graduate of the MA in Nonproliferation and Terrorism Studies. In introducing Rayna, Dean Dayton-Johnson shared the remarkable background that led her to the Middlebury Institute: after serving as a mechanical engineer intern at NASA, she taught English in Korea and served in the Peace Corps in Indonesia. In her comments, Rogers shared a favorite quote: "'After darkness, light.' I like this quote because it illustrates that moments of joy can be found during times of hardship. We have been that light," supporting one another through all of the challenges of the online learning environment. "As we go out into the world … carry your light with you. Our work will not always be easy, so when it becomes difficult, think back to the lessons learned in the classroom, the laughter shared amongst friends, and the relationships you built in Monterey."
Rogers opened her comments by acknowledging the Native American peoples whose tribal land Monterey and the Institute occupy today—the Esselen, Carmeleno, Monterey Band, Rumsen, Chalon, Ohlone, and Costanoan—and urging the administration to work actively to build stronger bonds with local indigenous people. She closed them with a touching tribute to her family, including her fourth great-grandmother Hannah Terry McDonald, "an enslaved woman whose name was nearly lost to history. … I am my ancestors' wildest dream!"
In her remarks to the graduates, Middlebury president Laurie L. Patton emphasized that "we are redefining the very essence of what it means to be global—what it means to come together while being apart," telling the graduates that "the world needs your passion for positive change and it needs it at this very moment…. I think you're here today because you decided you wanted not only a career filled with meaning but a lifetime filled with meaning."
Patton then introduced Dr. Gary Slutkin, this year's winner of the Middlebury Global Citizen's Award. Dr. Slutkin is the founder of Cure Violence, an international NGO dedicated to stopping the spread of violence in communities using methods and strategies associated with epidemic control—detecting and interrupting conflicts, identifying and treating highest-risk individuals, and changing social norms. Patton described Slutkin as "a tireless advocate steeped both in science and empathy for all human beings."
In his remarks, Dean Dayton-Johnson emphasized the way the campus community came together under trying circumstances. "You have stood by MIIS, and persevered in your education, amidst a once-in-a-lifetime pandemic and an accompanying economic cataclysm. You have stood by your classmates, your partners in group projects, the organizations and firms around the world where you've pursued internships and practica. People stick with MIIS. You have stood by MIIS. I think that says something about the institution, and something about you."
Dayton-Johnson also recognized and thanked retiring faculty members John Balcom and Jeff Bale, as well as longtime staff member Barbara Burke, the lead organizer of dozens of Commencements over the past 20 years. Both Dayton-Johnson and Rogers also honored Professor Edgard Coly, the beloved French instructor who died this spring and in whose memory a new scholarship fund for African students was recently established.
The ceremony was interpreted into Chinese, Japanese, Russian, and Spanish by MIIS students in the translation and interpretation programs for the families and friends of our graduating students. As each graduate's name was read, a slide with their name, degree, and other biographical information was shown. Some graduates took this opportunity to share meaningful quotes. Nathaniel Sawyer, a graduate of the MA in International Policy and Development, chose a quote from Martin Luther King Jr. that summed up the message of the day: "Life's most persistent and urgent question is, 'What are you doing for others?'"
Brian Deese, director of the White House National Economic Council and a 2000 graduate of Middlebury College, will give the Middlebury Institute commencement address on Saturday, May 15.
In this year of many firsts, the Middlebury Institute community came together to celebrate the achievements of 76 graduates from 15 countries at its first Virtual Winter Commencement.
 
The Institute has established a new scholarship fund in honor of Professor Edgard Coly to support African students and students planning to pursue careers in Africa. Professor Coly, who passed away in March, was from Senegal and taught courses in French language and African issues for nearly 20 years at MIIS.