Speaker Series to Explore New Global Realities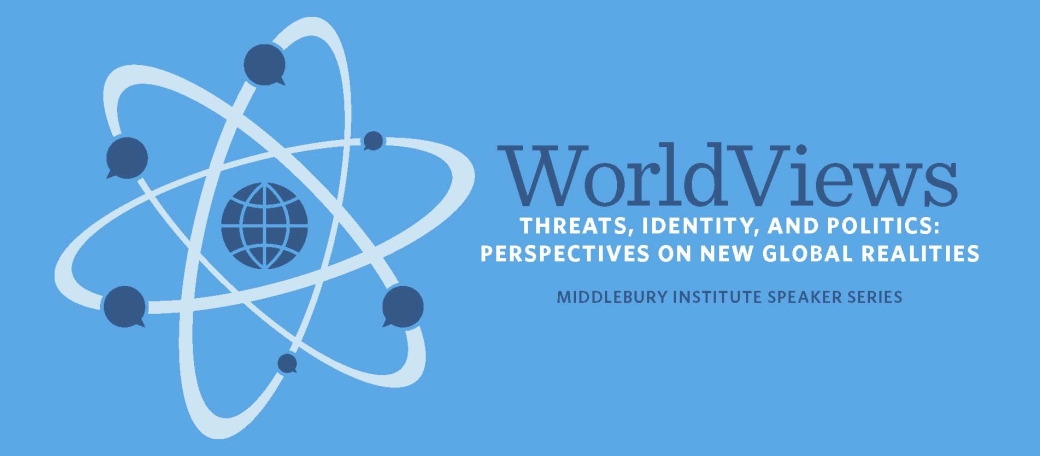 Rising nationalism, terrorism and cybercrime, and the way language shapes identity are among the intriguing themes Middlebury Institute faculty will explore in this spring's WorldViews Speaker Series, with five faculty members presenting at three evening events on campus.
The series kicks off on Wednesday, February 13 as Professor William Arrocha focuses on "Stemming the Tide toward Nationalism." Professor Arrocha teaches courses in the Institute's International Policy and Development program, focusing on international development, migration, human rights, and U.S.-Mexico relations. His research examines the causes of oppression and social exclusion, and he constantly explores the connections of ideas, institutions, and material capabilities as they shape the structures of political, social, and economic power.
Four weeks later, on Wednesday, March 13, Professors Jason Blazakis and Moyara Ruehsen will examine "New Threats: Terrorism and Cybercrimes." Blazakis is a professor of practice in the Institute's Nonproliferation and Terrorism Studies program, and also director of the Center on Terrorism, Extremism, and Counterterrorism. From 2008 to August 2018, he was director of the State Department's Office of Counterterrorism Finance and Designations. Ruehsen oversees the Financial Crime Management Program and her research interests include money laundering, terrorism financing, proliferation financing, corruption, cyber-enabled financial crime, sanctions, and compliance.
Finally, on Wednesday, April 10, Professors Pushpa Iyer and Thor Sawin will address "Identity through the Words of Another." Iyer is an associate professor of conflict resolution as well as the founding director of the Institute's Center for Conflict Studies and its Chief Diversity Officer. Iyer's commitment to bringing peace between the divided Hindu and Muslim communities in her home state of Gujarat, India laid the foundation for her subsequent work in conflict resolution and peace building, which has included consulting for international NGOs and institutions such as the World Bank. Sawin is an associate professor in the Institute's Teaching English to Speakers of Other Languages / Teaching Foreign Language program who teaches courses on second language acquisition, linguistic analysis, language and society, language and social media, and applications of technology to language learning.
The program for each event will run from 6:00 p.m. to 7:15 p.m., with a half-hour reception following, sponsored by Scheid Vineyards. All three events will be located in Room 102 of the McGowan Building at 411 Pacific Street on the Institute's downtown Monterey campus.
All events in the WorldViews series ("Threats, Identity, and Politics: Perspectives on New Global Realities") are open to the public. Tickets cost $10 each and space is limited; for more information and to purchase your tickets, visit go.miis.edu/worldviews.