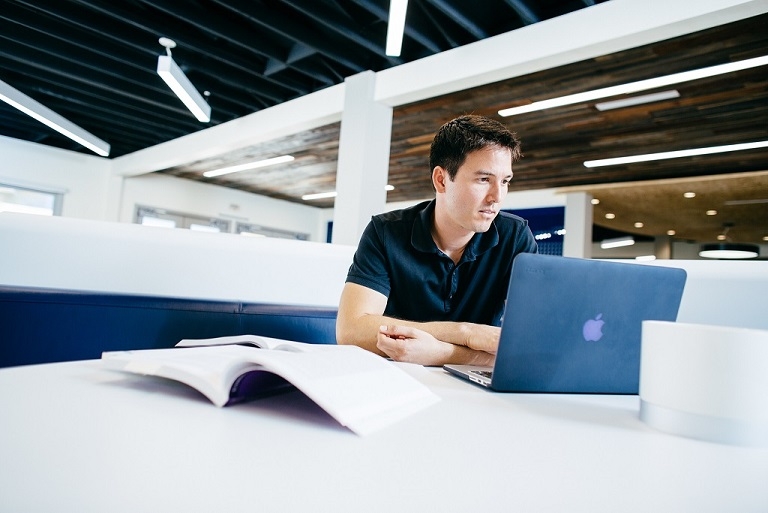 The Middlebury Institute's annual fall Community Career Fair—held virtually this year for the first time—was a success. The online event allowed nearly two dozen employers and community partners to present career opportunities to current students.
The virtual format gave a different feel to the career fair—no crowds—but it was no less helpful in connecting students with employers. One noted advantage: more individual contact between employers and potential recruits.
What Employers Are Saying
The virtual MIIS Community Career Fair was a very well-organized event, which made it possible for the students and the companies to meet despite the physical distancing challenges brought about by the pandemic. It was a pleasure talking to the students, some of whom might become our company's future employees or vendors!
This was a good experience and a great way to connect with some promising potential job applicants. I enjoyed talking to these interesting, bright young people and hearing about their studies, work, and what interested them about our organization.
A very positive experience in order to cross the bridge between the world of students and the world of employers.
As someone who was hired as a result of attending a fall career fair when I was a student, I cannot emphasize enough how great an opportunity this type of event is for students as well as local employers.
What Students Are Saying
I was impressed with the way this whole career fair experience was set up. I appreciated the attention to detail and the support I received. Especially in this uncharted territory of a virtual career fair, the Career Services department did an awesome job organizing this for us.
Thank you for providing a space for career opportunities and to connect and learn about companies in our field, despite the pandemic!
I was not looking for a job or an internship at the time, but the career fair gave me an opportunity to prepare to present myself. I also learned about potential opportunities in my field, and I gained a contact for a position I am interested in pursuing at a later time.
Fun and informative! Thank you.
Participating Organizations
Grad school is the place to try new and daunting things, where mistakes can become our greatest teachers. And you can only create more space for growth and success by nurturing curiosity. Also, ask your role models out to coffee and ask them how they found their path.
Want to work in international security? Join Professor Jeffrey Knopf and Elizabeth Bone, career and academic advisor, for an in-depth discussion on how to launch your career.
Students from the Translation, Interpretation, and Localization Management (TILM) degrees secure jobs and internships during busy week of career-related events at the Middlebury Institute.